This webinar is property of United American Capital Corporation, Unicorn Network, Inc., SafeZone, Inc., and may not be recorded, and then distributed to the public. Any transcriptions/translations provided live by the "Power of WE" are not official. Please wait for the official English recap and translations for the complete details presented during any webinar.
Disclaimer: You are always personally responsible for your own actions; nothing contained in this or any webinar is to be constituted as advice for any reason. Do your own due diligence and speak with your own experts before making any decisions, such as those relating to health, finances, taxes, and business, to name a few. Decisions to buy digital Fractional Owner Rights (F.O.R.) need always to be based on the information found on the website only and none of the information shared in any webinar is legally binding to the Company, only content directly on the TwnklEstate website is legally binding.
Topics:
1. YEM Foundation news
2. PerNumPay launch
3. SusTec Institute
4. Water Wallet
5. VMT (Valuable Minerals Token)
6. Maya Pop contest
Cate opens the webinar with a hearty WAZZZUUUUBBB and wishes everyone a warm welcome! The Founders also send their greetings and wish everyone all the best, and they are very excited with all the new updates happening in our network!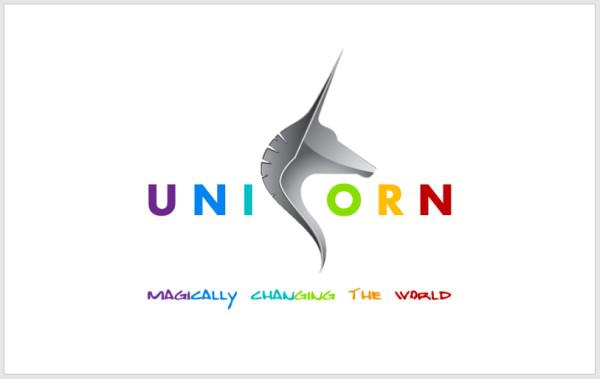 We have a special guest on the webinar today. But first let us start with some general updates for all members.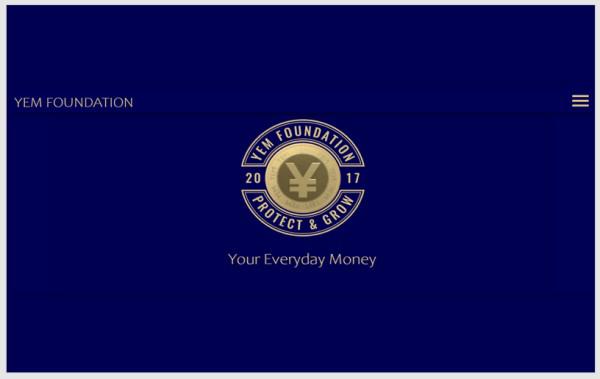 If you have not seen yet, the YEM Foundation came out with a number of updates just a little bit ago. One of the most important ones is that the price range for YEM has increased, and this is in part due to a number of great news happening.
Visit https://www.yem.foundation/ for all the latest updates under NEWS.
The first update is a letter on the legal Status of YEM in international payment transactions. It goes through, and identifies specifically how YEM fits within specific regulations, and it gives you a lot more information on how all this works together.
There was another update on the Value of YEM, which is also full of great information.
The third one is the "Municipal Foundation with YEM". From the press release,
A German city establishes municipal consumption foundation with YEM:
The city council of the town of Roding (Bavaria) has unanimously
decided to establish a municipal foundation so that a donation of 500,000 YEM (approx. 3.8 million Euros) can be used for charitable projects in the town according to the donor's specifications.
The town will be using the YEM to help the local community, such as for public health, youth and elderly welfare, art and culture, monument protection and preservation, education and training, and nature and environmental protection are to be promoted. The funds are also to be used for fire departments, sports, tolerance and international understanding, as well as local history, local beautification and customs.
(read the full press release on the YEM Foundation website for details)
For those who think that the process to have something like this established is quick, in this case for the City of Roding for example, from the first contact until now, it was 1 year, plus they expect another year to get things set up before using the funds. This just goes to show that sometimes it pays to be patient.
And the fourth update is the official Public Announcement from the YEM Foundation, where they are detailing these updates and more, definitely be sure to check it out.
Our next topic is "What can you do with YEM?"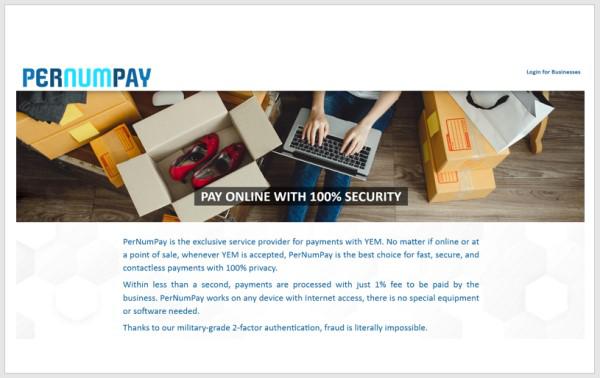 The great news here is that we have launched the PerNumPay website!
We have had a PeNumPay API for quite some time already, but there were some features and functions requested, and now they are available for our valued business members. So now, as a business member, you can give a refund if needed directly through the PerNumPay website, and you can also give digital cashback to your customers, too!
PerNumPay is the exclusive service provider for payments with YEM. No matter if online or at a point of sale, whenever YEM is accepted, PerNumPay is the best choice for fast, secure, and contactless payments with 100% privacy.
Within less than a second, payments are processed with just 1% fee to be paid by the business. PerNumPay works on any device with Internet access, there is no special equipment or software needed.
Thanks to our military-grade 2-factor authentication, fraud is literally impossible.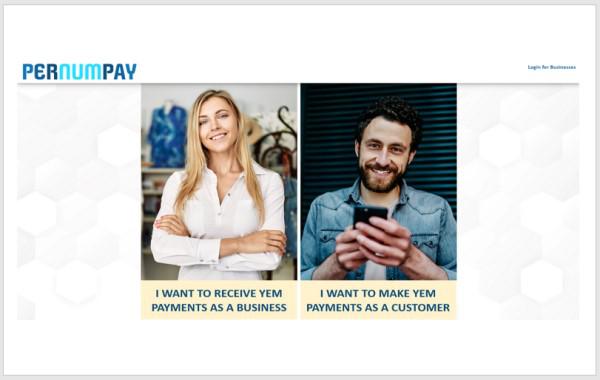 As a business owner, you are just 5 minutes away from offering YEM as a payment option on your website and/or at your point of sale.
For your online shop, simply open a digital wallet for YEM, upload your business details, enter a snippet of code on your website, and you are ready to rock.
For your point of sale, it is even easier. Simply register as described above and you can start receiving payments in YEM. There is no special equipment and not even a software needed. Your mobile phone, tablet, laptop, and/or desktop computer with Internet access become your easy-to-handle payment device.
There is a small flat 1% fee for incoming as well as for outgoing payments (e.g. refunds), and you will receive payment confirmations in no time. We charge no set-up, one-time, or recurring fees.
So, if you are a business member already with the SafeZone, simply log in to get started. If you are not, then all you need to do is sign up for free to get your SafeZone Pass (SafeZonePass.com), be sure to choose your membership type as business, complete your profile to activate your wallet, and then you can simply log in at PerNumPay and start accepting payments right away (https://pernumpay.com/).
For those who don't know, your SafeZone Pass is like your digital ID that gives you access to great functions, features, and benefits like PerNumPay.
You can accept payments both online and at your point of sale. So if you have a retail business, a brick-and-mortar business, all you need is a mobile phone, a tablet, laptop or a desktop computer, basically any device with internet access, and you can easily accept YEM payments right then and there using the PerNumPay website.
And as mentioned, when you have your own website, it is easy to get the small snippet of code to install on your website, and then PerNumPay can be part of your checkout process directly in your online shop.
This makes it super easy for any business to accept YEM.
Now, let's talk about using PerNumPay to give your customers a digital cashback, which can be a great marketing strategy. This is especially effective when you have your customers coming in and paying with fiat currency (your local currency), and as a thank you bonus you can give them a digital cashback. Super easy and effective!
And when you log into PerNumPay, you have access to all your transaction history at all times, and there is also a FAQ section to help you out if you have further questions.
What about as a customer?
Well, as a customer, all you need is a SafeZonePass and a PerNum to pay with YEM at participating businesses.
If you are not yet registered, simply get your free SafeZonePass, verify your identity (KYC), and you are ready to make your first payment with YEM.
There is no special card, equipment, and not even an app needed. In fact, PerNumPay is the very first payment processor where you comfortably pay at the merchant's website.
And even when you are at a point of sale, you can easily make your payment from the merchant's device. You could be literally naked (don't do that!) and you still can pay with PerNumPay.
There is no fee for you using PerNumPay and joining is free as well.
How would you pay in person with a local business? The business will be logged into their PerNumPay account, they will ask you for your PerNum, or might ask you to fill it in, then you confirm the transaction with your one-time PIN, and that's it. It's as simple as that.
Now, if you are worried about privacy as a customer, your personal information and what is being shared while making a transaction, you need to know that with PerNumPay your privacy is 100% respected. This is the SafeZone, and we respect your privacy.
You can pay just with your PerNum (and one-time PIN), so you don't need to reshare your details while making your payment. The business will automatically receive some info about the transaction based on your SafeZone Pass details (such as your name, address, and email), because in some cases the business also needs to know their customer (KYC). However your information is not shared for anything else other than the purpose of you making a payment with that specific business and the information is kept masked with your PerNum unless specific steps are done by the business to receive the info. We always do our best to respect your privacy in the SafeZone.
So, besides buying things with YEM using PerNumPay, what else can you do with YEM?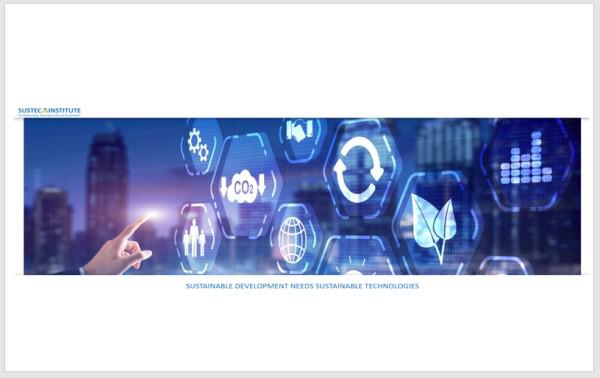 Now is the time to introduce our special guest for today!
SaschaReckert is the President and CEO of SusTec Institute, and the Institute is a partner of the Unicorn Network. Their motto is:
Sustainable development needs sustainable technologies!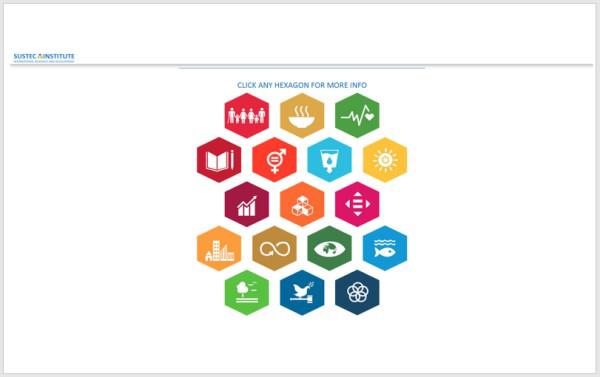 Today we are sharing some mockups from the SusTec website and talking with the CEO to get more of a deeper view into what SusTec Institute is all about. When the website is available, you will be able to see all different kinds of areas where SusTec will be helping to bring sustainable solutions to the world.
Cate welcomes Sascha and asks him to share more info about what SusTec Institute wants to achieve.
Sascha thanks Cate for the warm welcome and introduces more about SusTec Institute:
At SusTec Institute, we are focused on disruptive technologies that can help to reach the United Nations' 17 Sustainable Development Goals (SDGs). Our International Board of Experts evaluate technical ideas from individuals, start-ups, organizations, projects, and businesses. Whenever our experts see potential, we offer support, which can be financial, administrative, consultative, or any other kind of help needed.
A special greeting goes to our friends from Uganda, where we started a project regarding the SDGs and a water project, shortly before the global pandemic started. In January 2019 I was in Uganda and I participated in the installations of the water project. I met fantastic people there.
We are driven by results which make us take even more action to find solutions. As much as all the big organizations are working on all kinds of solutions, we don't see any kind of efficiency. That means that projects are not coordinated, not even organized, and yet they end up receiving an award. The World Food Programme has been awarded the 2020 Nobel Peace Prize "for its efforts to combat hunger… to prevent the use of hunger as a weapon of war and conflict." They use their Accelerator program where they support startups that work on food security. But they don't even have a list. If you want to find more info, they tell you to take part in the Accelerator program. And in the last 10 years my team and I have collected solutions that can help all Africa, but somehow the solutions from the World Food Programme seem to only exist in their plans.
Well, now, we have Unicorn Network behind us, we have the blockchain, we have the YEM, and we can have our own transactions without the big bank fees, because normally it is a mess if you want to send some money from let's say Germany to Africa, it's so expensive! Now, we can avoid all that and use this shortcut with YEM and with your fantastic community.
We were looking for ways to implement a digital solution, to be able to connect the solutions from the physical world with the online tools; a place where we can organize things, communicate, exchange and trade as well.
In my team, the experience is that if you don't use a systematic approach, if you only focus on single projects, you will fail. You work hard, you spend a lot of money, you even have to face corruption and so many other real-life issues, and now when you have the systematic approach, with the full transparency and safety on the blockchain, that alone is a big improvement.
In the SusTec Institute, that is what we are doing: collecting ideas and coordinating efficient projects.
Cate thanks Sascha and explains further about what you'll find on the SusTec Institute website.
When you click on the hexagons, for example on the first one, you'll see more info about each sustainable goal: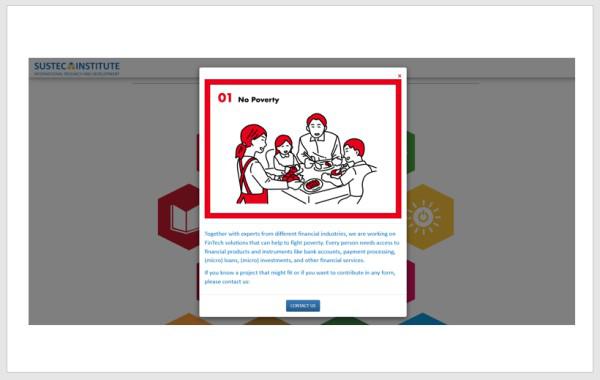 For example, the elimination of poverty is one of the sustainable goals.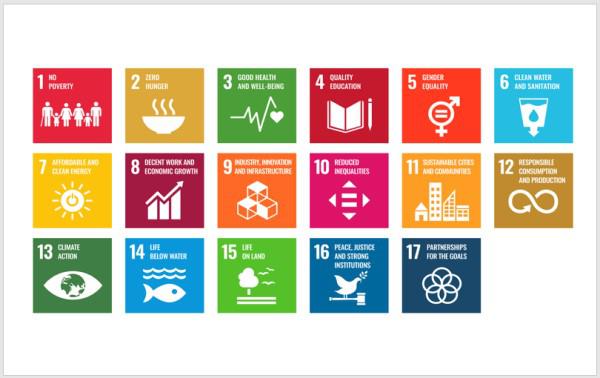 You will notice that the 17 hexagons correspond to the 17 Sustainable Development Goals (SDGs).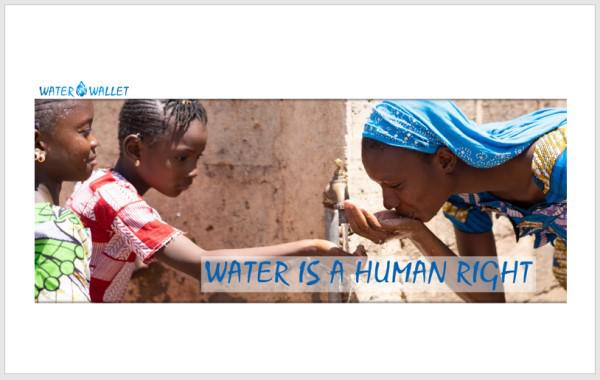 One of the first SusTec projects is the Water Wallet. As we can see on the image, water is a human right, because…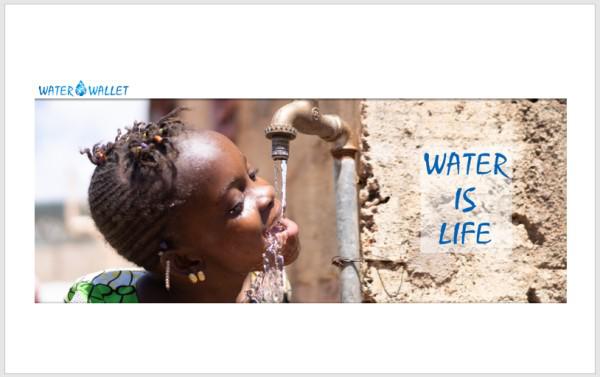 Water is Life!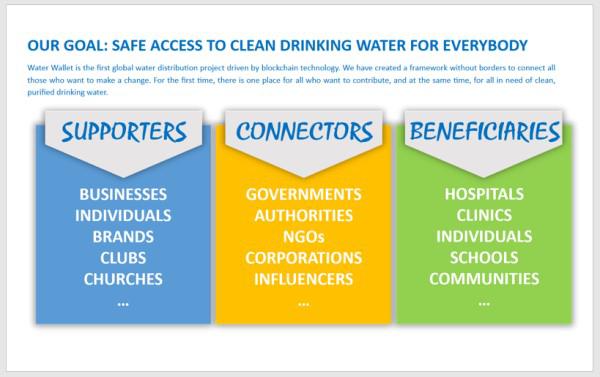 The goal of Water Wallet is safe access to clean drinking water for everybody.
Water Wallet is the first global water distribution project driven by blockchain technology. We have created a framework without borders to connect all those who want to make a change. For the first time, there is one place for all who want to contribute, and at the same time, for all in need of clean, purified drinking water.
So we have the Supporters (businesses, individuals, brands, clubs, churches etc.) who can work together with the Connectors (governments, authorities, NGOs, corporations, influencers etc.) to help the Beneficiaries (hospitals, clinics, individuals, schools, communities etc.)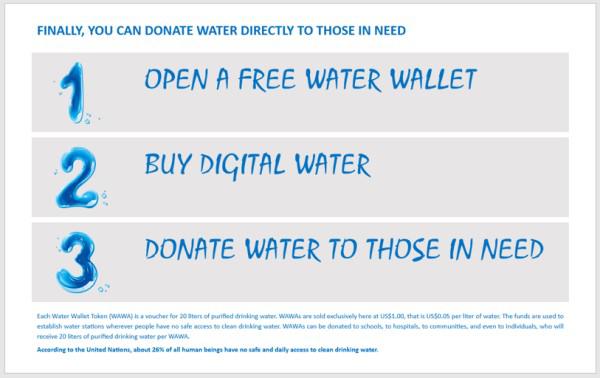 You can donate water directly to those in need:
Open a free Water Wallet.

Buy digital water.

Donate water to those in need.
Each Water Wallet Token (WAWA) is a voucher for 20 liters of purified drinking water. WAWAs are sold exclusively here at US$1.00, and that is US$0.05 per liter of water. The funds are used to establish water stations wherever people have no safe access to clean drinking water. WAWAs can be donated to schools, to hospitals, to communities, and even to individuals, who will receive 20 liters of purified drinking water per WAWA. Best of all you'll be able to buy WAWA with YEM!
According to the United Nations, about 26% of all human beings have no safe and daily access to clean drinking water. This is terrible. And now with the Water Wallet, we can help change that.
This project is not only about donating something to an area, individuals, or a group of people who need it, it is also about providing sustainable solutions so that they can help themselves at the same time. We as people, are proud, and even when we need help, we don't want to ask for help. But one of the great things with this project is that these clean water stations are able to:
1. Provide clean drinking water.
2. Provide sustainable jobs as well, because they will need people to manage the water stations.
3. Help more kids spend less time gathering water, which will allow them to spend more time at school, so they can have a better life.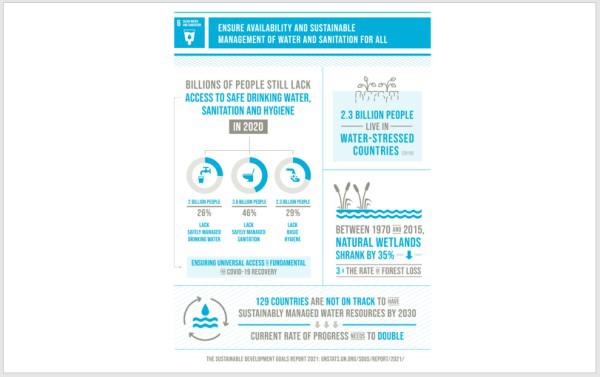 Number 6 of the United Nations Sustainable Goal is to ensure availability and sustainable management of water and sanitation for all. And as you can see on the image, there are still billions of people lacking access to drinking water, sanitation, and hygiene. And thankfully, with the Water Wallet and the solutions and partnerships with SusTec, we can really start to make a difference and help people all over the world.
And talking about sustainable solutions, we need to mention our project Solario here, that will be one of the technologies and businesses promoted through the SusTec Institute. We'll have more to share about Solario at another time when further updates are available; the team is working hard towards their goals no matter the global challenges we all face these days.
Sascha:
I would like to add a few more things. I would like to point out the importance of all the world to succeed together. Take Africa for example. Africa has a lot of young people and great potential. Only from farming, Africa has the potential to feed the whole world, and it is still more than 80% organic. One of the reasons for that is that they can't afford chemicals, and the other is that they stay true to their traditions.
So we helped them with modern digital technologies like remote sensing with satellite analysis, and we also analyzed the water and the soil quality. We improved the soil quality with some methods, like the Effective microorganisms (EM) technology and organic technologies.
We fight the desert with some desert greening actions, we are using clever irrigation processes, and we have all these methods in our projects. So, you can now also invest your YEM into all of these types of projects.
Regarding the soil security and the food security, we strive to diminish the food loss, because 40% of the food gets lost before the harvest and then again 40 to 50% is lost after harvest. And now we can have even bigger success in this fight, with the digital tolls. Now that we have this blockchain and all the connections in the networking, we can directly help people. For example, a farmer from Africa can sign up with the SafeZone and get a PerNum, and then he can apply and let us know that he needs water, for example. And we can all help each other. Then, after a while he is reporting less loss because of our system, and even some surplus where we can also help by providing him storage facilities for his products.
So these single-man solutions can end up as a whole system-providing solutions for the whole country. So we use the digital assets to connect the people in real need of water for example, on one hand, with the people and companies that can donate or buy that water on the other hand.
And I would also like to point out that you will always be able to see where your money/donations are going; you will always be able to see how you are contributing to a better world.
And to summarize, we at SusTec Institute are really trying to implement all the solutions that already exist. We do not understand why people in Africa still do not have clean water in the 21 century, when the filters do exist and they are not overpriced. But, we will simply stop asking why it has not been done already, and just do it ourselves.
And another thing. There are some interesting products in Africa, for example in Uganda there is coffee-honey and it tastes amazing. So, now when you make a donation for clean water for example, we can give you a gift of coffee-honey, and this way everybody gets some benefit in the process.
If you are interested, you can also give microloans, or have shares from sustainable companies if you want, so there are different possibilities to contribute, and all this will soon be published on the SusTec Institute website and the Water Wallet project as well.
And that will be it, I am looking forward to working with you guys and do so many great things together!
Cate thanks Sascha for his presentation and expresses her excitement for the upcoming collaboration with SusTec Institute! If anyone has ideas and wants to connect with SusTec Institute, you can email Sascha directly (ideas[at]sustec[dot]institute).
Next, Cate mentions Dragon Global and the challenges that have happened.
As you all know, the Founders shared a letter a couple of months ago, saying that they and the Unicorn Network Directors were not happy about the way things were going with Dragon Global's performance, and that the members were unhappy as well. So we had to make some decisions:
We still believe that Dragon Global is honest and that they are honestly doing business. So for it being a scam is not our concern at all!

What we are concerned about is their performance; that can be improved.

They have done a lot of things to improve things, however they still have a ways to go, so some decisions have been made:
1. The first decision is that all who converted YEM into LIQY can convert back into YEM. And if you had participated in the LAM program, you will keep whatever ROI you earned from that, including the 20% bonus in LIQY (if you qualified for that). This means that if you want to convert LIQY back to YEM, you will get some extra YEM if you qualified for the 20% bonus.
2. Dragon Global is a third-party, and we (Unicorn Network) cannot be responsible for their actions. We do coordinate and share some updates that come from them, but still they are a separate business. Nevertheless, we want to apologize for the challenges that people have experienced, so as a way to say "We're sorry", we want to provide a special gift to anyone who has converted YEM to LIQY, regardless if you have participated in LAM or not. You should see this bonus allocated in the next 48 hours or so.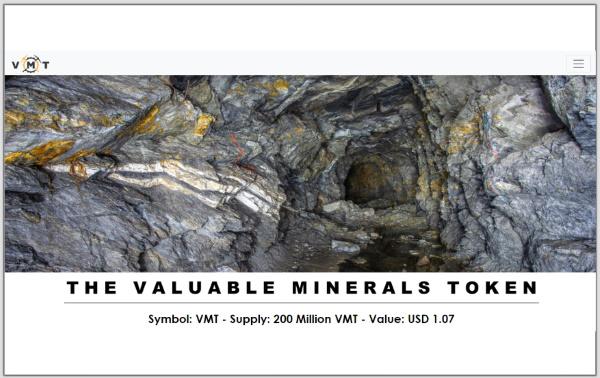 So what is this bonus we're talking about? It is called The Valuable Minerals Token (VMT).
There is a total supply of 200 million VMT, and each VMT is currently worth US$1.07.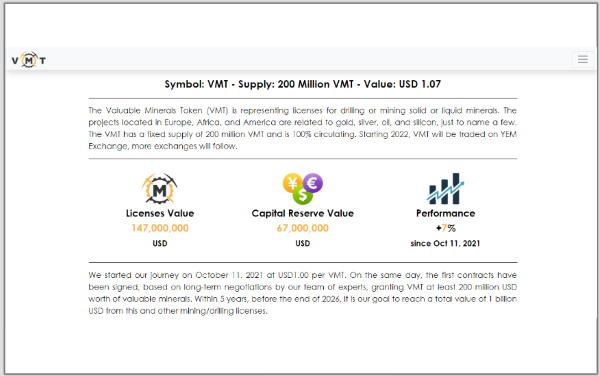 So what is this all about? Well the VMT is representing licenses for drilling or mining solid and liquid minerals.
The projects located in Europe, Africa, and America are related to gold, silver, oil, and silicon, just to name a few. The VMT has a fixed supply of 200 million VMT and is 100% circulating. Starting 2022, VMT will be traded on YEM Exchange, more exchanges will follow.
The license value is worth 147 million USD. They also have a capital reserve value of 67 million USD, and their performance since October 11, 2021, has gone up 7%. (Sorry for any confusion on previous figures stated during the live webinar, there was a couple of typos in the mockups shared, the current figures are the correct figures.)
They started their journey on October 11, 2021 at USD1.00 per VMT. On the same day, the first contracts have been signed, based on long-term negotiations by their team of experts, granting VMT at least 200 million USD worth of valuable minerals. Within 5 years, before the end of 2026, it is their goal to reach a total value of 1 billion USD from this and other mining/drilling licenses.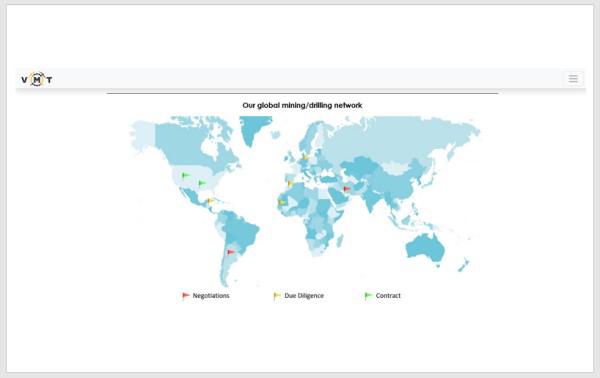 On this image you can see the start of the global mining and drilling network. There are 2 facilities under contract in America, other places where the team is doing due diligence, and then there are a couple of other places where negotiations are currently happening.
This world map can be found on their website https://www.vmt.digital/ and as things are progressing, the flags will be changing color and appearing in new places.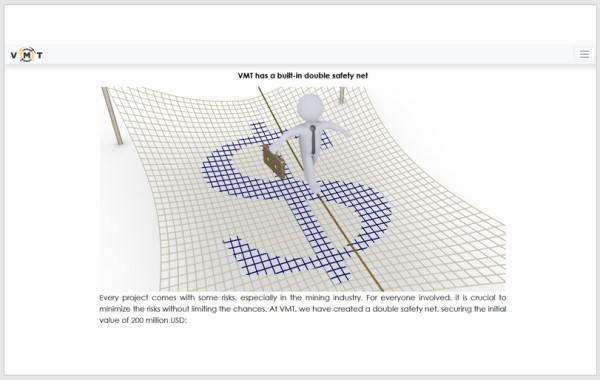 Every project comes with some risks, especially in the mining industry. For everyone involved, it is crucial to minimize the risks without limiting the chances. At VMT, we have created a double safety net, securing the initial value of 200 million USD:
Safety Net #1
A Swiss corporation, owner of a German mining field, granted a 200-million-USD mortgage for 5 years. If the VMT Project would be valued below 200 million USD in an official 3rd-party appraisal, the mortgage could be used to cover the difference. In return, the Swiss corporation received 5% per year of the mortgage value for 5 years to be paid upfront in VMT. If the VMT project performs higher than 200 million USD, the mortgage will be returned.
Safety Net #2
A U.S. corporation granted 200 million USD worth of the digital currency YEM as a collateral for the VMT project until the end of 2026. If the VMT Project would be valued below 200 million USD in an official 3rd-party appraisal, the YEM could be used to cover the difference. In return, the U.S. corporation received 5% per year of the current YEM value for 5 years to be paid upfront in VMT. If the VMT project performs higher than 200 million USD, the YEM will be returned.
Now, going back to the previously mentioned bonus. All members who converted YEM into LIQY will receive 10 VMT tokens in their PerNum Wallets, in the next 48 hours or so. So this is a gift from the Founders and Directors of Unicorn Network, and it is our way of saying "Thank you for your patience, and we are sorry for the delays. Even though Dragon Global is a third-party, we do feel the need to show you we do care and we are doing what we can in the meantime as well."
Regarding the VMT, if you would like to own more tokens, you can buy them with up to 50% YEM, and you can also use your PerNum Fiat Wallet balance for the remaining 50%. So if you have USDY or EURY in your PerNum Wallet, you can use it to buy some more VMT tokens. You can send a bank-wire in USD or EUR as well.
Special update: If you have any USD balances otherwise in your SafeZone account, like in WSS, you can use that balance to buy VMT as well; you'll see updates in WSS under the USD Commissions area in a few days.
This is very exciting, and you never know how the value will go as the projects continues to move forward. And as always, everything comes with a risk, so always do your own due diligence and check with your own experts before you make any kind of decisions.
And now TADAAAA:
Special offer for a limited time! You can buy tokens for only 1 USD/VMT till October 31. Current value is already 1.07 USD, so you get a great deal right away. YEM holders can pay 50% with YEM too, and use your USD/EUR balance from your PerNum Multi Wallet, or send a wire transfer (USD/EUR).
Regarding VMT, we (Unicorn Network) realized that sometimes it is not perfect to rely on third-party partners. That is why we worked hard for several months to be able to present VMT to you. We already did the due diligence, we are in control, and the best news, if you buy VMT from us, the funds go 100% into our projects, because we received the VMT for giving the YEM as collateral for 5 years. So, we sell our VMT to you at a discounted rate (US$1.00 instead of US$1.07), plus you can pay 50% with YEM from today until October 31.
After October 31, 2021, we will sell at the regular rate and for USD/EUR via bank wire only.
Check out the VMT website at:
Make your purchase from your PerNum Multi Wallet, under the Asset Wallet area: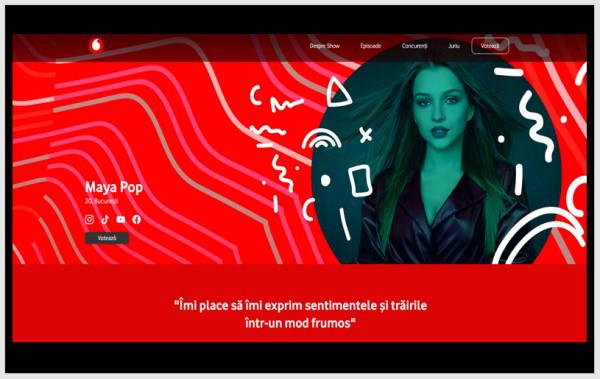 And as our last topic for today we have the Power of WE!
Lately we have been helping one of our favorite musicians Maya Pop, who won the second season of the Biggest Talent Contest. She has been participating in another contest and is doing fantastic thanks to all of us voting for her. So let's keep going!
She is in the top 5 now. In Wazzub there is a post explaining how you can vote for Maya. The voting starts on Friday (October 15) for the next phase.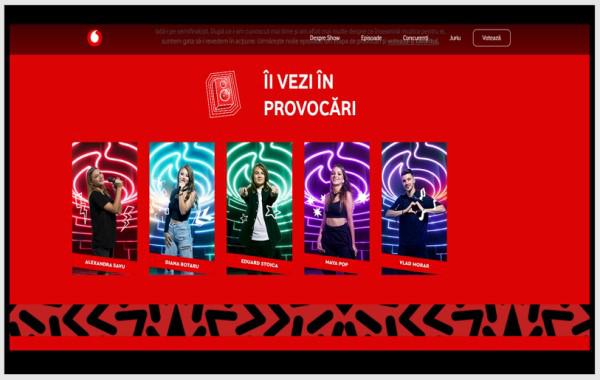 When you go to the website, you can see the top 5 contestants, and starting Friday you will be able to vote for Maya Pop again.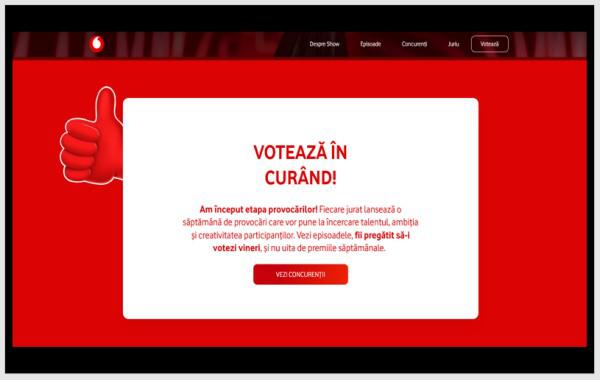 Here, in Romanian language, it basically says that the voting starts on Friday and if you click on that button there, it will take you back to Maya's page to see what she has achieved.
So we are all cheering Maya on in her contest and wishing her all the best. And of course she says a HUGE THANK YOU to everyone who has been voting for and supporting her. This is all part and a great example of the Power of WE.
So, all of you who are musicians, prepare yourselves to apply for our next Biggest Talent Contest when it opens because as you can see, it is not only about winning the contest, but also about continuous support of a global family, because here at the SafeZone, we care about each other and we support each other. So keep an eye out, we will be sharing more info on the contest for the next season, as we come closer to it. As you know with the pandemic, a lot of things have been postponed, but we do our best to keep moving forward.
And we want you to know that we highly appreciate your patience, support and understanding during these difficult times. Regarding any other topic not covered on this webinar, rest assured that information will be shared as soon as there are more updates, at Wazzubhttps://wazzub.com under Announcements, or like this, on a webinar.
Cate concludes the webinar here; thanks our special guest and everyone for attending, and gives a goodbye WAAAZZZUUUBBB, wishing everyone all the best, and we'll see you next time!
With your success in mind,
Cate Kozikowski,SaschaReckert and
Your WAZZUB Support Team
***
Additional Info from Support:
Need help? Use the handy SUPPORT hexagon in the SafeZone.
For all Unicorn Network Webinar info:
Log in to read recaps and register for webinars here: https://www.safe.zone (WEBINARS hexagon)
Remember to check out the SafeZone Radio Show too!
Airing live every Thursday from 11a.m.-12 p.m. USA Pacific Time. Listen live and check out past show recordings at: https://www.safe.zone (RADIO SHOWS hexagon)
***
For all YEM Foundation related info:
Read the latest news and archives here:
https://www.yemfoundation.org/
***
Please note effective March 20, 2019 Unicorn Network is updating its social media policy. Member updates will be posted in WazzUb.com under the NEWS area, please check there for member updates. External social media pages and groups will be closing step by step. We will post further updates as available. Thank you.
***
Unicorn Network Third Party Social Media Disclaimer;
The Unicorn Network uses third party websites and applications for marketing, and will often ask members to voluntarily interact with these services in order to increase reach of our postings. However, unless specifically stated, the Unicorn Network does not vouch for the safety or security of these services, and the member is advised that they use these services with the understanding that any issues which may arise from their usage are not the responsibility of the Unicorn Network.
***
** Reminder for all members: ** We have a strict anti-spam policy. Please be professional when sharing links for any of our offers. It has been noticed that some members have been posting their links on other people and group's Facebook pages. ** This is spamming!!! ** You should not post your links on anybody else's pages or in groups unless it is a page or group specifically set up for sharing business opportunities. You should not post your links on the timeline of any other person in any Social site unless they have given you permission to do so. Please be respectful and professional. Thank You.
***
Member Invitation guidelines
***Dear Members,
YEM (Your Everyday Money) is a very exciting opportunity for all members and for the future of commerce and financial transactions.
We know everyone is super excited and very eager and innovative in promoting YEM and this once-in-a-lifetime occurrence.
As always we want to be mindful of the reputation of the company and of course yourself when promoting. A few things to be mindful of:
A. Whenever translating any information, brand names must be in English. YEM, YEM Foundation, Twnkl, Glitter, Rainbow, SafeZone, etc., must be in English.
B. Always give accurate information using company pages as a guideline for information. Don't mislead by making wild claims or by changing the meaning of anything. If you are not sure what something means, please clarify.
C. Be sure to comply with local and International anti-spam regulations regarding emails. If using mailings you should be sure that those you are sending emails to are opted-in to receive emails. If you are emailing friends/family be sure to respect their wishes if they ask you not to send them offers.
D. Never use our Mailaxy for any marketing mailings. It is intended to be used for personal use only. Accounts may be closed if we get blacklisted due to members using Mailaxy for marketing and marked as spam.
E. In Social Media such as Facebook, Twitter, etc., always follow their terms of use.
*Never post your links or promotions on the profile page of any other member. If you post on your own profile those who follow you will see it if they follow your posts.
*Never reply to someone else's post or comment with links or promotions.
*If you belong to groups that allow you to post marketing, and there are many, be sure to follow their rules and don't flood them with constant posts. Watch to see what others do as a group. If there are several hundreds or thousands of active people in that group and there is only one person posting the same thing every 5 minutes or every hour don't do the same thing just because that one person does it. Do what is customary for that group.
F. Don't constantly tag random people on your posts. That function is meant to tag a person who may be in a picture, or tag someone that needs to take attention to that post because it is relevant to them.
G. Don't add people to groups without their permission. This happens to people all the time and it is very annoying. You can send invitations and that gives the person the option to join, ignore, or simply delete your request.
H. Many members have posted marketing material that can be used and shared, graphics and videos that can be shared, and ideas on better marketing practices. Always be mindful to personalize things that you use and be sure to keep information accurate. If you see something that you like that has not been given to share or use, always contact the owner of that material and ask their permission before doing anything with it.
I. If you create your own Pages, Groups, Blogs, etc., be sure you comply with the terms of use of the host. Be sure you comply with our Affiliate Guidelines for Social Media and Internet Activity. You can view them here:
https://drive.google.com/open?id=1Vf4BCQNWKuzCCcaGbF4uWxKe2l0aQfbh
End***
***
Because our websites are hosted on the worldwide web, access may be available in other countries. We are happy to make the content, software, products, and/or services available to people in any country where legal to do so. And while we are not currently aware of any country that bans information of this type, nor specifically the information we provide, we make no representation that materials on the websites are appropriate or legal for use in any locations outside the United States. The laws regarding use of content, software, products, and/or services via the Internet may vary in different countries. If you have access to our websites from a location outside the United States of America, you and you alone are responsible for compliance with all applicable laws of your jurisdiction. Accessing the websites is prohibited from any country where the contents are deemed illegal, or where they are contrary to regulations.
***
Earnings Disclaimer: Every effort has been made to accurately represent our project. Any examples of results are not to be interpreted as a promise or guarantee of earnings. Your level of success in attaining the results claimed on our website depends on the time you devote to the project, on your knowledge and on various marketing skills. Since these factors differ according to individuals, we cannot guarantee any success or specific result. Nor are we responsible for any of your actions. Materials found on our website may contain information that includes or is based upon forward-looking statements. Forward-looking statements give our expectations or forecasts of future events. You can identify these statements by the fact that they do not relate strictly to historical or current facts. They use words such as "anticipate," "estimate," "expect," "project," "intend," "plan," "believe," and other words and terms of similar meaning in connection with a description of potential results or earnings.
Copyright © 2011-2021 United American Capital Corporation, Unicorn Network, Inc., SafeZone, Inc.
All rights reserved.