This webinar is property of United American Capital Corporation, Unicorn Network, Inc., SafeZone, Inc., and may not be recorded, and then distributed to the public. Any transcriptions/translations provided live by the "Power of WE" are not official. Please wait for the official English recap and translations for the complete details presented during any webinar.
Disclaimer: You are always personally responsible for your own actions; nothing contained in this or any webinar is to be constituted as advice for any reason. Do your own due diligence and speak with your own experts before making any decisions, such as those relating to health, finances, taxes, and business, to name a few. Decisions to buy digital Fractional Owner Rights (F.O.R.) need always to be based on the information found on the website only and none of the information shared in any webinar is legally binding to the Company, only content directly on the TwnklEstate website is legally binding.
Topics:
1. International Gallery of Fine Arts (IGOFA)
2. Other updates, reminders, and important info
Cate opens the webinar with a hearty WAZZZUUUUBBB and wishes everyone a warm welcome!
We start the webinar with information about the latest online auction that is happening right now on IGOFA. And here we have a message from Mike Jochum from IGOFA:
Hello Cate, thank you very much for having me again; I am very happy to be here; Today it is just me, since Carola is working at the very moment on the next auction intensively, but I should greet you all and say 'Hi' from her.

First of all, we'd like to take the opportunity to thank the whole team that made the start of The International Gallery of Fine Arts possible; we'd also like to thank you, the community, for the patience with the delayed start; sometimes you're simply not in charge of the challenges that are surrounding you especially in times of a pandemic; and we're always grateful for constructive comments so that we can continuously optimise and improve on it.

Speaking about the website we've got great feedback from the artists themselves and the community members; it is always a work in progress but we laid a good foundation that we can build on.

The next auction is planned already and we are very pleased to have such great artists in there; we don't want to say too much yet but we are excited and you will be as well for sure. Furthermore we are working on lots of different opportunities that will definitely surprise you.

In order to ease the communication with you and that we can share with you our latest news, we'd like to use WazzUb. Cate will tell you more about it in a second.

I hope that the spark that we embody will jump over to you. We are excited about the future and looking forward to it!
Thank you for listening!
From Cate:
Thank you Mike and we definitely send our greetings and thanks back to Carola too!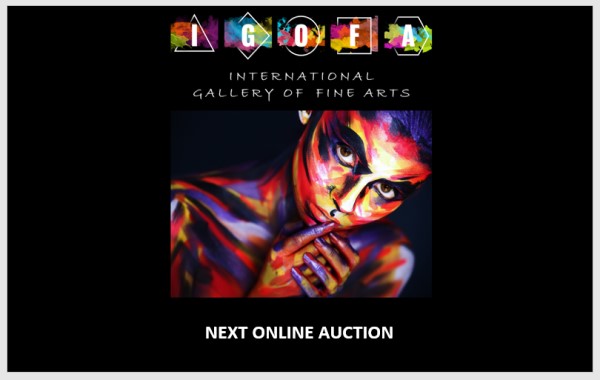 As Mike mentioned, the IGOFA Online Auction is going on right now till May 30, 2021 at www.igofa.art. You can bid with USD/EUR and YEM on selected art pieces.
Let's talk about these fantastic artists represented in the IGOFA Online Auction for May 2021.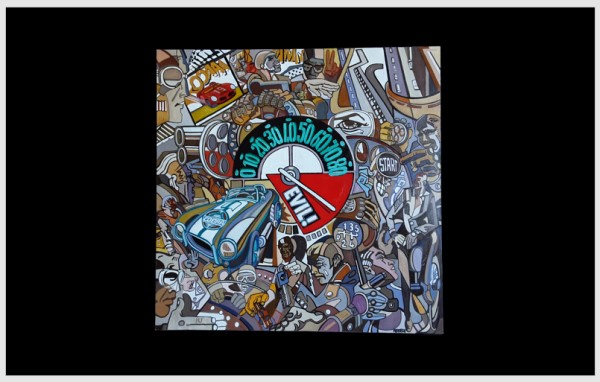 This highlight from the IGOFA online auction is a painting from one of the featured artists, the Featured Star-Artist, Marc Ferrero who specializes in Storytelling Art. Marc's artwork is full of color, a variety of details and is reminiscent of the pop art from the 1950's and 1960's. You can stare at his paintings for hours checking out all the different details and finding new things to appreciate.
Featured Star-Artist
Marc Ferrero: Storytelling Art
Painting Title: "Devil in AC Cobra" - Unique/Original
Technique: Oil on Canvas
Size: 120 x 120 cm
Visit the IGOFA auction page for complete details and links to learn more about Marc Ferrero, his interesting art work, and to bid on the auction.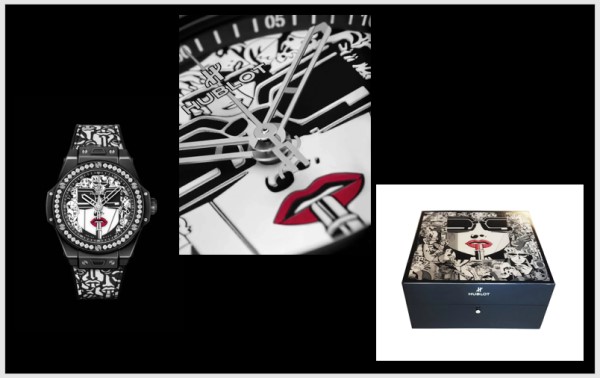 This next highlight from the online IGOFA auction is also featuring a painting from the Featured Star-Artist, Marc Ferrero, only this time combined with a very special limited edition, exquisite timepiece by Hublot.
The watch is named "Big Bang One Click" by Hublot.
In the dial is the emblematic lipstick motif by Marc Ferrero.
Material: satin-finished and lacquered stainless steel, set with 42 diamonds on a 39mm diameter bezel.
"One Click" because the bracelets can be easily interchanged with one click.
Edition: limited edition 2020 of 100 pieces - now sold out, so this is a rare find for the discerning collector.
This watch is numbered 17 out of 100.
Marc Ferrero's Artworks are in the most important private collections all over the world. Marc is a self-taught artist, with an Argentine Italian father and a French mother, he stopped his studies at 16 and went in search of the world. At an age where some begin their artistic learning in art schools, he accumulated life experiences and encounters with characters from all backgrounds. On crossing Morocco and Spain, hitchhiking to the edge of the lagoon of Assinie in Côte d'Ivoire, cheap hotels in Istanbul's old city and in Kyoto, sleepless nights on the Riviera, the mists of Brussels, it is natural to see in the work of Marc Ferrero influences of an adventurous life populated by extraordinary characters, and the temptation would be great to overshadow an essential part of his career, his passion for painting. He is not positioned at the head of a new pictorial movement without great knowledge of painting and major developments that have marked its history.
Check out the auction page on the IGOFA website for complete details and to learn more about Marc Ferrero, Hublot, their timeless work together, and to bid on the auction.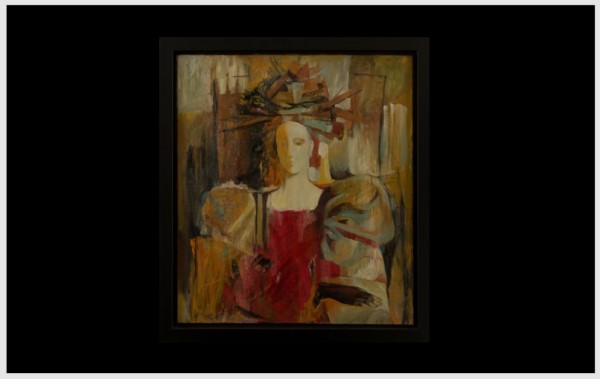 This next highlight from the IGOFA online auction is a painting from the Featured Secret Talent, Painter, Maria Kireeva with her painting, called "Dream" ("Traum" in German). Maria lives in Berlin; she is an artist and landscape architect, who paints and teaches art. Maria's work is unique and alluring, multifaceted with impressionist tones and a beautiful use of color, each piece is different and tells it's own unique story.
Featured Secret Talent:
Painter: Maria Kireeva
Title: "Dream", Unique/Original, 1997
Technique: oil on canvas
Size exhibit: 70 x 80 cm - without frame
Size with frame: as new framed/black shadow gap - 80 x 90 cm
Visit the auction page on the IGOFA website for complete details and to bid in the auction.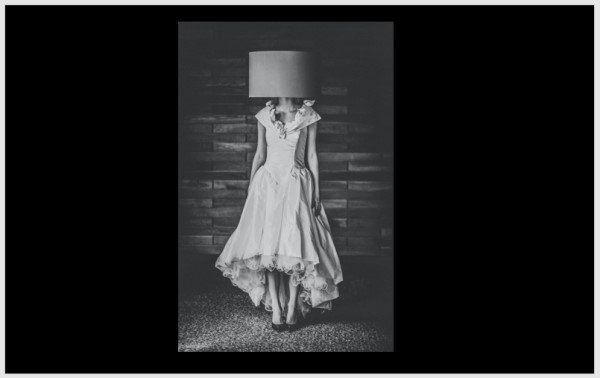 This next highlight from the online IGOFA auction is very interesting and one that can be purchased with YEM! The photo is by the artist Andy Heuer and called "Blinded by the Light Part 1". Andy is a self-taught photographer with a passion for photography, who specializes in photographing people, he is known for his authentic, beautiful, and thought-provoking photography. As Andy puts it himself, "I prefer to photograph people. Authentic, beautiful, interesting and personal. In their own way." Blinded by the Light Part 1 is definitely one of his more unique photographs.
Photo Artist: Andy Heuer
Title: "Blinded by the Light Part 1"
Edition: 1/ 1st photo from the cycle of the photo series "Blinded by the Light".
Year of creation: 2020
Size: motif printed: 40x60cm (wxh | without passe-partout look)
Size: motif framed: 45x65cm (wxh | incl. white passepartout look)
Frame: black, anodized aluminum
Visit the auction page on the IGOFA website for complete details and to bid in the auction.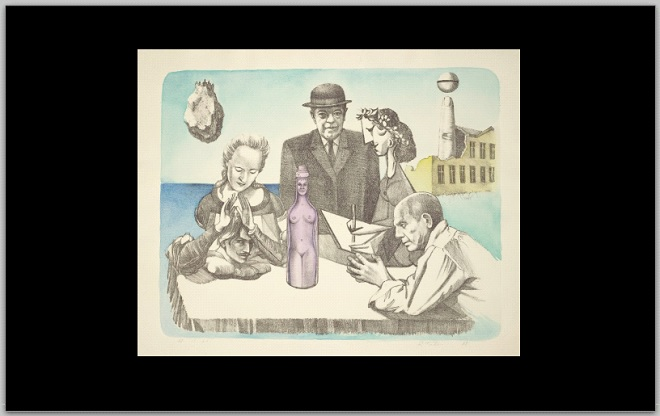 This next highlight from the IGOFA online auction is a painting from the Featured Graphic Artist Georgi Takev with his color etching called "The Three Big Surrealists (Salvador Dali, Pablo Picasso, René Magritte)". George is a versatile artist who employs various mediums from sculptures, paintings, and works on paper. His works cover a variety of subject matter and he is famous for his abstract "folded" paintings and surrealist themed artworks. For surrealist fans of Georgi Takev, Salvador Dali, Pablo Picasso, and René Magritte this work by Georgi Takev is a real treat to experience.
Photo Artist: Georgi Takev
Title: "The Three Big Surrealists (Salvador Dali, Pablo Picasso, René Magritte)"
Technique: Color etching
Year of creation: 1988
Size: 70 cm x 55 cm - no frame
Visit the auction page on the IGOFA website for complete details and to bid in the auction.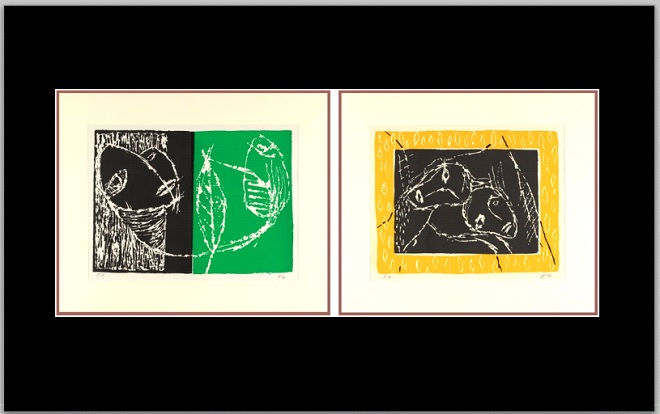 Next we have the Featured Graphic Ensemble, the artist Harald Herzog's lithographs called "In Dialogue I and II". These are unique first prints and highly sought after by collectors. The color and interesting subject matter in the lithographs would be great where you want a pop of color in a room or office, and a beautiful addition to any collection.
Photo Artist: Harald Herzog
Title: "In Dialogue I and II"
Technique: Lithograph
Year of creation: 1998
Size: 56cm x 42 cm each / 80 cm x 65 cm each with frame
Visit the auction page on the IGOFA website for complete details and to bid in the auction.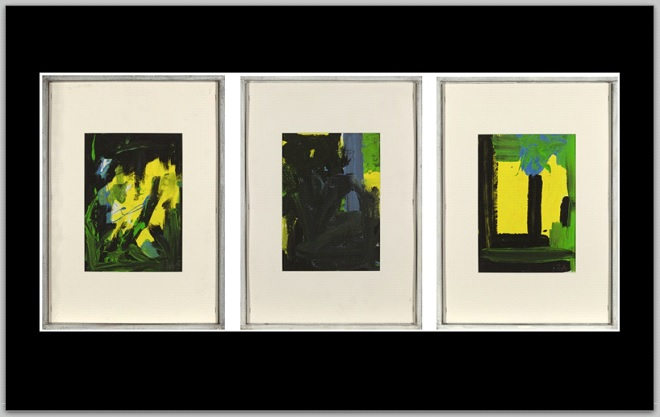 Next we have the Featured Ensemble YEM from the IGOFA online auction, the artist Jutta Braun with her series called "Neon". Jutta is a German artist who has a unique style of applying color or not applying it as the case may be, she explores the forces, rhythms, and cycles which exist and work inside and outside of the human being through her artwork.
The Neon series is an ensemble of 3 pieces, these artworks are done in a mixed media/paperbox style of art and unique originals. This series would again be a perfect way to add a burst of color to any home, office, or collection. Best of all you can buy them with YEM!
Photo Artist: Jutta Braun
Title: "Neon"
Technique: Mixed Media/Paperbox - Unique/Original
Year of creation: 1999/2000
Size: 36 cm x 50 cm each, 38 cm x 53 cm each with white frame (wood)
Visit the auction page on the IGOFA website for complete details and to bid in the auction.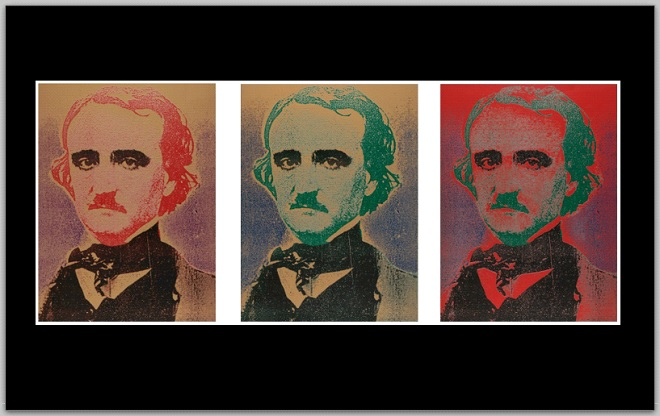 Here we have a Featured Graphic Ensemble from the IGOFA online auction, artist Stephan Kaluza with his unique hand-colored series of 3 screenprints called "Edgar Allen Poe Triptych". Stephen is a german photograpic artist with a wide range of subject matter. His works have been displayed in museums and galleries in many countries.
For fans of Edgar Allen Poe's poetry and literary works, and those who appreciate Stephan's unique style, this original screenprint series will be an excellent addition to any collection.
Photo Artist: Stephan Kaluza
Title: Edgar Allen Poe Triptych
Technique: Series of three screen prints /Unique / Original by handcoloring
Year of creation: 1992
Size: 58 cm x 78 cm each, 70 cm x 100 cm each including alloy frame
Visit the auction page on the IGOFA website for complete details and to bid in the auction.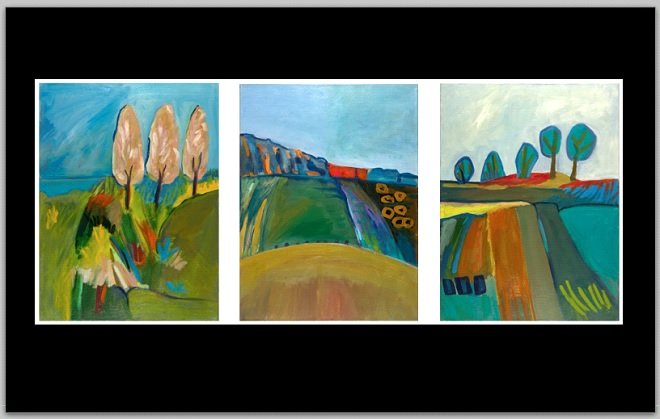 This next highlight from the IGOFA online auction is a series of acrylic paintings on canvasas the Featured Ensemble USD from the artist Marianne Merz. Marianne is a German artist known for her colorful and impressionist style paintings. Simplicity and imagination abound in her artwork.
This series is another perfect way to add a burst of color with a more landscape theme to any home, office, or collection.
Photo Artist: Marianne Merz
Title: "Blooming Trees, Hay Bales, Parkway", Landscapes I – III (Series of three paintings)
Technique: Acrylic on canvas - Unique/Originals
Year of creation: 2000
Size: 60 cm x 80 cm each, Without frames
Visit the auction page on the IGOFA website for complete details and to bid in the auction.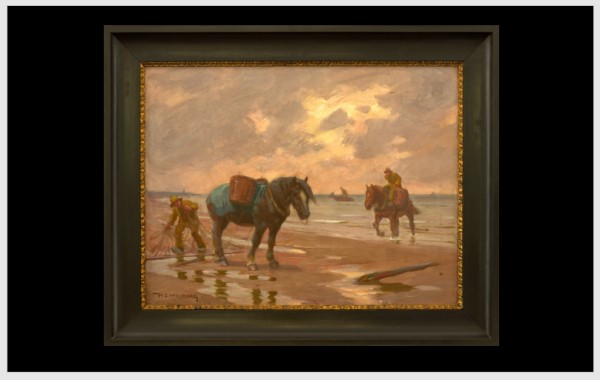 Last but certainly not least, this highlight from the online IGOFA auction is a more traditional composition and another piece that can be purchased with YEM! The painting is by an artist of the Munich School: Paul Ehrenberg and his painting called "Crevette fisherman". Paul Ehrenberg was a German violinist and impressionist painter who lived from 1876–1949.
Featured Highlight of the Past:
Exhibit from the "Munich School"
Artist: Paul Ehrenberg (1878 - 1949)
Title: "Crevette fisherman"
Technique: Oil on canvas
Size exhibit: 67 x 52 cm
Size with wooden frame: 82 x 67 cm
Visit the IGOFA website to see the online auction and learn more about all these fine art pieces, including detailed descriptions with links, and to bid on the auctions. Be sure to check out all these amazing artists in the current IGOFA auction before it is too late, as it ends on Sunday, May 30, 2021.
Tips for bidding, the bidding system is very similar to how YEMBids is run, which means that each auction has a timer displaying how long is left in that specific auction and if there is a bid placed within the last 60 seconds, an additional 60 seconds will be added until a final winner is decided based on the bids placed.
More exciting news is that we have a Reflink and commisisons for auction sales through IGOFA! The campaign page will be added to the WSS Campaign area soon. There will be a 4% total commission paid to WSS, on each online auction sold. Thatmeans the 4% commission is split based on the WSS rules. The details will be on the WSS campaign page coming soon.
What does that mean for you right now?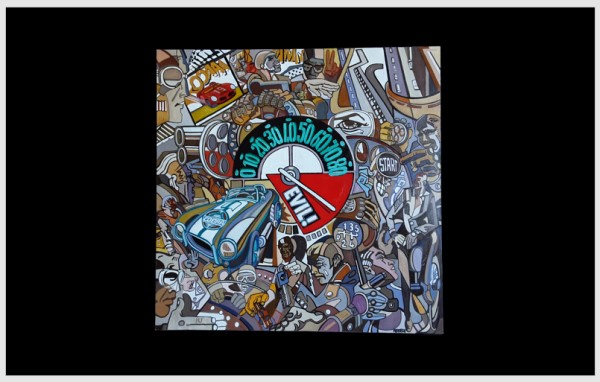 Well, let's take Marc Ferrero's painting "Devil in AC Cobra" (shown above), which is currently bid at US$60,100. The expected price range is somewhere between US$75,000 – US$90,000.
So, if you are actively promoting your Reflink and you get the active and passive commissions, just on this painting alone, your commission could be over US$1000, which is awesome!
Of course, since some paintings are being offered for fiat currency and some for YEM, the commission will be paid accordingly in fiat or YEM.
So feel free to contact people you know who love art, or check out art forums, or places where art auctions are listed, or places where people are talking about different artists like Marc Ferrero, and you can say something like "I found a place where this painting (or whatever type of art it is) from [name the artist] is being auctioned right now", for example if you were promoting Marc Ferrero's work, you could write something like "I found a place where a painting from Marc Ferrero is being auctioned right now" and then put your reflink there that will lead people to the auction; and then if people go there and bid on this auction, and win, then you would receive a commission.
And even if they do not bid anything on this auction, these monthly auctions will be continuing, so next month there will be another auction.
Remember your IGOFA reflink follows this standard format (replace [yourPerNum] with your actual PerNum):
https://igofa.art/[yourPerNum]
IGOFA is not just about art auctions, they are also supporting art education through school programs and more. One exciting development in the art education side is that IGOFA has purchased some licenses for ART GAMES. So very soon, you will be able to play Sudoku with art instead of numbers, and more fun art games. More details are coming soon…
Cate also shared a little update about the ART token and the development of the business behind it. The IGOFA team is in the process to finalize a deal for a huge art collection and that if everyone likes it, it could have potential in the hundreds of millions. There will be a lot of things coming out about it at a later date, and some pieces might need restoration, so we'll see how it goes, and more updates will come later.
WazzUb updates:
- New section separated for third-party partners and projects
- More specific projects will be added to that section step by step
- New area for IGOFA added
See this post for details:
https://world.wazzub.com/viewtopic.php?id=5021
Important reminders:
Remember, keep your login credentials (your SafeZone Pass) safe
If someone helped you to create your account (or helped you with your account for some reason), be sure you change your password/Master PIN as needed to keep your account secure.
If you help someone, be respectful and always keep maximum security in mind.
Other updates:
There are many updates happening to streamline and smooth out the processes in the PerNum Multi Wallet. If you have any challenges, be sure to contact SafeZone Support via the SUPPORT hexagon at Safe.Zone. Remember that SafeZone Support will reply back to you via the PerNum Messenger found at Pernum.com, so check there for replies.
The teamsare aware of some other specific issues, such as an error for some members that shows "DragonID not found" if you see this error, please contact SafeZone Support. Please be sure to note your PerNum, and the type of withdrawal you were trying to perform where the error message was shown when you contact them.
Mega Deals Week:
More new products being added, pay with YEM and just pay a small Shipping & Handling fee in fiat currency.
Letter from the Founders May 20, 2021:
Be sure to check out the Letter from the Founders to all members dated May 20, 2021. For those who are disappointed with LAM and want their YEM back, you have an opportunity to do so, until May 31, 2021; if you choose this option though you will need to repay any benefits received and you will no longer get any additional benefits from the LAM. So choose wisely.
https://world.wazzub.com/viewtopic.php?id=5018
Dragon Global Finance and Likquid updates:
Earlier today Anthony held a special series of webinars sharing details about challenges they have experienced and solutions they have implemented or are implementing to solve them. The recording in English is available now in Wazzub for those who missed it.
https://world.wazzub.com/viewtopic.php?id=5020
YEMRun Campaign by the YEM Foundation:
If you did not see yet, the YEM Foundation released a new campaign for charity!
BE A HERO AND TURN YOUR KILOMETRES INTO CASH.
By hosting a YEM RUN, YEM Foundation will donate 1 YEM for every kilometer you cover as an individual or collectively as a group. This is an opportunity for you if you ever wanted to support those less fortunate or any worthy cause close to your heart.
Visit the website to learn more and see who is already doing a YEM Run for charity!
One final point, remember, if there is any other project or update you are still waiting for, rest assured the teams are actively working on everything and as soon as there are further updates, we will share the details with everyone either in a webinar or in WazzUb, so be sure to keep an eye on the Announcements and Webinars in WazzUb so you always have the latest news and info.
Cate concludes the webinar here; thanks everyone for attending, and gives a goodbye WAAAZZZUUUBBB, wishing everyone all the best, and we'll see you next time!
With your success in mind,
Cate Kozikowski, Mike Jochum, and
Your WAZZUB Support Team
***
Additional Info from Support:
Need help? Use the handy SUPPORT hexagon in the SafeZone.
For all Unicorn Network Webinar info:
Log in to read recaps and register for webinars here: https://www.safe.zone (WEBINARS hexagon)
Remember to check out the SafeZone Radio Show too!
Airing live every Thursday from 11a.m.-12 p.m. USA Pacific Time. Listen live and check out past show recordings at: https://www.safe.zone (RADIO SHOWS hexagon)
***
For all YEM Foundation related info:
Read the latest news and archives here:
https://www.yemfoundation.org/
***
Please note effective March 20, 2019 Unicorn Network is updating its social media policy. Member updates will be posted in WazzUb.com under the NEWS area, please check there for member updates. External social media pages and groups will be closing step by step. We will post further updates as available. Thank you.
***
Unicorn Network Third Party Social Media Disclaimer;
The Unicorn Network uses third party websites and applications for marketing, and will often ask members to voluntarily interact with these services in order to increase reach of our postings. However, unless specifically stated, the Unicorn Network does not vouch for the safety or security of these services, and the member is advised that they use these services with the understanding that any issues which may arise from their usage are not the responsibility of the Unicorn Network.
***
** Reminder for all members: ** We have a strict anti-spam policy. Please be professional when sharing links for any of our offers. It has been noticed that some members have been posting their links on other people and group's Facebook pages. ** This is spamming!!! ** You should not post your links on anybody else's pages or in groups unless it is a page or group specifically set up for sharing business opportunities. You should not post your links on the timeline of any other person in any Social site unless they have given you permission to do so. Please be respectful and professional. Thank You.
***
Member Invitation guidelines
***Dear Members,
YEM (Your Everyday Money) is a very exciting opportunity for all members and for the future of commerce and financial transactions.
We know everyone is super excited and very eager and innovative in promoting YEM and this once-in-a-lifetime occurrence.
As always we want to be mindful of the reputation of the company and of course yourself when promoting. A few things to be mindful of:
A. Whenever translating any information, brand names must be in English. YEM, YEM Foundation, Twnkl, Glitter, Rainbow, SafeZone, etc., must be in English.
B. Always give accurate information using company pages as a guideline for information. Don't mislead by making wild claims or by changing the meaning of anything. If you are not sure what something means, please clarify.
C. Be sure to comply with local and International anti-spam regulations regarding emails. If using mailings you should be sure that those you are sending emails to are opted-in to receive emails. If you are emailing friends/family be sure to respect their wishes if they ask you not to send them offers.
D. Never use our Mailaxy for any marketing mailings. It is intended to be used for personal use only. Accounts may be closed if we get blacklisted due to members using Mailaxy for marketing and marked as spam.
E. In Social Media such as Facebook, Twitter, etc., always follow their terms of use.
*Never post your links or promotions on the profile page of any other member. If you post on your own profile those who follow you will see it if they follow your posts.
*Never reply to someone else's post or comment with links or promotions.
*If you belong to groups that allow you to post marketing, and there are many, be sure to follow their rules and don't flood them with constant posts. Watch to see what others do as a group. If there are several hundreds or thousands of active people in that group and there is only one person posting the same thing every 5 minutes or every hour don't do the same thing just because that one person does it. Do what is customary for that group.
F. Don't constantly tag random people on your posts. That function is meant to tag a person who may be in a picture, or tag someone that needs to take attention to that post because it is relevant to them.
G. Don't add people to groups without their permission. This happens to people all the time and it is very annoying. You can send invitations and that gives the person the option to join, ignore, or simply delete your request.
H. Many members have posted marketing material that can be used and shared, graphics and videos that can be shared, and ideas on better marketing practices. Always be mindful to personalize things that you use and be sure to keep information accurate. If you see something that you like that has not been given to share or use, always contact the owner of that material and ask their permission before doing anything with it.
I. If you create your own Pages, Groups, Blogs, etc., be sure you comply with the terms of use of the host. Be sure you comply with our Affiliate Guidelines for Social Media and Internet Activity. You can view them here:
https://drive.google.com/open?id=1Vf4BCQNWKuzCCcaGbF4uWxKe2l0aQfbh
End***
***
Because our websites are hosted on the worldwide web, access may be available in other countries. We are happy to make the content, software, products, and/or services available to people in any country where legal to do so. And while we are not currently aware of any country that bans information of this type, nor specifically the information we provide, we make no representation that materials on the websites are appropriate or legal for use in any locations outside the United States. The laws regarding use of content, software, products, and/or services via the Internet may vary in different countries. If you have access to our websites from a location outside the United States of America, you and you alone are responsible for compliance with all applicable laws of your jurisdiction. Accessing the websites is prohibited from any country where the contents are deemed illegal, or where they are contrary to regulations.
***
Earnings Disclaimer: Every effort has been made to accurately represent our project. Any examples of results are not to be interpreted as a promise or guarantee of earnings. Your level of success in attaining the results claimed on our website depends on the time you devote to the project, on your knowledge and on various marketing skills. Since these factors differ according to individuals, we cannot guarantee any success or specific result. Nor are we responsible for any of your actions. Materials found on our website may contain information that includes or is based upon forward-looking statements. Forward-looking statements give our expectations or forecasts of future events. You can identify these statements by the fact that they do not relate strictly to historical or current facts. They use words such as "anticipate," "estimate," "expect," "project," "intend," "plan," "believe," and other words and terms of similar meaning in connection with a description of potential results or earnings.
Copyright © 2011-2021 United American Capital Corporation, Unicorn Network, Inc., SafeZone, Inc.
All rights reserved.