This webinar is property of United American Capital Corporation, Unicorn Network, Inc., SafeZone, Inc., and may not be recorded, and then distributed to the public. Any transcriptions/translations provided live by the "Power of WE" are not official. Please wait for the official English recap and translations for the complete details presented during any webinar.
Disclaimer: You are always personally responsible for your own actions; nothing contained in this or any webinar is to be constituted as advice for any reason. Do your own due diligence and speak with your own experts before making any decisions, such as those relating to health, finances, taxes, and business, to name a few. Decisions to buy digital Fractional Owner Rights (F.O.R.) need always to be based on the information found on the website only and none of the information shared in any webinar is legally binding to the Company, only content directly on the TwnklEstate website is legally binding.
Topics
1. YEMBids updates
2. Twnkl Gold Coin (TGC) updates
3. Mega Deals Week updates
4. NBPlus YEM Days Weekend Sales Event
Waaazzzuuubbb Everyone!
Today we have a few exciting topics to talk about, so let's get started. About 2 weeks ago we opened the YEMBids and Twnkl Gold Coin (TGC) websites and we have a few updates. Let's go through YEMBids first.
As we mentioned, YEMBids is the way you can buy and sell all kinds of items, both new and used for YEM. We updated the landing page so now it focuses more on the free shopping benefits, as you can see in the image.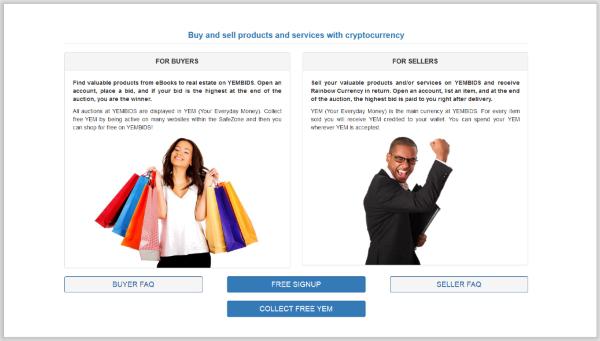 Now is a great time for buyers and sellers on YEMBids; there is a huge demand from buyers, so it's a great time to earn some YEM providing great products and services through YEMBids for sellers.
Various other improvements have been made on the YEMBids platform to security/KYC/AML procedures also. You might have seen a few new messages displaying depending on your profile status.
To be clear, in order to bid on YEMBids, buyers must have both their YEMBids profile filled and have their SafeZonePass.com account updated, including the ACTIVATE WALLET hexagon before they can place a bid.
Sellers must also have their YEMBids profile complete, and also their SafeZonePass.com account updated including the LIFT LIMITS hexagon (POI/POA uploaded) before they can sell an item.
Also, if you did not see, withdrawals to your YEMBids account have been fixed and you can now withdraw YEM from YEMBids as you want. Do understand if you sell something, there is a hold period of 30 days or until the buyer marks they have received the item, whichever happens first. So buyers, when you have received the item, be sure to mark it received in your YEMbids account so the seller can receive their YEM. Of course, be sure you have received the item first before marking it received.
For those Sellers who were wondering if the buyer pays in free YEM, what happens?
You receive regular YEM.
Do understand though, if we catch people trying to scam or use the system improperly, you will lose your account, as our teams are actively checking all auctions. So don't risk it, simply follow the rules, terms, and respect one another.
Sellers, if you have questions on what type of products are allowed or not allowed, please see the Additional Terms for Shobbit Merchants in the full Unicorn Network Terms (Shobbit Merchant terms are the last additional terms in the current terms version, just for your info).
Couple quality notes… Sellers, for the first image (the auction main image) make sure that first image is square shaped for the highest image quality.
Also be sure if you are selling something that is used or a replica, be sure it is clearly marked in the title, description, and short description. Especially when you want to use terms that have very specific meanings, like gold, silver, other precious metals and stones, etc., be mindful of how you describe things if they are replicas. Our teams are actively checking all auctions and any sellers doing things outside the rules will be notified to their YEMbids account, so if you have messages, be sure to read them.
The first auctions have already closed on YEMBids; congrats to the first buyers and sellers on YEMBids. Good luck everyone on getting your favorite auctions!
Now let's talk about the Twnkl Gold Coin (TGC).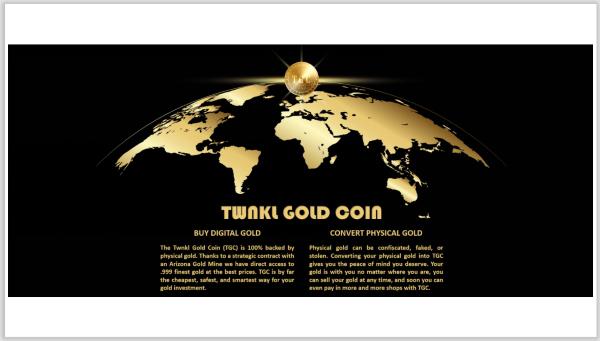 On November 14, 2020, we opened the Twnkl.Gold website for everyone to start ordering their digitized gold. Let's make this clear: TGC is not a cryptocurrency, it's not a digital currency, it is literally digitized gold. It is 100% backed by real physical gold from a gold mine in Arizona, USA and later if you want to exchange your TGC for physical gold, you can do that. There will be a process of course and we'll share more on that later. The point is that when you buy TGC, you are buying gold, simple as that. With the integration of blockchain through the YEMChain, and the security, privacy, and quality standards of the SafeZone through the PerNum Wallet (which is soon to be a Multi-function Wallet) and authority friendly aspects with your SafeZone Pass, we have made owning gold more accessible and owner friendly. With TGC, your gold is accessible wherever you are, all you need is power and an internet connection.
Now one cool thing, especially for those who are thinking, "Well what about the times when I don't have power or an internet connection?" The Twnkl Gold Coin has got you covered there too with an official certificate that can be printed and stored offline on demand, that has a date stamp from the date you download it.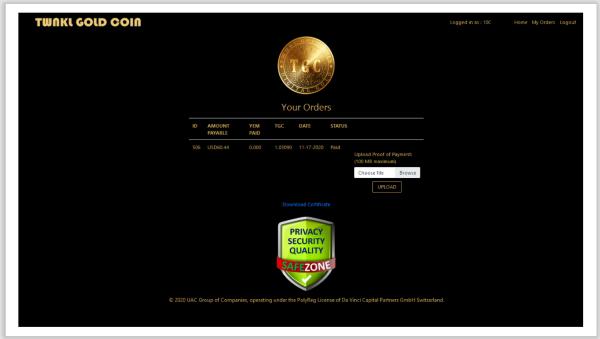 The certificate is available after your order is marked paid. To view and download it, visit your My orders page (this is the same page you visit after you order to view your order or upload your proof of payment which helps to process your payment faster), there you will see the link, "Download certificate".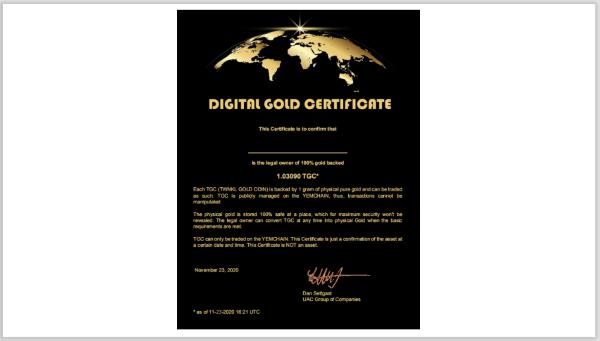 As the image states above,
This Certificate is to confirm that
[your name will be here]
is the legal owner of 100% gold backed
[your TGC amount will be here] TGC*
Each TGC (TWNKL GOLD COIN) is backed by 1 gram of physical pure gold and can be traded as such. TGC is publicly managed on the YEMCHAIN, thus, transactions cannot be manipulated.
The physical gold is stored 100% safe at a place, which for maximum security won't be revealed. The legal owner can convert TGC at any time into physical Gold when the basic requirements are met.
TGC can only be traded on the YEMCHAIN. This Certificate is just a confirmation of the asset at a certain date and time. This Certificate is NOT an asset.
[date downloaded]
[signed by] Dan Settgast
UAC Group of Companies
* as of [date/time downloaded] UTC
So this certificate is great and gives you some peace of mind being able to have a paper record of your assets available at any time and officially date/stamped and signed for authenticity. Remember, as it states on the certificate itself, the certificate is not an asset and cannot be traded as an asset; it is there just as a confirmation for you, so keep that in mind.
One thing to clarify, the minimum purchase of TGC is 1 TGC, and you are able to order as much as you want to buy over that minimum amount. So even if you have some money you want to spend but not enough for 2 TGC, or whatever the case may be, you can get as much as you choose above the minimum of 1 TGC.
Keep in mind there is no mark up from the gold price to buy TGC, so you can buy gold for the spot price. That is the value of TGC, it is the official gold market rate. Be aware too, as the value of TGC is the value of gold, it is normal and natural for the price to fluctuate often and you can see this happen live with the value on the Twnkl.Gold website too.
Remember that the 3% discount is only available on the first 5kg of gold purchased and then it is gone. Also, the maximum of 10% cashback paid in YEM for all orders paid 100% in fiat currency will be reduced in the future, so keep that in mind if you want the best deals.
And a reminder: do not place an order unless you intend to pay for it in the next 5 days, otherwise, if it is unpaid after 5 days, the order will be automatically canceled and you will be charged a cancellation fee for non-payment. So be smart when you order, thank you.
Some more good news about TGC too!
Commissions are paid on all TGC orders.
The commissions are in total 10%, which is split based on WSS rules = 2.5% passive/2.5% active, etc.

There is still a 30-day hold time before it can be withdrawn.

Of course, verification requirements must also be met to withdraw.
Happy golden 20's all!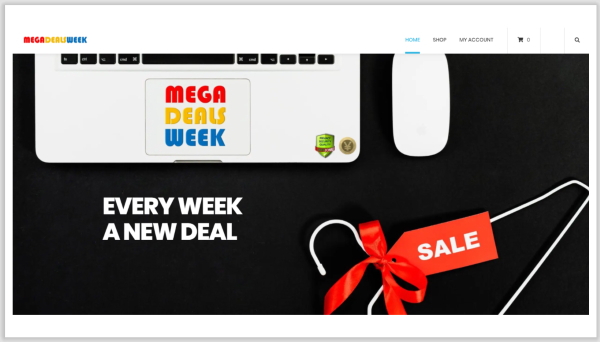 On to holiday shopping updates!
Remember to check out new deals on MegaDealsWeek, new items are added often and more items with International shipping will be added as available too!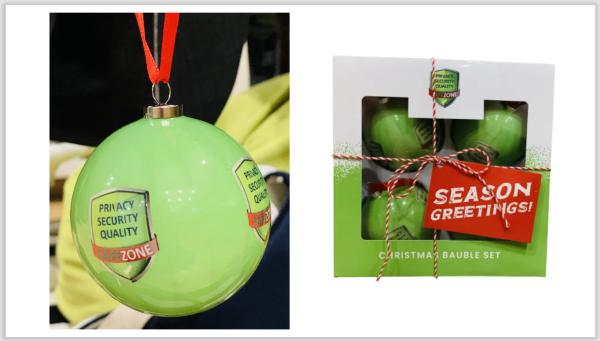 If you want to start your special limited-edition branded product collection, there are still some of the limited edition SafeZone Christmas Bauble sets available. These are available with worldwide shipping, you can order just a single 4-pack of ornaments, or a whole case to share with your friends and family this holiday season. Be sure to check them out, there is still time for them to arrive before Christmas depending on your location and shipping times. Once they are sold out, that is it, they are gone.
So don't delay, check out Mega Deals Week today!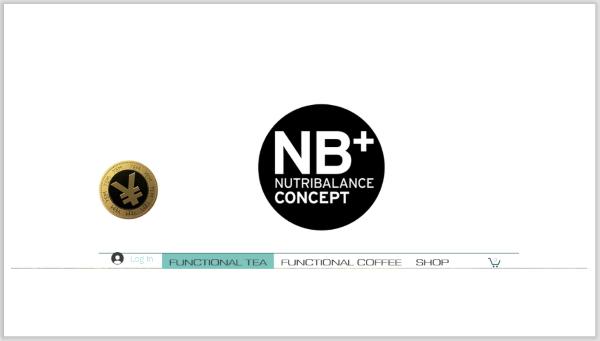 More great holiday shopping news!
Our friends at NBPlus have set up a very special Black Friday deal they are calling YEM Days!
This is available for all YEM holders worldwide!

If you are interested in the BOB HOME Tea Time automatic tea machine and the NBPlus functional tea deal, well now is the time to buy.

For 3 days, November 27-29, 2020, NBPlus is offering this special promotion that can be paid 50% with YEM!

Shipment cost may be as low as 4.95 EUR worldwide.

Do be aware the website is only in German to start, the English version is planned for 2021.

They will be selling more products internationally very soon too, so be sure to check back regularly.
Check out the NBPlus YEM Days at MyNBPlus.com
Other quick updates:
Thanksgiving in the USA is Thursday, November 26, 2020. Cate shared a special note in WazzUb and the team is taking a long weekend of much needed rest and personal family time between November 26-29, 2020, so please do understand and be sure to check the other Announcements for further updates as needed. Check the message in WazzUb for more details here:
https://world.wazzub.com/viewtopic.php?id=4540
Please note, for those SDF reservation holders who may have had challenges depositing into Swiss Digital Funds, please try again, all errors have been reported fixed. If you have questions, see the Announcement and Support areas in WazzUb.
https://world.wazzub.com/viewtopic.php?pid=346454#p346454
That's all the updates for today, thank you everyone for joining us, Waaazzzuuubbbbb, and all the best everyone!
With your success in mind,
Cate Kozikowski and
Your WAZZUB Support Team
***
Additional Info from Support:
Need help? Use the handy SUPPORT hexagon in the SafeZone.
For all Unicorn Network Webinar info:
Log in to read recaps and register for webinars here: https://www.safe.zone (WEBINARS hexagon)
For all Rainbow Currency Webinar info:
Read recaps and register for webinars here:
https://www.rainbowcurrency.com (WEBINAR RECAPS button from menu)
Remember to check out the SafeZone Radio Show too at a NEW TIME!
Airing live every Thursday from 11a.m.-12 p.m. USA Pacific Time. Listen live and check out past show recordings at: https://www.safe.zone (RADIO SHOWS hexagon)
***
Please note effective March 20, 2019 Unicorn Network is updating its social media policy. Member updates will be posted in WazzUb.com under the NEWS area, please check there for member updates. External social media pages and groups will be closing step by step. We will post further updates as available. Thank you.
***
Unicorn Network Third Party Social Media Disclaimer;
The Unicorn Network uses third party websites and applications for marketing, and will often ask members to voluntarily interact with these services in order to increase reach of our postings. However, unless specifically stated, the Unicorn Network does not vouch for the safety or security of these services, and the member is advised that they use these services with the understanding that any issues which may arise from their usage are not the responsibility of the Unicorn Network.
***
** Reminder for all members: ** We have a strict anti-spam policy. Please be professional when sharing links for any of our offers. It has been noticed that some members have been posting their links on other people and group's Facebook pages. ** This is spamming!!! ** You should not post your links on anybody else's pages or in groups unless it is a page or group specifically set up for sharing business opportunities. You should not post your links on the timeline of any other person in any Social site unless they have given you permission to do so. Please be respectful and professional. Thank You.
***
Member Invitation guidelines
***Dear Members,
Our Rainbow Currency is a very exciting opportunity for all members and for the future of commerce and financial transactions.
We know everyone is super excited and very eager and innovative in promoting our Rainbow Currency and this once-in-a-lifetime occurrence.
As always we want to be mindful of the reputation of the company and of course yourself when promoting. A few things to be mindful of:
A. Whenever translating any information, brand names must be in English. Rainbow Currency, Twnkl, Glitter, Rainbow, SafeZone, etc., must be in English.
B. Always give accurate information using company pages as a guideline for information. Don't mislead by making wild claims or by changing the meaning of anything. If you are not sure what something means, please clarify.
C. Be sure to comply with local and International anti-spam regulations regarding emails. If using mailings you should be sure that those you are sending emails to are opted-in to receive emails. If you are emailing friends/family be sure to respect their wishes if they ask you not to send them offers.
D. Never use our Mailaxy for any marketing mailings. It is intended to be used for personal use only. Accounts may be closed if we get blacklisted due to members using Mailaxy for marketing and marked as spam.
E. In Social Media such as Facebook, Twitter, etc., always follow their terms of use.
*Never post your links or promotions on the profile page of any other member. If you post on your own profile those who follow you will see it if they follow your posts.
*Never reply to someone else's post or comment with links or promotions.
*If you belong to groups that allow you to post marketing, and there are many, be sure to follow their rules and don't flood them with constant posts. Watch to see what others do as a group. If there are several hundreds or thousands of active people in that group and there is only one person posting the same thing every 5 minutes or every hour don't do the same thing just because that one person does it. Do what is customary for that group.
F. Don't constantly tag random people on your posts. That function is meant to tag a person who may be in a picture, or tag someone that needs to take attention to that post because it is relevant to them.
G. Don't add people to groups without their permission. This happens to me all the time and it is very annoying. You can send invitations and that gives the person the option to join, ignore, or simply delete your request.
H. Many members have posted marketing material that can be used and shared, graphics and videos that can be shared, and ideas on better marketing practices. Always be mindful to personalize things that you use and be sure to keep information accurate. If you see something that you like that has not been given to share or use, always contact the owner of that material and ask their permission before doing anything with it.
I. If you create your own Pages, Groups, Blogs, etc., be sure you comply with the terms of use of the host. Be sure you comply with our Affiliate Guidelines for Social Media and Internet Activity. You can view them here:
https://drive.google.com/open?id=1Vf4BCQNWKuzCCcaGbF4uWxKe2l0aQfbh
End***
***
Because our websites are hosted on the worldwide web, access may be available in other countries. We are happy to make the content, software, products, and/or services available to people in any country where legal to do so. And while we are not currently aware of any country that bans information of this type, nor specifically the information we provide, we make no representation that materials on the websites are appropriate or legal for use in any locations outside the United States. The laws regarding use of content, software, products, and/or services via the Internet may vary in different countries. If you have access to our websites from a location outside the United States of America, you and you alone are responsible for compliance with all applicable laws of your jurisdiction. Accessing the websites is prohibited from any country where the contents are deemed illegal, or where they are contrary to regulations.
***
Earnings Disclaimer: Every effort has been made to accurately represent our project. Any examples of results are not to be interpreted as a promise or guarantee of earnings. Your level of success in attaining the results claimed on our website depends on the time you devote to the project, on your knowledge and on various marketing skills. Since these factors differ according to individuals, we cannot guarantee any success or specific result. Nor are we responsible for any of your actions. Materials found on our website may contain information that includes or is based upon forward-looking statements. Forward-looking statements give our expectations or forecasts of future events. You can identify these statements by the fact that they do not relate strictly to historical or current facts. They use words such as "anticipate," "estimate," "expect," "project," "intend," "plan," "believe," and other words and terms of similar meaning in connection with a description of potential results or earnings.
Copyright © 2011-2020 United American Capital Corporation, Unicorn Network, Inc., SafeZone, Inc.
All rights reserved.