This webinar is property of United American Capital Corporation, Unicorn Network, Inc., SafeZone, Inc., and may not be recorded, and then distributed to the public. Any transcriptions/translations provided live by the "Power of WE" are not official. Please wait for the official English recap and translations for the complete details presented during any webinar.
Disclaimer: You are always personally responsible for your own actions; nothing contained in this or any webinar is to be constituted as advice for any reason. Do your own due diligence and speak with your own experts before making any decisions, such as those relating to health, finances, taxes, and business, to name a few. Decisions to buy digital Fractional Owner Rights (F.O.R.) need always to be based on the information found on the website only and none of the information shared in any webinar is legally binding to the Company, only content directly on the TwnklEstate website is legally binding.
Topics:
1. Unicorn Network 9th Anniversary Celebration
2. Deeper insight into what it takes to be successful and behind the scenes at the Unicorn Network group of companies
3. Merger updates
4. Short updates on Twnkl Gold Coin (TGC), bridge coin, Swiss Digital Funds and other upcoming updates
5. YEMBids updates
6. Mega Deals Week re-launch with first limited edition SafeZone branded product
From Cate:
Cate started out the celebrations with some music from Micaela Abreu, the current Biggest Talent of the World, with her song, "Angel's Sing" followed by "Praise all the Brave" by Rex Revol both in thanks and to honor all our heroes, for Veterans Day (celebrated in the USA on November 11, 2020), including military Veterans, first responders, police, nurses, grocery store workers, farmers, truckers, everyone who helps keep us safe, healthy, and secure; and as well to share our condolences to the Royal Family of Bahrain, unfortunately the Prime Minister of Bahrain, who was part of the Royal Family, passed away today.
Cate then shared congratulations to Unicorn Network who is celebrating 9 years since the launch of the very first project today, and also shared thanks to all members, it's the Power of We, all of us working together, and together we all making it possible, so a big THANK YOU to all!
Unicorn Network projects in many ways are thanks to the influence of our members, influence after all is one of our core values.
Cate welcomed all new members who recently joined as well, saying that we are glad to have you all in our family. She further explained about how all our projects are focused on privacy, security, and quality as we all deserve those kinds of high standards where we congregate online.
For a little history, SafeZone launched in 2017 with just one hexagon.
Now there are more than 30 hexagons on various topics like our growing number of community oriented sites, such as PROorNO.com (where you are rewarded for sharing your statements, comments, and voting), WazzUb.com (where you should check for updates under News and Announcements), and prize draws like on Prizemania.net (where you can win free prizes daily), and so much more.
Cate then introduced, our special guest, one of the Co-Founders, Dan Settgast, for more updates:
From Dan:
Congrats to our team and wonderful members helping us to make the impossible possible and reach milestone after milestone. It has been a fantastic 9 years!
Honestly, it started actually 14 years ago, when the Founders started thinking about what has never been done before.
Let's talk about our wonderful project from the point of view from the Founders.
Some might be shocked.
Dan will talk about struggles, bankruptcies, lawsuits, etc.
All this is a fixed vital part of success.
When Dan has time, he reads in our WazzUb and Skype groups, he is thankful for those who share their honest feelings and opinions, most are excited and positive,
Some are quite negative… talking about delays, things not working, etc. a fun sentence is when it starts "I deserve… or we deserve…" whatever it is.
Wherever you see success and look behind the curtains
You find tons of negative things that happen on the path to success.
Failure
Delays
Bankruptcies
Even catastrophes
No one wants them.
But they are a fixed part of success.
An example
(because Dan is German, this is a German project example)
The airport in Berlin
First date for opening was a week before we launched WazzUb in 2011
They had delays, problems, 3x bankrupt, etc.
They just opened 1 week ago,
Never stopped even from challenges.
Other companies you might know well, for example
Google - going by Alphabet now for several years… all know it as Google.
What you can see publicly is tons of very expensive failures
Example - because of how successful Amazon is … started Froogle as a shopping platform - it failed (they rebranded it)…
Some might remember Google glasses… invested billions and failed.
Some might remember Google+ … they saw Facebook successful … tried it, failed, and closed Google+
Still they are one of the most successful companies on this planet
Yes, they had failures and delays as well, it's part of their success.
(Side note, if you ever want to see just how many failures a successful company like Google has had over the years, take a look at a website, KilledByGoogle.com, so far they have kept track of more than 200 apps, services, and hardware that failed!)
This is an important message, failure and delays are part of success.
Most of you know Apple has been nearly bankrupt several times.
They believed in their vision and products and look where they are today.
Apple had delays and challenges with products too.
Think of Samsung… did they think the Samsung Galaxy Note 7 would explode? No.
All these failures are part of success.
Some members say, "if you are not sure when something will launch, why share it with us upfront?"
Another example - Elon Musk
Most known for Tesla but he's the creator of many other projects as well;
Hyperloop,
Rocket to Mars,
And many other things.
Imagine this example if he, as a visionary says, "Hey world I have a super exciting project here, really visionary, I don't want to tell you anything about it, I don't know when or if it will happen, I believe in it, but I don't know for sure, so I won't tell you I am working on a hyperloop or rocket to Mars…"
What do you think would happen?
He would not find any investors or partners or any person supporting him by just saying he has something exciting without any details.
What happens when you have a vision?
You think all will go fine.
Elon had a rocket explode… at least 1… do you think he planned that catastrophe? No, you expect things to go smooth. He has his vision and he has people believing in his vision.
Now when you are part of our project, you are automatically part of our vision.
You need to understand our vision
It's not just a social network or eCommerce shop, or sports betting…
Its a whole framework for privacy, security and quality.
We do it for you to be safe on the internet and for you to enjoy being on the internet.
What we want to create is a perfect internet experience.
This is not easy to do.
We are on our way.
Let's lift the curtains on Unicorn Network and see what happened with us.
9 years ago, we launched our first site.
Before that we talked with experts about our vision of a perfect internet experience with privacy, security, and quality content.
All experts told us we would fail.
"No one is interest in privacy, security, and special quality" they said.
That was 10-11 years ago.
Now look where we all are now…
Open any news page, read the headlines, and you will find articles about hackers, fake news, low quality content, etc.
All things we said 10 years ago that these would be important topics in the future.
We were right.
If we had listened to the experts we never would have started. We never would have launched our first website.
We started our 1st website 11-11-2011 at 11:11am
And right after launch and sharing our idea of being the first success sharing phenomenon on the internet where users can join for free and receive tons of benefits, we had tons of sign ups.
And a few days later … we realized that the software programmed by our chief programmer at the time, could not handle the sign ups… it failed… so now what do you do?
The Founders are not programmers, what would you do?
Close the project? What would you do?
The Founders decided to find a new Chief Programmer who is crazy enough to hop into a project that he does not know and has already launched. The catastrophe already happened and he knows nothing to start.
The Founders talked with several programmers and met one guy, who said, "I can't promise you anything, but I will look into it." and guess what, he is after literally 9 years later, he is still our Chief Programmer, Hassan, and a big THANK YOU to Hassan, he has saved us many times over the years and we are very grateful for it.
We did not plan our database would shut down.
The point is that you need to handle things when they happen.
The first programmer realized he made a mistake and instead of fixing it, he left without a word. At the same time though, whenever something bad happens, there is always something good that happens. And here, the good thing was that we met Hassan, so thank you to our first programmer for that.
After Hassan fixed things, our network grew even faster than Facebook at the time.
We had nothing but our sign up page.
We promoted it and our members promoted it on Facebook.
Facebook checked what we were doing and shut down our Facebook page.
Of course, sign ups went down dramatically. So what to do?
We asked our programmer about having our own social network, and you know it as WazzUb, it's still there.
Then we found out that several million sign ups were fake sign ups. The biggest group was more than 100 people creating one fake account after another working out of China to get commissions and bonuses, they thought we would not be smart enough to catch them.
When you find out you have 4 million fake sign up after just the first few months, this is a huge problem because you want a quality network. It won't work with fake sign ups.
We could have closed the network because it was all for free at that time, we did not make any money at that time, it all came from the Founders pockets, and they invested millions of dollars into the project.
We found a solution by having a great team and great members, who said yes, it is a huge load of work, however we will do it to find the cheaters. It was not fun, it took a lot of time and delayed other stuff, still we did it; this way it became part of our success.
In 2012 we presented a very limited program for our members at the time called a co-ownership program. At the time there were other companies doing similar things as we did (joining a social network and you can be part of the network as a co-owner somehow).
Dan remembered just 2 names because they were similar, Zeekler and Zerker… some of you might remember them. If you would have just compared what they did and what we did, it was not super different. All 3 companies received letters from the SEC, the financial authority in the USA, and because the Founders are German, they were investigated by the German BaFin, the German equivalent of the SEC also. And 2 of the 3 companies were shut down by the SEC. We never planned to be in trouble, we never planned to be investigated. Obviously we were better prepared to handle this situation because quality is part of our plan so we had quality experts helping us set up the co-ownership program so that things could be easily clarified. The other 2 companies obviously did not because they got shut down and in at least 1 company the initiators even went to jail for what they did.
A few years later, we launched Cashback Marketing (CBM).
And well we had to find out that there was the only time so far that there was some kind of loophole… fraudulent users found the loophole and stole a 6-figure amount of USD.
And some members promoted CBM, not as what it is, a marketing program for businesses and individual entrepreneurs who want to earn money on the internet and therefore need to do some marketing on the internet… but they promoted it as an investment program. this brought CBM into huge trouble.
Dan said that he can say, every owner of a project like CBM… they would simply go bankrupt… because through bankruptcy, most of problems are solved because no one can get any money anymore.
We said, even if it takes years to come back and clarify things, we won't let CBM go bankrupt, we will solve the challenge, and really those who have to receive money, they will receive it one day… we can't say how long it can take, know that we are on it behind the scenes and we are handling things.
This was a catastrophe… but it's part of our success because we learned from it.
Then when crypto got popular in 2017… we thought, finally a solution for global payments…
But when looked deeper… saw challenges with existing cryptos, they don't fit with our privacy, security requirements.
So decided to create our own coin.
And very soon, there is big problems with the Ether blockchain… hacking, fraud, bad exchanges, wallet providers, etc.
Many members reported they lost coins here or there, exchanges having issues, closed by authorities, etc.
We could have just gone with how it was, said "hey, that's life"
We could have closed it because it did not meet our quality standards
No, learned from it, we chose to hire more experts and created the private blockchain that worked for our quality standards and our members
We never expected that… it's part of our success.
We started smart contracts in 2018/2019
For luxury goods, real estate, cars, travel, etc.
Then covid hit the planet
No one expected this
Yes, it causes tons of trouble and delays
Because when want to talk with a producer about buying goods with digital currency… they have other issues… and we cannot travel so that makes it more complicated.
We never planned on experiencing these challenges.
However we will survive and find solutions for everything we started there.
And by the way, we have launched projects in 2014/2015 to see what would work on the market
BOBL, Punch the Price, Mega Deals Week and many others
Lotto Madness/Jackpot Directory…
We learned from feedback, usage…
Dan can say, none of these projects died…they will come back when they come back right, it will be at the right time with the right features.
Now let's see all the beautiful things we achieved together
Our Milestones
First network with all websites 100% secured with SSL certificates on all our sites
Google, at the same time explained to the world why only 70% were SSL
We were first with 100% Two Factor Authentication (2FA)
We are still one of very few with 2FA
Some sites offer 2FA… but it's not promoted
Why? 2FA is a bit difficult to login than without 2FA
Some sites just want to make it easier to for members to login but don't care about security
We are SafeZone… so 2FA is for all
And if you do bigger things, we have bank level KYC
Sometimes it's difficult and doesn't work… understand we are in the process of developing things, failure is part of the success story
If you want to be part of the success, because we share success… then it belongs to you as well because you are part also.
We the are first network not collecting data about what you do
We just count activity and credit you with a fraction of YEM to reward you
We do not build a secret profile about you
We are first and might still be the only ones who do it like this
We are the first success sharing network, free forever
We promised this 9 years ago and it's still the same… wait, it's even better because just for signing up, you get your first benefit of 10 USD value of YEM
Then it gets even better
In a few days from now, there will be a website where we can directly go to buy products with YEM
If not enough YEM, can collect more free YEM at places like Pro or No, WazzUb, Prize Mania
There will be more… we will launch some exciting websites just to collect more free YEM soon
This is what we promised 9 years ago
First success sharing network
And to be free forever
Still the same and we won't change that
In 9 years from now, still sign up for free and still share success with them
Rules might be a little different, generally it will still be the same idea
We have initiated 1st authority friendly digital currency and blockchain with the digital currency represented by a non-profit foundation that by the rules of the United Nations is accredited as an international NGO and we checked and they are still the only blockchain and digital currency related INGO accredited by the UIA
UIA is a kind of bookkeeper for United Nations
Now an important thing to understand about this digital currency called YEM (Your Everyday Money), it is a currency, a form of digital currency and comparable with other currencies like USD or EUR, etc. and this means if someone is accepting YEM as a form of payment or if someone is offering YEM as cashback when you buy with fiat currency, this does not mean that these people or businesses are officially approved or accredited by us in the SafeZone or even that they are a Business Member of the SafeZone. Because YEM is a currency, we cannot control who is accepting YEM.
A straight example is if a drug dealer were to accept YEM, that would not make drugs legal.
And we cannot control it.
Understand YEM is a currency
Currencies can be used for good and bad things
Someone accepting or offering YEM for example as a cashback does not mean they are accredited by us
So you need to be careful
To make it easier for you to know when a business is accredited, we created years ago our Seals You Can Trust.
We have created a seals for shops you can trust, websites you can trust, and even ads you can trust for advertising (i.e. banner ads, etc.)
These seals will come back at the latest in January 2021
This way when you go to a site, you'll be able to check in the footer of the website to see if they have one of our Seals You Can Trust. This is done for your protection and peace of mind.
Understand we cannot keep all the evil outside
And other delays and failures may happen in the future
Please also understand that no one wants these kinds of things
No one does and no one likes it.
Understand though that we have given proof over the last 9 years that we can handle these kinds of things.
We are still here
We are still growing fast
We are still launching new projects
We still share our success
We are still free forever and that won't change.
And in the future it may be even more important to have a SafeZone on the internet where you can rely that your privacy and data security are taken seriously, and there is at least a basic quality control where the quality is free from spam, malware, fake news, etc.
Now onto some other exciting things happening
The structure of our group of companies
You might have wondered why we sent our condolences to the Royal Family of Bahrain earlier in the webinar, the Prime Minister who died earlier this morning was a member of the Royal Family in Bahrain.
Some of you might know that Dan has been in Bahrain for about 8 months now
We have some personal contacts to the Royal Family and they warmly welcomed us to Bahrain
We will have the international head quarters in Bahrain for our holding company.
This brings us to another exciting topic
Back in 2012 we told our members as a co-owners one day, when we are publicly listed at a stock exchange, they would be able to convert their co-ownership unit into shares.
We had our first try going public in 2015, and again in 2016, and in 2017 and then we found the right strategy and since 2017 we have been working on it. Many people said we would never go public, saying that we promised but we would never do it, nope, they are wrong, it's just delays.
The Berlin airport needed 9 years of delays before they opened. In our case, if you count since 2015, we might have about 5 years today.
Great news is that we are nearly there, there was a public announcement today and Cate will share more with you.
Dan hopes you appreciated having a deeper insight into a project like this, especially for a project that has never been done before.
People ask Dan who are our competitors, and honestly there are no other projects doing it like we are doing, sharing success and being active in so many industries and fields from sports, to entertainment, eCommerce, blockchain, health, and so many other things.
Dan ended by sharing that a Press Release from TCU AG and UAC Holding GmbH had been released today and passed the mic back to Cate to share more details.
Before passing the mic, Dan closed by thanking everyone for listening, giving a hearty WAAAZZZZUUUBBBBB, telling everyone to be proud to be a unicorn, and wishing everyone always Happy Health.
From Cate:
Cate thanked Dan for joining us and sharing insight into a look behind the scenes and what it takes to be successful.
Cate shared the text of the press release with everyone…
"TCU AG: Merger of UAC Holding GmbH into TC Unterhaltungselektronik AG
New business fields in the areas of Cyber Security and Blockchain Technology.
Koblenz (pta033/11.11.2020/18:30) - Merger of UAC Holding GmbH into TC Unterhaltungselektronik AG
Koblenz / Kiel 11.11.2020 - TC Unterhaltungselektronik AG (TCU) and UAC Holding GmbH (UAC) are entering together the final phase of the planned merger of UAC into TCU. As Petra Bauersachs, chairwoman of TCU board, and Daniel Settgast, CEO of UAC, announce in a joint statement, a draft of the merger agreement is now being prepared, which will be presented to the shareholders for voting at the respective general meetings as soon as possible.
"The merger will not only generate synergies, but in particular will end TCU's dependency on just one major customer", Bauersachs explains, and Settgast adds: "Together we will enter new business fields in addition to our existing activities, especially in the areas of Cyber Security and Blockchain Technology".
The merger is intended not only to preserve all existing jobs, but also to create additional employment opportunities. The necessary restructuring of the company is already in preparation.
(end)"
Read more here (also available in German):
https://www.pressetext.com/news/20201111033
This is great news and is one of the announcements we have all been waiting for. And you can see that back in January there was another press release the confirmed the merger was still in process, and you can see that this was accurate and now here we are at the next step in that process.
For those who might be unfamiliar with this process, this announcement has happened, then the next info we are waiting to hear is the announcement of the date of the shareholder meeting where the merger will be officially voted on and accepted or rejected by TCU. If the vote is accepted, then there is a 30-day waiting period before the vote decision is accepted. Then there is another process where everything is officially confirmed. Then that process is complete. Do understand once that process is complete, that does not mean that poof everything else everyone is waiting on is instantly available, there will be a process there as well. Rest assured though we will keep everyone updated as everything progresses through this process, letting you know what to look for and what you need to know. So it is super exciting
As the old saying goes, good things come to those who wait.
To get everyone in the mood for more good news to come she played the song "Christmas in Our Hearts" by the late, great Mr. Bling Bling. After the song Cate remarked that we miss Mr. Bling Bling, and that it is great that we have this wonderful song to remember Mr. Bling Bling by and that his songs continue to bring joy and happiness to people all over the world, which is a beautiful thing and exactly what he did throughout his life. We are thankful to have known him and have his wonderful music to remember him by and the joy he brought to the world.
Now why are we talking about Christmas already in early November? Well we have some exciting updates to share.
Before Cate got into the super great news, she needed to share some other small updates first.
Twnkl Gold Coin (TGC)
- During the webinar Cate noted it would launch 1 week later, however it was only a few days that were needed and the website launched on Saturday, November 14, 2020 with a short separate webinar explaining details further.
- Please see the November 14, 2020 Unicorn Network Webinar Recap Highlights for details, it's posted now.
- More info is posted on the official announcement in WazzUb:
https://world.wazzub.com/viewtopic.php?id=4514
- Visit the website at:
- We talked about the Golden 20's in our January 2020 kick off webinar, now you see, it's all in the making… when we say we are doing something, we do it, even if it takes some time.
PerNum Wallet updates
- As noted in the November 4, 2020 webinar the team is working on additional functions for the PerNumPay API so you can spend TGC through PerNumPay
- More great news: PerNum Wallet now also becoming a Multiwallet - functions being added around Dec 1, 2020
- You can also have other currency balances in your PerNum Wallet, like USD/EUR
- Commissions from WSS can be transferred to your PerNum Wallet
- PerNum wallet will have a virtual debit card - can pay online anywhere Visa/Master Card accepted, can pay with TGC or USD balance, can set up first to pay with USD, then use TGC
- also in the future each member's PerNum Multiwallet will have and IBAN number, which will allow you to receive payments directly via wire transfers to your PerNum Multiwallet from other people.
- This is why we are calling it your PerNum Multiwallet, because it has multiple features, it's not a bank, however it's a multifunctional wallet for your needs.
- Also as we previously announced some details about our EyeBank project, where you can use your physical eye's iris for identification, identification done that way is actually a very easy, noninvasive, and secure way to identify yourself and is nearly impossible to fake due to the complexities of our eyes. So we are happy to announce that these EyeBank features will be integrated into your PerNum Multiwallet anticipated some time in the second half of 2021.
So that is great news!
As Dan mentioned earlier, when we announce something and then you don't hear about it, that does not mean that nothing will come of it, it means that it is being worked on and exactly at the perfect time further updates will be announced just as we are doing here today.
Swiss Digital Funds (SDF)
- Swiss Digital Funds needs just a little more time and it will have the full details available on Monday, November 16, 2020.
- Announcements will be posted in WazzUb on the Swiss Digital Funds announcement and on the Swiss Digital Funds website when available.
Reminder, for those participating in the Proof of Stake, keep your YEM in your Proof of Stake wallet until the rewards are distributed on the 15th or you will miss our on this month's reward. Always check your PerNum Wallet history to see if your reward has been received before making adjustments on your Proof of Stake deposit.
Bridge coin
- The bridge coin updates still need more time.
- Please see the most recent update shared during the November 4 Unicorn Network webinar for more info.
- Further announcements will be posted in WazzUb when available.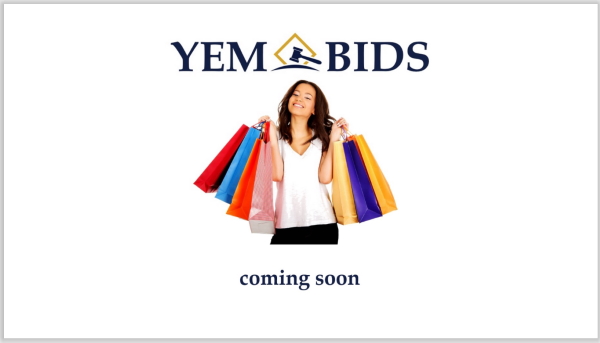 YEMBids
- YEMBids actually needs just a little more time, some last minute things came up, and it will launch on Monday, November 16, 2020
When it launches you'll see great products on all kinds of things…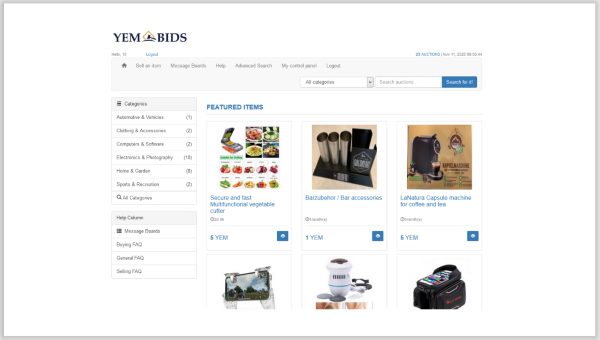 …from gadgets, like this USB sleep sound device that plays relaxing sounds like the ocean or birds singing…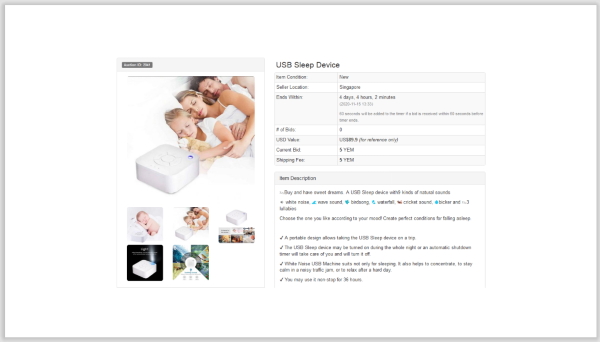 …to things like this handy screen magnifier, which is so handy when reading texts or watching videos on your smartphone…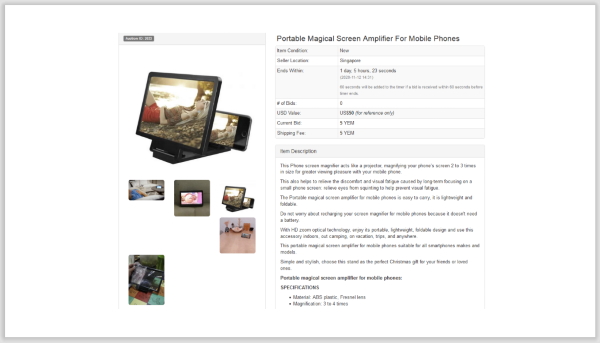 If you would like to learn even more, go back and read the April 20, 2018 Webinar recap when TwnklBds was launched, YEMBids is based on the original TwnklBds platform and in that April 20, 2018 recap it walks you through the process of listing an auction and many other details. Most of the info is very similar now with YEMBids.
There is also an Help section with an FAQ for more info on the YEMBids website.
Some other things to take note of about YEMBids
- Be aware of fees… in order to compensate for people canceling orders after winning auctions, there will be a non-payment fee if you cancel after winning an auction
- Also note the shipping details - if the seller does not ship to your area, do not bid in the auction
- It will be interesting to see the bids on items… understand right now there is huge demand to buy… don't be discouraged though when trying to win auctions… you only need to be the top price to win.
- More auctions will be added regularly so be sure to check back often
- Remember free shopping? We'll talk more about this later in the webinar…
- YEMBids launches on Monday, November 16, 2020, please keep an eye out at WazzUb for the announcement when it goes live.
- When it is available, you'll find YEMBids at: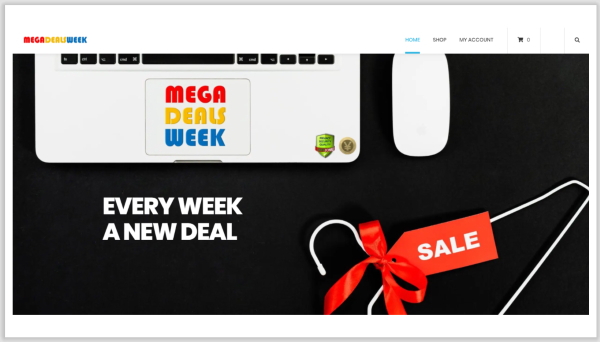 Mega Deals Week is back!
- Now run in partnership with our friends at Silverwood Advisors
- 1st item a special limited edition SafeZone bauble ornament set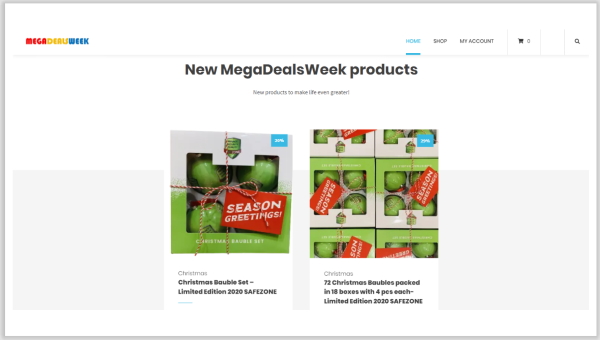 You can buy them in individual 4-packs or by the case and they can generally be shipped worldwide, check the website for specifics.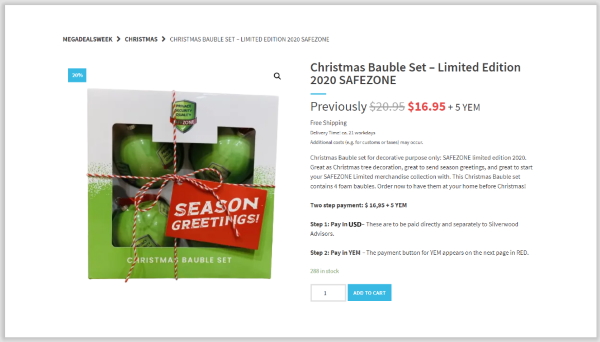 The great thing is that these are foam ornaments, so they won't break like glass ones can during shipping.
They come in a nice box and as you can see have a beautiful shiny paint job…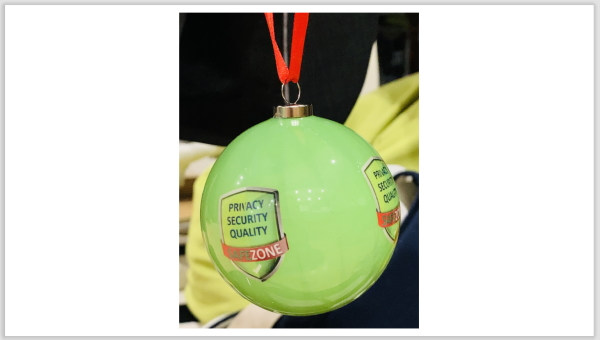 … and depending on the lighting, the color varies, you can see they will really twinkle under your Christmas lights on the tree or wherever you decide to display them.
There are a limited quantity of these special limited edition SafeZone branded ornaments, so be sure to order yours today before they are sold out at Mega Deals Week today!
There are even more ways to collect free YEM coming soon
- Now it's even easier to invite people to our network…
- You can even shop for free by collecting free YEM by being active and shopping on places like YEMBids
- no selling needed… only if want to increase rewards
- remember nothing done in the past is wasted - our motto is "all the good stuff without all the bad stuff"… the good stuff will always come back around again better than before!
Thank you everyone for joining us for our special 9th Anniversary Celebration! Waaazzzuuubbbbb, and all the best to everyone!
With your success in mind,
Cate Kozikowski, Dan Settgast, and
Your WAZZUB Support Team
***
Additional Info from Support:
Need help? Use the handy SUPPORT hexagon in the SafeZone.
For all Unicorn Network Webinar info:
Log in to read recaps and register for webinars here: https://www.safe.zone (WEBINARS hexagon)
For all Rainbow Currency Webinar info:
Read recaps and register for webinars here:
https://www.rainbowcurrency.com (WEBINAR RECAPS button from menu)
Remember to check out the SafeZone Radio Show too at a NEW TIME!
Airing live every Thursday from 11a.m.-12 p.m. USA Pacific Time. Listen live and check out past show recordings at: https://www.safe.zone (RADIO SHOWS hexagon)
***
Please note effective March 20, 2019 Unicorn Network is updating its social media policy. Member updates will be posted in WazzUb.com under the NEWS area, please check there for member updates. External social media pages and groups will be closing step by step. We will post further updates as available. Thank you.
***
Unicorn Network Third Party Social Media Disclaimer;
The Unicorn Network uses third party websites and applications for marketing, and will often ask members to voluntarily interact with these services in order to increase reach of our postings. However, unless specifically stated, the Unicorn Network does not vouch for the safety or security of these services, and the member is advised that they use these services with the understanding that any issues which may arise from their usage are not the responsibility of the Unicorn Network.
***
** Reminder for all members: ** We have a strict anti-spam policy. Please be professional when sharing links for any of our offers. It has been noticed that some members have been posting their links on other people and group's Facebook pages. ** This is spamming!!! ** You should not post your links on anybody else's pages or in groups unless it is a page or group specifically set up for sharing business opportunities. You should not post your links on the timeline of any other person in any Social site unless they have given you permission to do so. Please be respectful and professional. Thank You.
***
Member Invitation guidelines
***Dear Members,
Our Rainbow Currency is a very exciting opportunity for all members and for the future of commerce and financial transactions.
We know everyone is super excited and very eager and innovative in promoting our Rainbow Currency and this once-in-a-lifetime occurrence.
As always we want to be mindful of the reputation of the company and of course yourself when promoting. A few things to be mindful of:
A. Whenever translating any information, brand names must be in English. Rainbow Currency, Twnkl, Glitter, Rainbow, SafeZone, etc., must be in English.
B. Always give accurate information using company pages as a guideline for information. Don't mislead by making wild claims or by changing the meaning of anything. If you are not sure what something means, please clarify.
C. Be sure to comply with local and International anti-spam regulations regarding emails. If using mailings you should be sure that those you are sending emails to are opted-in to receive emails. If you are emailing friends/family be sure to respect their wishes if they ask you not to send them offers.
D. Never use our Mailaxy for any marketing mailings. It is intended to be used for personal use only. Accounts may be closed if we get blacklisted due to members using Mailaxy for marketing and marked as spam.
E. In Social Media such as Facebook, Twitter, etc., always follow their terms of use.
*Never post your links or promotions on the profile page of any other member. If you post on your own profile those who follow you will see it if they follow your posts.
*Never reply to someone else's post or comment with links or promotions.
*If you belong to groups that allow you to post marketing, and there are many, be sure to follow their rules and don't flood them with constant posts. Watch to see what others do as a group. If there are several hundreds or thousands of active people in that group and there is only one person posting the same thing every 5 minutes or every hour don't do the same thing just because that one person does it. Do what is customary for that group.
F. Don't constantly tag random people on your posts. That function is meant to tag a person who may be in a picture, or tag someone that needs to take attention to that post because it is relevant to them.
G. Don't add people to groups without their permission. This happens to me all the time and it is very annoying. You can send invitations and that gives the person the option to join, ignore, or simply delete your request.
H. Many members have posted marketing material that can be used and shared, graphics and videos that can be shared, and ideas on better marketing practices. Always be mindful to personalize things that you use and be sure to keep information accurate. If you see something that you like that has not been given to share or use, always contact the owner of that material and ask their permission before doing anything with it.
I. If you create your own Pages, Groups, Blogs, etc., be sure you comply with the terms of use of the host. Be sure you comply with our Affiliate Guidelines for Social Media and Internet Activity. You can view them here:
https://drive.google.com/open?id=1Vf4BCQNWKuzCCcaGbF4uWxKe2l0aQfbh
End***
***
Because our websites are hosted on the worldwide web, access may be available in other countries. We are happy to make the content, software, products, and/or services available to people in any country where legal to do so. And while we are not currently aware of any country that bans information of this type, nor specifically the information we provide, we make no representation that materials on the websites are appropriate or legal for use in any locations outside the United States. The laws regarding use of content, software, products, and/or services via the Internet may vary in different countries. If you have access to our websites from a location outside the United States of America, you and you alone are responsible for compliance with all applicable laws of your jurisdiction. Accessing the websites is prohibited from any country where the contents are deemed illegal, or where they are contrary to regulations.
***
Earnings Disclaimer: Every effort has been made to accurately represent our project. Any examples of results are not to be interpreted as a promise or guarantee of earnings. Your level of success in attaining the results claimed on our website depends on the time you devote to the project, on your knowledge and on various marketing skills. Since these factors differ according to individuals, we cannot guarantee any success or specific result. Nor are we responsible for any of your actions. Materials found on our website may contain information that includes or is based upon forward-looking statements. Forward-looking statements give our expectations or forecasts of future events. You can identify these statements by the fact that they do not relate strictly to historical or current facts. They use words such as "anticipate," "estimate," "expect," "project," "intend," "plan," "believe," and other words and terms of similar meaning in connection with a description of potential results or earnings.
Copyright © 2011-2020 United American Capital Corporation, Unicorn Network, Inc., SafeZone, Inc.
All rights reserved.