This webinar is property of United American Capital Corporation, Unicorn Network, Inc., SafeZone, Inc., and may not be recorded, and then distributed to the public. Any transcriptions/translations provided live by the "Power of WE" are not official. Please wait for the official English recap and translations for the complete details presented during any webinar.
Disclaimer: You are always personally responsible for your own actions; nothing contained in this or any webinar is to be constituted as advice for any reason. Do your own due diligence and speak with your own experts before making any decisions, such as those relating to health, finances, taxes, and business, to name a few. Decisions to buy digital Fractional Owner Rights (F.O.R.) need always to be based on the information found on the website only and none of the information shared in any webinar is legally binding to the Company, only content directly on the TwnklEstate website is legally binding.
Topics to be discussed:
1. YEM Deals Update
2. SafeZone Pass updates
3. IBookSmarter Launch
4. Limited time BOB HOME Tea Machine offer for YEM holders
Dear Unicorn Family Members,
Waaaaazzzzuuuubbbb everybody, welcome to another exciting webinar, we hope everyone is doing well!!!
We are doing a number of updates in our network, so today we are going to share a few details about some of these important recent updates that are now live as of this recap, this is super exciting!
First, a couple of updates to begin with:
There are a lot of people with questions about YEM Deals. But rest assured, we are in constant contact with the people who run YEM Deals; and please be aware, they are a third party who is offering these products on their own website. They just use the PerNumPay API to allow the YEM payments.
Please be aware, that with the global pandemic, many of us don't understand the full extent of how it is affecting lots of people in countries all over the world such as in China (where the YEM Deals products are shipped from) and many other places. Now, while we are glad if it's not so bad in your local area, or maybe your country is not experiencing it at all, do remember, some people are having a very hard time. It's obvious that YEM Deals is one of those companies that is still feeling it, so we definitely send our goodwill and good wishes and hope that soon they overcome these challenges. Actually, many of us are also going through these challenges, so it's very important that we all remain compassionate and thoughtful of others through these difficult times.
As mentioned, we are in constant contact with YEM Deals, and we do anticipate having another update very soon for you, so definitely keep your eye on WazzUb; there will be announcements with more details about that as soon as they are available; we will keep everyone posted about that.
And of course, we send our good wishes to everyone who is currently dealing with this global pandemic. We know, generally speaking, that we are all going to make a farewell sometime. Of course, our hearts go out to everyone who has died for whatever reason; it doesn't matter about how, a life is always important regardless.
We will definitely keep everyone posted about YEM Deals' progress and we thank you for your support and understanding, now and always.
Now, for some other things:
We have been working on a number of updates related to the SafeZone Pass, and also in our whole network we have been doing many different things, and all this to make the whole process a lot smoother and easier for everyone. So now, we are happy to share some of those details today.
These updates have been done so that it can become easier for everyone and also to give YOU more options. As you know, we love to use your INFLUENCE; to take everyone's feedback and to put that into place wherever we possibly can. Of course, it has to make good business sense, as after all, we are a business. But at the same time, we are all people and this is a member-driven company, INFLUENCE being one of our core values!
As we announced back in April, the SafeZone Pass site launched with the Verified SafeZone Pass, and since we are an evolutionary type of company, we will create things a piece at a time, and then it comes to a point where a lot of pieces can be integrated together and then we evolve into a new way of being. And really, that's the case for all of us as humans, and the same goes for our company.
And now, we are happy to share with you one of these very cool updates that are happening, which is now live as of this recap…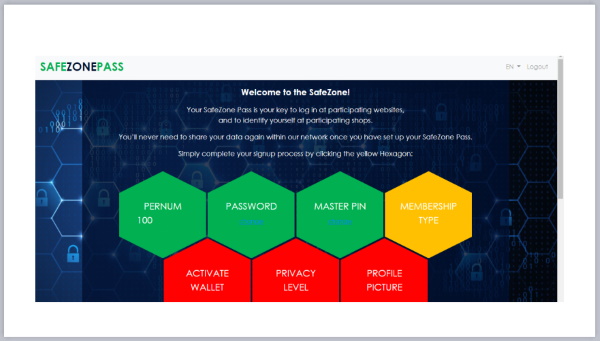 From the image above: Welcome to the SafeZone!
Your SafeZone Pass is your key to log in at participating websites,
and to identify yourself at participating shops.
You'll never need to share your data again within our network once you have set up your SafeZone Pass.
Simply complete your signup process by clicking the yellow Hexagon:
Now, this is going to affect a number of different things, so it is important for you to pay attention here and definitely read this recap. You will see that there are a couple of differences especially when you are inviting new members.
Previously, when inviting new members, they would go through the quick sign-up process. Then when they logged in that very first time officially, they would land on the page where they signed up from – that's how it was previously.
We have many different so-called entry gates into our network, and it all depends on how each individual member wants to participate and have fun within our network. So, this gives a lot of options when you're talking to people, and especially when you are enjoying our network.
Now, with this update, when a new member joins, they will do the following:
First, when they log in for the first time after going through our quick signup process, they will start on this page (at SafeZonePass.com) where they will have some more information, details, and options right away to customize their membership depending on what they want to do.
You see in the above image, the hexagons are the same as our traditional hexagons, except you may notice the hexagons are turned a little bit more sideways than before. This looks really cool and works well with this new layout.
Remember, during the signup process, you set up right away 3 pieces of information:
you received your PerNum

you set your Password

you set up your Master PIN
So, everyone will always see these first 3 hexagons GREEN after they first join.
Now, the next one you see in yellow, is MEMBERSHIP TYPE.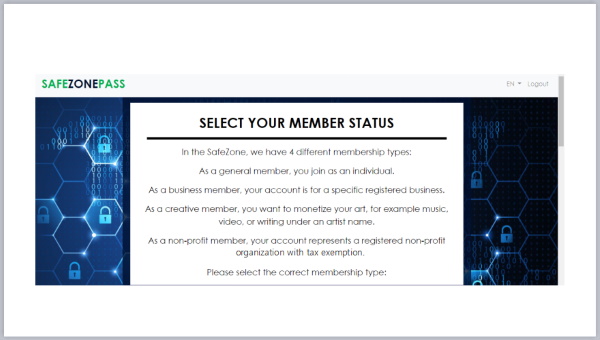 When you click on that hexagon, you will see some information about your membership status.
For example, as you know previously, we've had 3 membership status options (General, Creative and Business), and now we have upgraded to 4! This is to provide for both businesses and non-profit members a separate selection; so, you can now choose from the following:
From the image above: SELECT YOUR MEMBER STATUS
In the SafeZone, we have 4 different membership types:
As a general member, you join as an individual.
As a business member, your account is for a specific registered business.
As a creative member, you want to monetize your art, for example music, video, or writing under an artist name.
As a non-profit member, your account represents a registered non-profit organization with tax exemption.
Please select the correct membership type:
From this list, you will select your membership type. So, it is the same process as before, for you to select your membership type (you choose the type and confirm with your one-time PIN), it's just now all here at SafeZonePass.com on the same page for you, making it a lot easier, more convenient, and a smoother process for everybody.
Now, you need to know that it is not mandatory to go through every hexagon you find at SafeZonePass.com. However, what you will have to set up right away before you proceed (apart from your PerNum, Password, Master PIN), is your MEMBERSHIP TYPE. Do choose your membership type wisely as it cannot be changed later except for certain circumstances as it will be explained further in a moment.
As we continue to evolve in our network, your Membership Type will determine how you will interact with various websites as some websites will be geared for a specific purpose, such as for a Creative membership; we will have some updates about that very soon. Keep your eye out as we have a lot of things planned. Likewise, with our Business membership too, we have a lot of things in the works for them too.
So, depending on how you choose your Membership Type, your status will determine how you interact with certain websites. So, do be aware of that when choosing your Membership Type. And, while on the topic of Membership Type, you also need to know that, even though previously we allowed you to change your Membership Type in some instances, now as it will be more integrated within our network, once you select your Membership Type, it will NOT be able to be changed!
And, we do know right now, especially with some of our Business Members, that some of those with a chosen Business Membership type should be a non-profit one, so with those types of things, there will be an ability to change; otherwise though, once you make your selection you will NOT be able to change it. So, be aware of those changes.
Another important thing to understand is that you will need to ACTIVATE YOUR WALLET before you can view and interact with your PerNum Wallet, so that is also a good idea to set up right away as well before exploring the SafeZone network websites, which we will get to in a moment.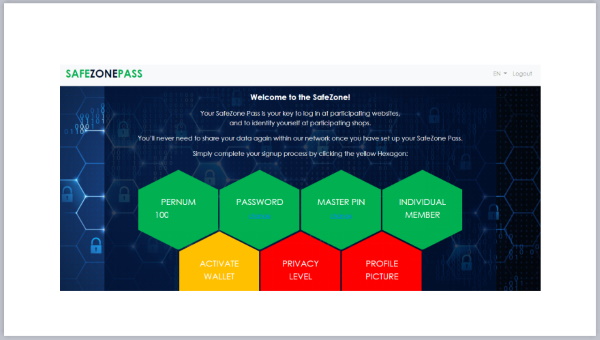 So, once you decide what kind of membership your account is for, then that hexagon turns green and your next hexagon will turn yellow; essentially, you can tell someone, just follow the yellow hexagon road (hahaha) when they log in to activate their account and get everything set up the way they want it done. So, you see, that makes it all super easy, just follow the yellow hexagon depending on what you want to do.
All the other hexagons that are red, are not able to be accessed yet until you complete the yellow hexagon prior to them. So each red hexagon will turn yellow once its turn comes.
So, once you chose your membership type the next you will see yellow is your ACTIVATE WALLET hexagon. Now this is the exact same process all the hexagons follow and if we scroll down, you'll see that there are a number of other hexagons waiting after ACTIVATE WALLET.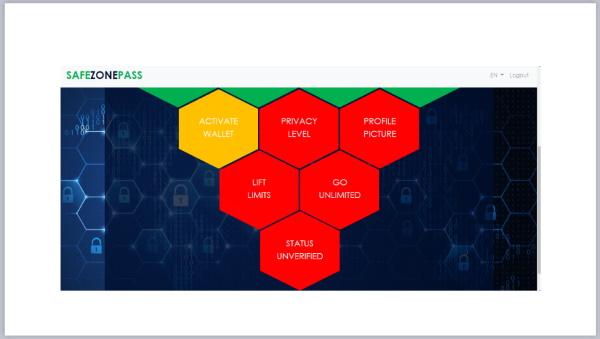 Then you click on ACTIVATE WALLET. Previously, this would be what you would have had to do for your PerNum Wallet at Pernum.com, but now, you'll do it right here at SafeZonePass.com.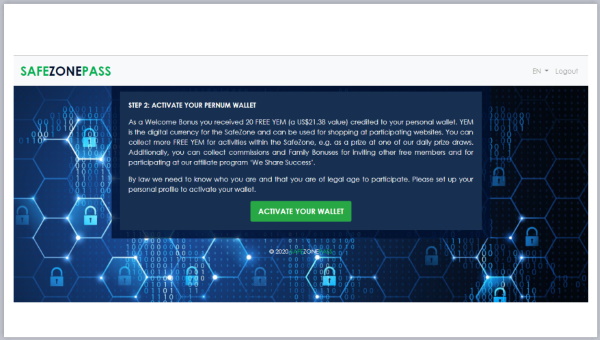 From the image above: STEP 2: ACTIVATE YOUR PERNUM WALLET
As a Welcome Bonus, you received 20 FREE YEM (a US$21.38 value) credited to your personal wallet. YEM is the digital currency for the SafeZone and can be used for shopping at participating websites. You can collect more FREE YEM for activities within the SafeZone, e.g. as a prize at one of our daily prize draws. Additionally, you can collect commissions and Family Bonuses for inviting other free members and for participating at our affiliate program 'We Share Success'.
By law we need to know who you are and that you are of legal age to participate. Please set up your personal profile to activate your wallet.
As you can see, by setting up your personal profile you will activate your PerNum Wallet. Now, while this image does say 20 FREE YEM, as Cate mentioned on the SafeZone Radio Show recently, during this webinar, and others previously, that as the value of YEM rises, the number of this FREE YEM bonus will reduce, however it will stay at a good value at the same time.
So periodically, that FREE YEM bonus will be adjusted just as we have been doing until now, and that next adjustment is planned for perhaps this week, next week, somewhere around August 1st; by then, there will be a change, so do be aware of that. You'll see what the value is based on how many FREE YEM are being rewarded as a Welcome Bonus, so check the information there.
So, all you have to do is click the button, ACTIVATE YOUR WALLET, and then you'll see a very simple form on which to enter all of your details.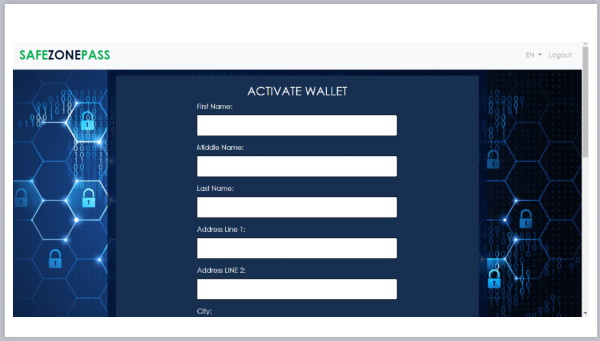 Enter your name, address, (your email will already be noted because you signed up for an account using your email address)…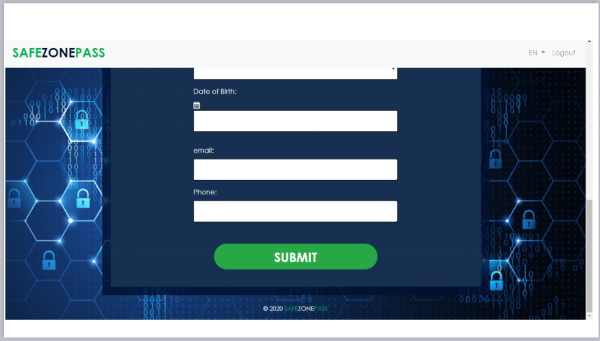 …then your date of birth, phone number, and click SUBMIT.
Generally speaking, the information in your Profile is not shared publicly unless you are specifically shown where it is shared publicly; it is used for internal purposes, just to fulfill whatever it is needed for, like for providing products, services, KYC/AML, and stuff like that throughout our network. As you know, we do our utmost to give you the most privacy and control over how your data is shared as possible. So, do keep that in mind.
So after the SUBMIT button you will see this selection for your country for tax purposes.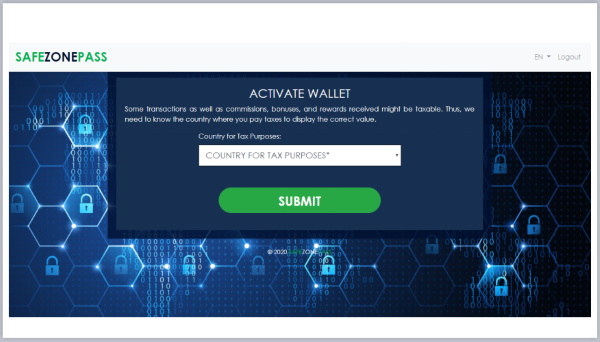 From the image above: ACTIVATE WALLET
Some transactions as well as commissions, bonuses, and rewards received might be taxable. Thus, we need to know the country where you pay taxes to display the correct value.
Country for Tax Purposes:
We don't necessarily charge tax straight away unless it is specifically noted, however because of how the TwnklChain works, your tax country's currency value is noted on every transaction for your convenience, so that way it's easy for you to keep track for tax purposes.
So, select the country that you would file your taxes in and that you want to be linked to with your PerNum Wallet; then click SUBMIT and you are done with that.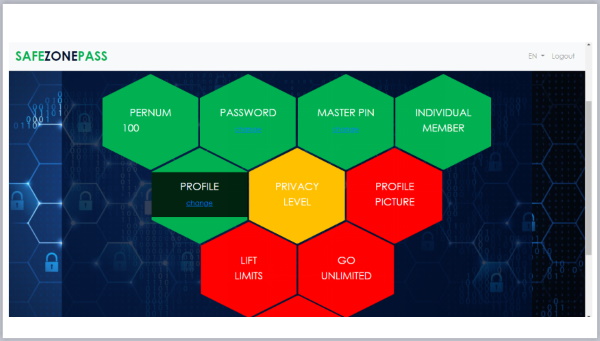 Next, you'll see the ACTIVATE WALLET yellow hexagon turn into your PROFILE green hexagon. This is because once you have entered all the details necessary to activate your wallet, you activate your wallet and you have also set up your personal Profile at the same time. So the "new" PROFILE hexagon turns green with a blue link that says "change", which means that if you come back to this hexagon you will be able to change your profile details.
There are a number of ways that we have set up previously to update your data whenever you need to, but now instead of going through all of those ways in your profile at Safe.Zone, now that these updates are live, you'll come to your SafeZonePass.com page to make any of those changes.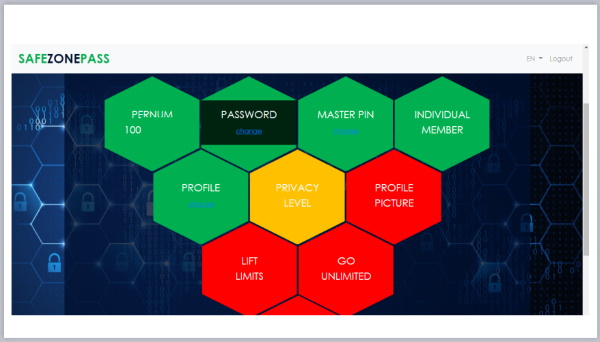 For example, you may have noticed that there is a change link under PASSWORD. So, if you want to change your password, you will come here…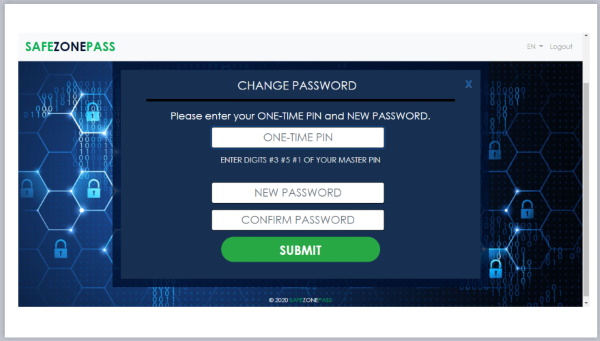 …you can see on this image above it's very easy and simple to change your password.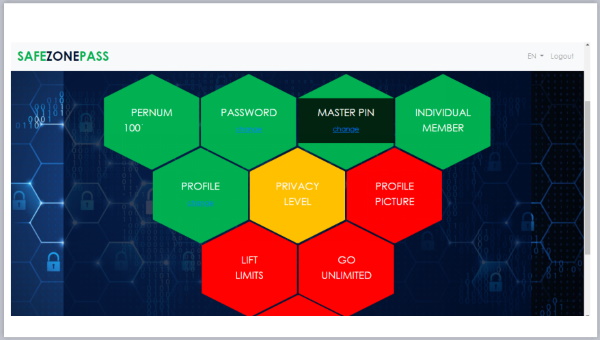 Also something new, here we have the ability to change your Master PIN.
Now while we do not recommend changing your Master PIN on a whim, we do understand that there are times and situations when perhaps the number becomes compromised or whatever the case is; well now you can change your Master PIN. Of course, you still need to enter the Master PIN you had previously. So, if you've forgotten your Master PIN, then this is not going to help you; if so you'll need to contact SafeZone Support. However, if you know your Master PIN and you want to change it because of security purposes or something, you can easily do that here now.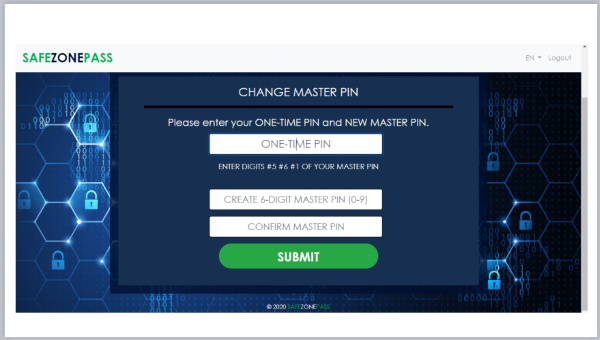 The process is simple, you will just enter your current one-tim PIN and then enter a new Master PIN, confirm it, and click SUBMIT. Then your new Master PIN will be activated and your old Master PIN will be deleted, so do be aware of that. Please keep in mind that it cannot be changed without your current Master PIN. At least now, it makes it more convenient for everyone to keep their account as secure as possible.
Remember, when you're setting up a Master PIN, make it a bit different from any other number that is associated with you, like avoid your birthday, or a simple combination in consecutive order like 123456—that is really stupid, don't do that; consecutive numbers are the most insecure of all!
Take a little effort and think of a completely new number; it will become familiar over time, like anything such as learning a new phone number, the more you use it, the more you'll remember it. Write it down in a safe place so that way when you need to use it, you can look at that number, and over time you'll remember it; so keep it safe and do be smart about what number you pick.
The good thing is, that if you did pick a number that was not so secure, then you can easily change it and make it more secure, which we would advise everyone to do if you did something like that.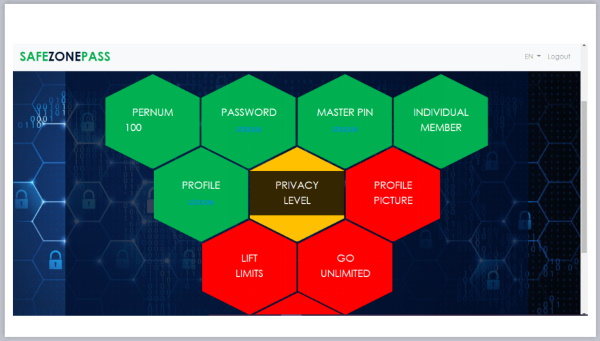 Your PRIVACY LEVEL is the next yellow hexagon you will see after you complete your Profile. This will determine how your information will be displayed, such as when you invite a new member, and other places around our network (be aware WazzUb actually has even more specific settings and options for your Profile and public sharing, as it is the social community area of our network so those options are separately done on WazzUb.com, along with additional messaging options as it is the place where you connect with other members).
After clicking the PRIVACY LEVEL hexagon…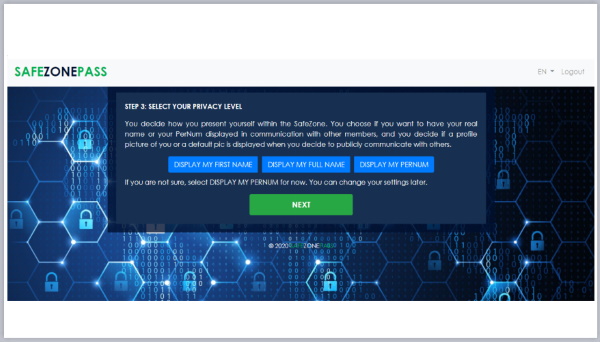 From the image above: STEP 3: SELECT YOUR PRIVACY LEVEL
You decide how you present yourself within the SafeZone. You choose if you want to have your real name or your PerNum displayed in communication with other members, and you decide if a profile picture of you or a default pic is displayed when you decide to publicly communicate with others.
If you are not sure, select DISPLAY MY PERNUM for now. You can change your settings later.
…you will see 3 options for your name display within the SafeZone. So, you can choose to:
Display my first name

Display my full name

Display my PerNum
With this Privacy setting, you can choose to make changes later, so if you decide you want to change from your PerNum to your first or full name, whatever, the choice is up to you. It's very simple and easy to locate and change, no need to go through tons of menus trying to find privacy settings, it's all right here.
As we add new things, of course, we will put it in this area as it makes sense, and also, it keeps everything simple and easy to find for you going forward.
So, after you set your PRIVACY LEVEL, click NEXT…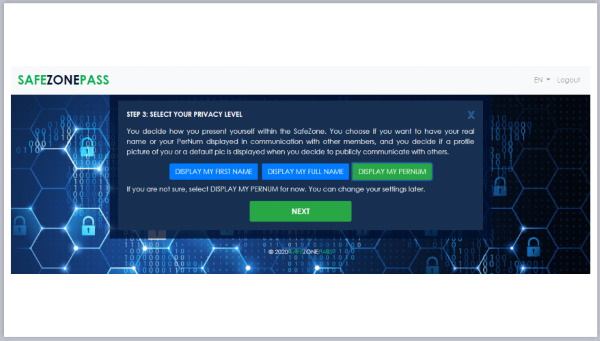 …and you'll see your selection is green on what you chose (for example in this image above, the Display my PerNum is chosen).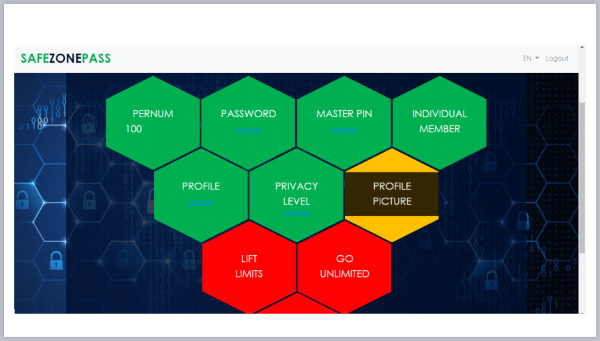 And after PRIVACY LEVEL, the next hexagon that shows yellow is PROFILE PICTURE, which is what we'll look at now.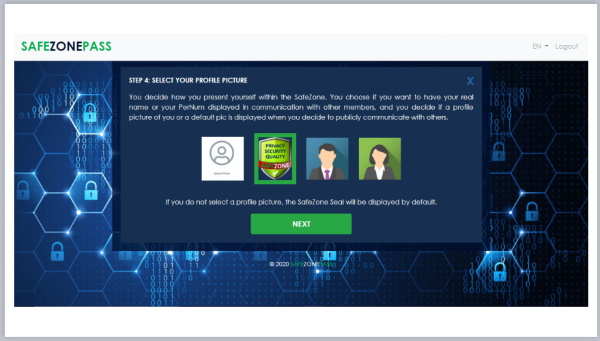 From the image above: STEP 4: SELECT YOUR PROFILE PICTURE
You decide how you present yourself within the SafeZone. You choose if you want to have your real name or your PerNum displayed in communication with other members, and you decide if a profile picture of you or a default pic is displayed when you decide to publicly communicate with others.
If you do not select a profile picture, the SafeZone Seal will be displayed by default.
You'll see that you have a few choices to select from. There are 3 options:
to upload a new picture

to select a default picture of a man or woman

the SafeZone Seal
As you'll see in the image above, the SafeZone Seal will be displayed by default, so if you don't click this hexagon at all, your picture will appear as just the SafeZone Seal. All this is privacy focused for you right from the very beginning. This is what we call privacy by design, that is how we do things in the SafeZone.
You will see a green border around what you choose for your PROFILE PICTURE, and if you upload your own photo of yourself you will see it display with a green box around it when you select it.
So, after you set your PROFILE PICTURE hexagon up, it will turn green.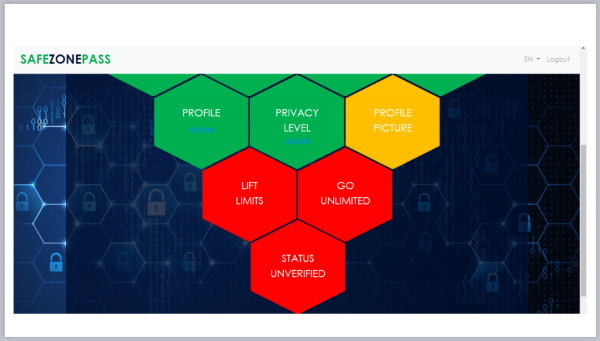 Now, in some cases, depending on what you have already selected (this is for all of our current members), if you have your PoI (Proof of Identity) or PoA (Proof of Address) uploaded already, you will see the LIFT LIMITS hexagon (shown red in the image above) …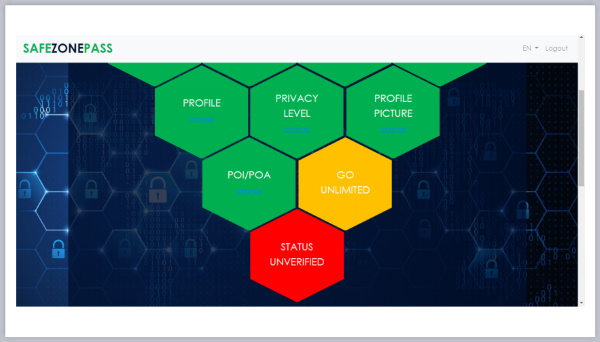 …will be showing green right away as the POI/POA hexagon, because you have already completed that action of Lifting Limits.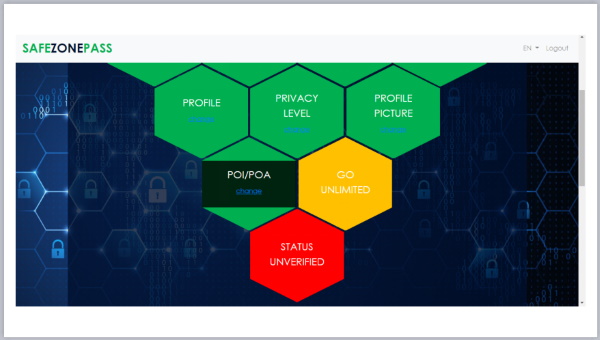 Even so, still go in and check that all your information is correct and make any changes that are needed.
And of course, the LIFT LIMITS hexagon will be yellow if you have not done that action before. So, when you click on it, you will see…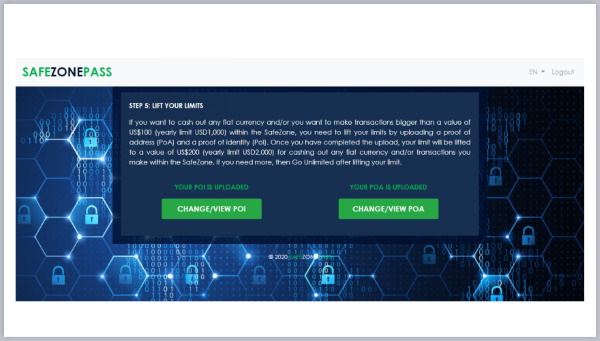 From the image above: STEP 5: LIFT YOUR LIMITS
If you want to cash out any fiat currency and/or you want to make transactions bigger than a value of US$100 (yearly limit USD1,000) within the SafeZone, you need to lift your limits by uploading a proof of address (PoA) and a proof of identity (PoI). Once you have completed the upload, your limit will be lifted to a value of US$200 (yearly limit USD2,000) for cashing out any fiat currency and/or transactions you make within the SafeZone. If you need more, then Go Unlimited after lifting your limit.
So now, that is all linked together for you very easily and conveniently in one place.
You will see this page (in the image above) when your PoI and PoA is uploaded. However, it is very easy and very simple to upload your PoI and PoA documents if you have not uploaded them. The buttons would say UPLOAD if you haven't uploaded them instead of CHANGE/VIEW POA/POI for those who have uploaded them; it's all very straightforward and easy.
The main purpose of lifting your limits is if you want to cash out any fiat currency and/or you want to make any transactions bigger than the value of US$100 (yearly limit of US$1,000) within the SafeZone, then you need to lift your limits by uploading your PoI and PoA.
Once you have completed the uploads, your limit will be lifted to a value of US$200 (yearly limit of US$2,000) for cashing out any fiat currency and/or for carrying out any transactions that you make within the SafeZone.
If you need more, then you can GO UNLIMITED after lifting your limit. Keep in mind, even if you plan to GO UNLIMITED, you need to do this stage of lifting your limits first.
There are a lot of things you can do without the need to upload your PoI and PoA documents. However, if you want to GO UNLIMITED, then you must do this part first before proceeding. The system is designed to NOT let you proceed unless you have done these things first; it's there to make it simple and to make sure that everything is done accordingly.
So if you already have uploaded the needed documents, but you need to review them and/or reupload them, then click on CHANGE/VIEW POA/POI, and you will see this page below.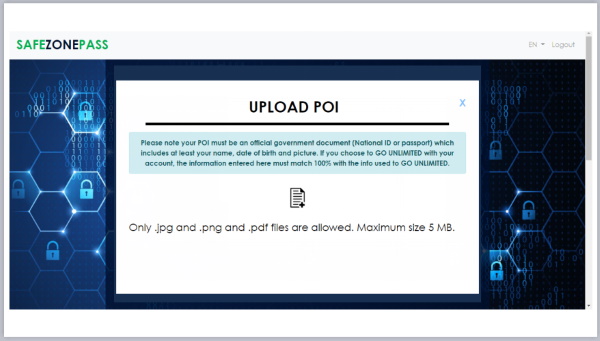 If you need to upload a new document, then you just click on the little "file" picture to upload. You will need to confirm your action with your one-time PIN.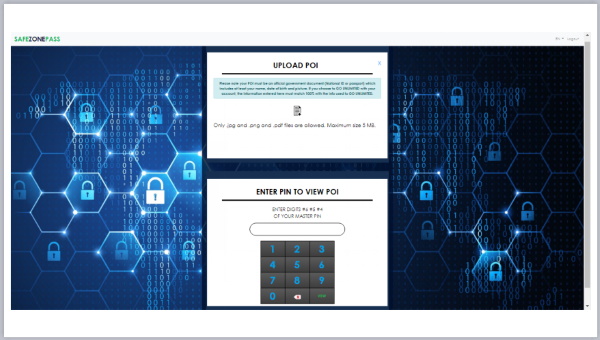 At the bottom you can enter your PIN to view your PoI and make sure all is well, or if it needs to be reuploaded. Simply upload a new file if you need to update it.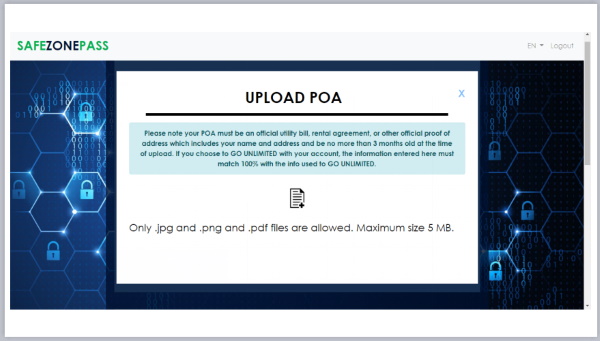 And the same goes for the PoA document.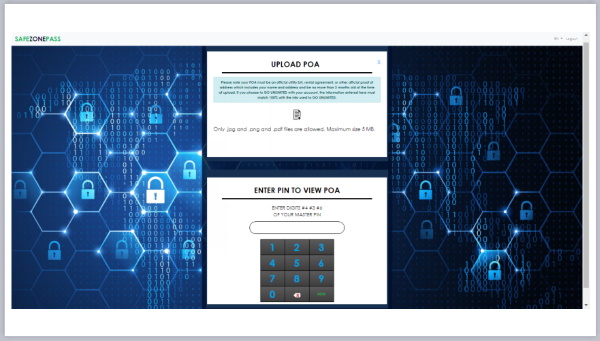 Once you've done all that, then you can choose to GO UNLIMITED…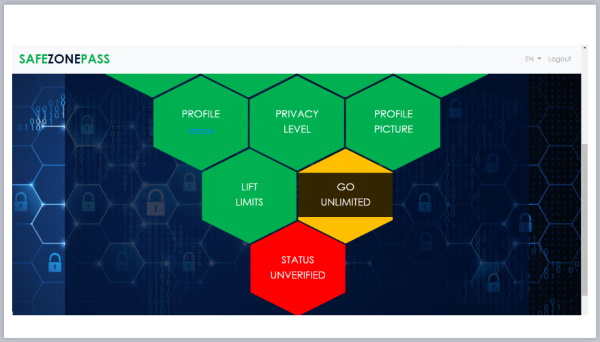 …which is actually the Verified SafeZone Pass.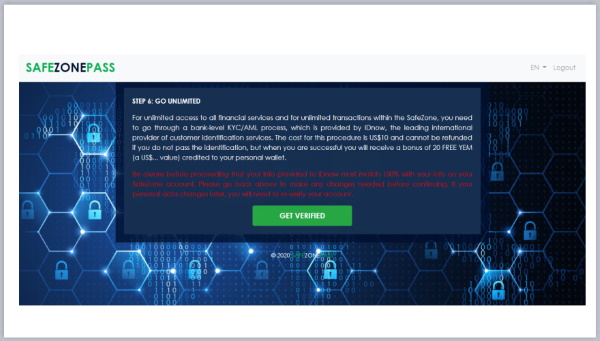 From the image above: STEP 6: GO UNLIMITED
For unlimited access to all financial services and for unlimited transactions within the SafeZone, you need to go through a bank-level KYC/AML process, which is provided by IDnow, the leading international provider of customer identification services. The cost for this procedure is US$10 and cannot be refunded if you do not pass the identification, but when you are successful you will receive a bonus of 20 FREE YEM (a US$... value) credited to your personal wallet.
Be aware before proceeding that your info provided to IDnow must match 100% with your info on your SafeZone account. Please go back above to make any changes needed before continuing. If your personal data changes later, you will need to re-verify your account.
So to get verified, click on the button GET VERIFIED at the bottom, and it will take you here: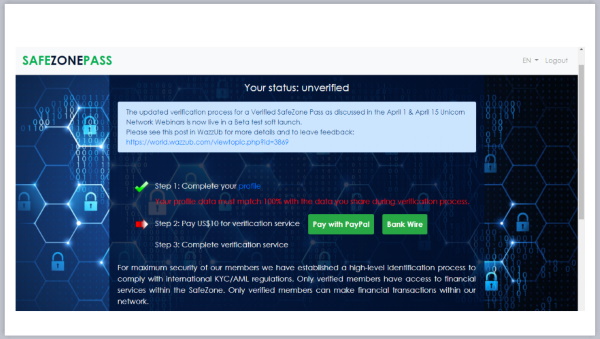 This is the Verified SafeZone Pass process, as a quick recap…
Step 1 just reminds you that the rule is that the information in your Profile must match 100% with the information you will provide to IDnow.
So if you need to go back and change your data, here you can click the X in the upper right corner or you can click the blue "profile" link.
Step 2 is where you choose your payment method. Do be aware that due to the pandemic situation, the time for receiving and processing bank wire payments has slowed dramatically right now. PayPal payments are generally more instant types of processes, but again it depends on how you pay through PayPal as to how long that process will take, since they accept different types of payments. Any other payment that is not through a credit card or your PayPal balance, might take a longer time to be processed.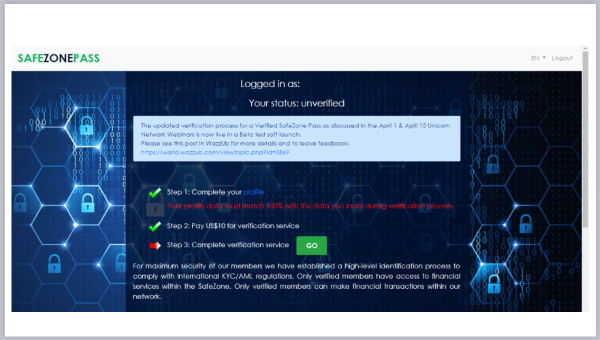 Step 3 is the process you need to go through with IDnow. At the top of the page you have a link to a Wazzub post where you will find more info about the whole process others have already went through. Important about the process is that when you do click on the GO button, make sure you have the required document available, that you have good lighting in the room where you are at, because the application will have to capture a clean image of the required document, including security details, (so you will need to show it on the camera), as well as be ready for a selfie. Also make sure you are in a quiet location and that you have plenty of energy for whatever device you are using, as well as make sure you are free in that particular time and that you won't be interrupted. So plan ahead. If you have all set up well, it might take you just a few minutes to finish up the whole process. This is just some friendly advice from all the feedback we have received on the matter.
We are aware that some members have some challenges with the verification process, but rest assured that we are on top of it. There are also some technical challenges we are still working on, so rest assured, the team is working very hard to overcome all the obstacles and is doing it as quickly as possible. This is why we are still in a Beta soft launch of the verification process. Generally speaking most people, especially when they take this process seriously and enter the correct info the first time, have no issues getting verified in a reasonable amount of time.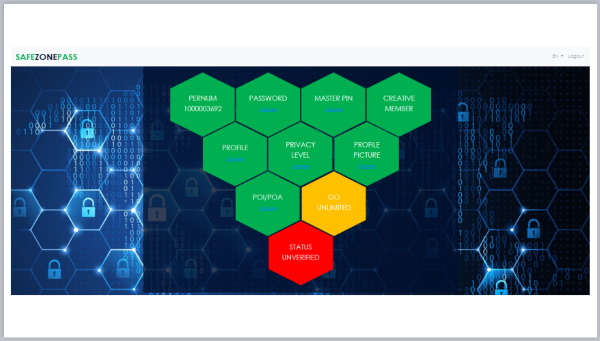 So, if you choose to GO UNLIMITED, you will see your status in that last hexagon changed from STATUS UNVERIFIED to a green VERIFIED hexagon when you have been successfully verified at IDnow.
This is the place where you go to check (at SafeZonePass.com). After you go to IDnow, you come back here and it will tell you how successful you were. You will get a message from IDnow telling you that you have completed your Verification successfully (meaning you finished the process with them, not the results of that process) and that your service provider will give you an update, which is right here on this website (that last hexagon). You don't have to wait for somebody to contact you, just come here and you will see what the results were from your Verification. Now, this will take a couple of minutes sometimes for the results to be sent to our system, so just refresh that and check back to see what your status is, which will be displayed there in that hexagon.
Now, the biggest question we're sure you all have is, "I invited someone to play PrizeMania, but now they're going to SafeZone Pass, and they don't know anything about SafeZone Pass, so how are they going to find out about PrizeMania?"
Well, we have come up with a very simple solution to help you with that query.
So, once you customize your account as you want, you will see a number of other hexagons below when you scroll down, which will allow you to easily get to various different sites around the SafeZone. To access some popular websites within the SafeZone network, all you need to do is scroll down on SafeZonePass.com and you will see…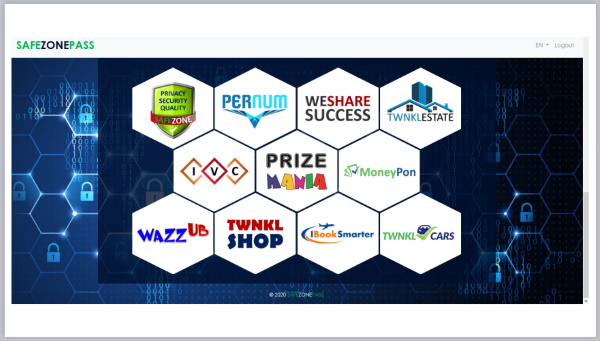 …many of the most popular ones are easily accessible right away. So when you are inviting new people, you can simply tell them to click the site they want to visit right there on the SafeZonePass.com page after they set up their account.
We're very excited to have these updates for everyone; it really does streamline the process; both, when you are inviting others and, as well, when you just want to update your information. It's a lot easier this way with the Verified SafeZone Pass and everything else, such as all your personal information and choices, your privacy selections, and stuff like that, altogether on one page.
We really do our best to keep things organized, convenient, easy and smooth, and as mentioned earlier with our evolutionary type of company, we're always evolving and inventing new things, utilizing new ideas, creating new partnerships, offering new services and products to everyone, and as we continue to grow, we have really set a good foundation with this update, and of course, with our SafeZone as a whole, so that way we can easily grow for the next many decades.
Depending on what we decide to do, maybe we'll change it again, come up with something new when it gets to a certain degree, but we believe that with what we've been doing, it has been really great, and it will allow us to have the FREEDOM to evolve in a way that we all want, based on of course, our membership INFLUENCE, which is all really fantastic!
So as seen in the image above, if you want to go to PRIZEMANIA, you can click that and go there, or you want to check out PERNUM, you can click that and go there, or click the SafeZone shield (which obviously is the SafeZone) where all the hexagons are linked. You can see WeShareSuccess (for our affiliate program), and then of course, some of our popular websites, such as, TwnklEstate, IVC (International Vacation Club), MoneyPon, WazzUb (where you should go for all your updates to get the latest information), TwnklShop, IBookSmarter and TwnklCars.
There are 2 hexagons here, that we think you'll be particularly interested in, and that is, IVC and IBookSmarter!
Now, earlier we said that there are many different challenges happening around the world due to the global pandemic—which is true, also at the same time though, things are beginning to get better in many places, including the Bahamas and the Caribbean, which are starting to open up again. So, this is the perfect time to share with you some very exciting updates about IBookSmarter and IVC.
Primarily, the updates concern IBookSmarter, however your membership at IVC, if you have one, will be very interesting for you with IBookSmarter. So, lets check that out more!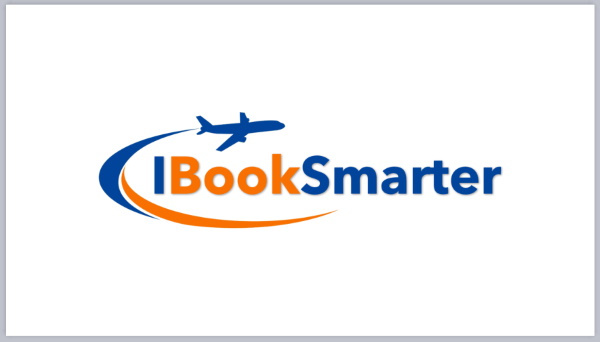 IBookSmarter is now LIVE, so let's see what it's all about.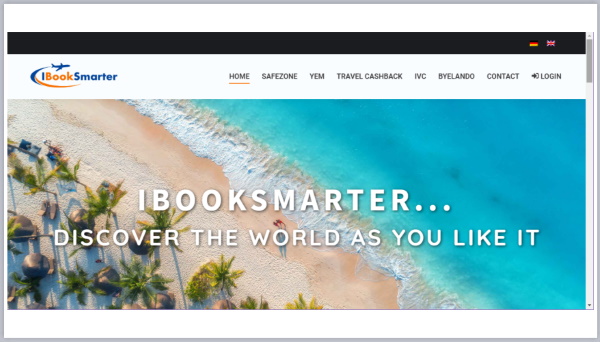 What is IBookSmarter?
IBookSmarter (IBS) is an international travel portal and the modern way to travel and discover the world. We are proud to announce this cooperation with Byelando Travel, as our travel partner for IBookSmarter. IBS sets new standards in the tourism industry. With IBookSmarter, you will have various different options: you'll be able to book packages, hotels, flights, charter flights, cruises, apartments… there are all different kinds of things that you can book for your travel fun at IBookSmarter.
You get high quality access to more than 82 billion bookable travel offers! These are for well known brands and offers just like you can find them from travel agencies, sites and all other places you book travel, with one very unique point: IBookSmarter is the first and only travel portal that rewards you with YEM for travelling and doing many activities. Whether it is for booking your trips, your hotel, even for booking your flights, and more… Through IBookSmarter you get a Travel CashBack in YEM of up to 12% on the travel/booking price!
You can book your current and future trips including all other tourist services directly through IBookSmarter and receive a Travel CashBack in YEM for every booking made through IBS.
We'll see some more information about the development of the YEM and find out how valuable your Travel CashBack is, or can become, in just a little bit.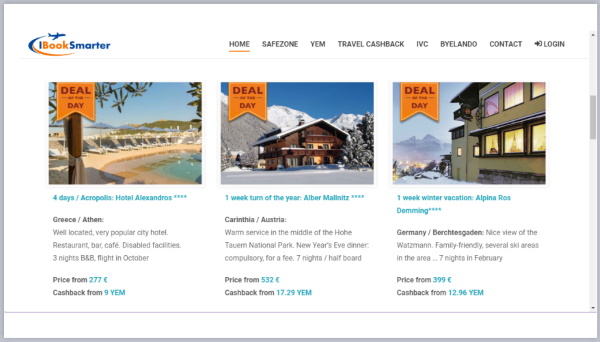 On IBS you can find amazing Deals of the Day and many other high-quality travel offers.
Here are some quick IBookSmarter Highlights:
Package tours, last minute vacations, mini-holidays, cruises, and more!

Worldwide flight search… Whether domestic, short, medium, long distance and more, here you can book just about any flight

IBookSmarter Community… our wonderful SafeZone community

Book your Flight & Hotel together or individually

and even with a rental car

Book hotels, apartments, holiday homes or villas

All IBookSmarter offers are hand-picked and compiled by Bylando Travel experts! On all offers and services booked through IBookSmarter you will receive a YEM CashBack of up to 12%.

Deals for bargain hunters… Favorable prices and great offers to a wide range of destinations

Special offer categories… e.g. family holidays, hiking, cycling, golf, tennis, motorcycle, single, luxury or round trips

Search filters and travel ratings… find your dream vacation more easily!
So as you can see, at IBookSmarter, you have a multitude of travel options and features to make your travel dreams come true!
When you book travel, there are a couple things to understand depending on your membership. The cool thing about IBookSmarter is there are no extra costs just to use the site and view the offers.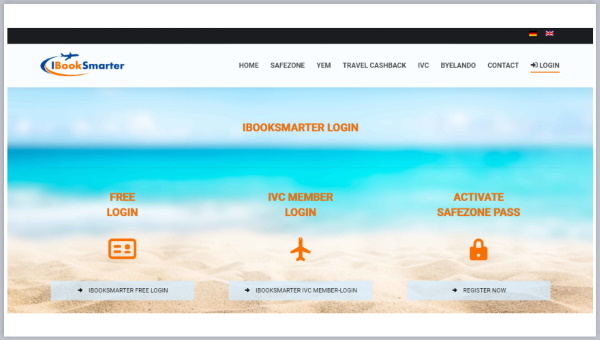 You have 3 different log in options:
FREE LOGIN

LOGIN WITH SAFEZONE PASS

ACTIVATE SAFEZONE PASS
When you click FREE LOGIN, you will enter the site freely without any additional login.
Clicking LOGIN WITH SAFEZONE PASS is how you login with your SafeZone credentials. If you are an IVC Member you will receive additional benefits at IBookSmarter, such as increased cashback when you book travel through IBS.
IVC memberships and IBS benefits range from 3-star (6% cashback at IBS), 4-star (8% cashback at IBS), 5-star (10% cashback at IBS), and VIP Luxury (12% cashback at IBS). There is more information on the IBS website about the benefits of IVC membership (click the IVC tab at the top to learn more). The longer you are an IVC member, the more benefits you receive.
As a SafeZone member, even if you are not an IVC member, when you login at IBS, you'll receive the standard 3% cashback when booking at IBS. We'll go through more cashback details in a moment.
Third, clicking ACTIVATE SAFEZONE PASS is for new members to join.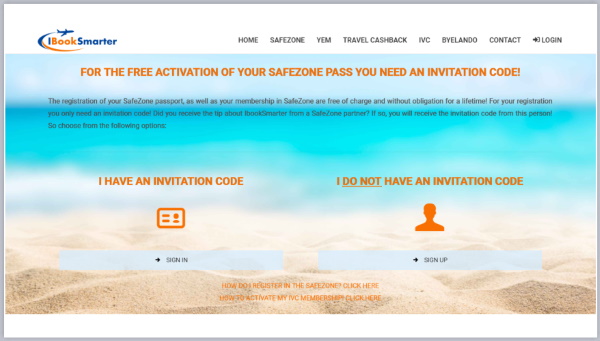 New members joining will have 2 options…
I HAVE AN INVITATION CODE

I

DO NOT

HAVE AN INVITATION CODE
Please understand Byelando Travel is an independent partner and fellow SafeZone member, so anyone who signs up on the IBS website directly WITHOUT their own invitation code, will be invited by Byelando Travel directly.
There are some more exciting and important things to understand. First, please understand, there are no standard commissions across the travel industry, so it is a complicated process to provide any affiliate program at all. However, the teams have been working hard at finding solutions, of course, they are very solution-oriented, and there are solutions to everything. Thanks to our great partnership with Byelando Travel, we are happy to share that there will be both an affiliate program and a business model with IBookSmarter. Full information on these 2 programs will come in a separate update, however we have a few exciting details to share right away.
About the IBS Affiliate Program
Commissions and Bonuses will vary based on the IVC membership level of the travel purchaser.
There is a maximum of 15% that is shared between cashback and commissions, commissions are split according to the WSS rules, so the more cashback a travel purchaser receives, the less commissions and bonuses are available to be shared.
For example, a VIP IVC Member books travel, they would receive 12% cashback, which would leave 3% to be split between commissions and bonuses. On the other side, when a non-IVC member books travel, they would receive 3% cashback, which would leave 12% to be split for commissions and bonuses.
Again, this was just an example and full details will be available soon.
About the IBS Business Model
The IBS business model was something that was hinted on back in January. This optional business model for IBookSmarter will include your own IBS website to promote, and you will be able to make commissions and other bonuses through this business model.
There are 2 things to be aware of (as Cate said, these ideas are still in the making, their final details will be released soon; she was just giving a heads up on some of the details that are being considered and discussed on right now):
1. You will need to be an IVC member to participate in this business model if this is something you are interested in.
2. There might be a fee, however the teams are still working out the final details.
So for those who are interested, now you are aware that this is happening and again, we will share more about the affiliate program and the business opportunity at a later time very soon.
We do NOT recommend promoting IBS directly until you have full details; if you want to share, share it with your invited members, or invite others to the SafeZone with a different referral link and only share the IBS website link after they are already a SafeZone member for optimal results, or you may miss out and we cannot help at that point.
Now let's explore the site more and see the features of IBookSmarter.
Whether you click the FREE LOGIN or log in to your SafeZone account first, you'll be able to browse all the travel offers on IBS.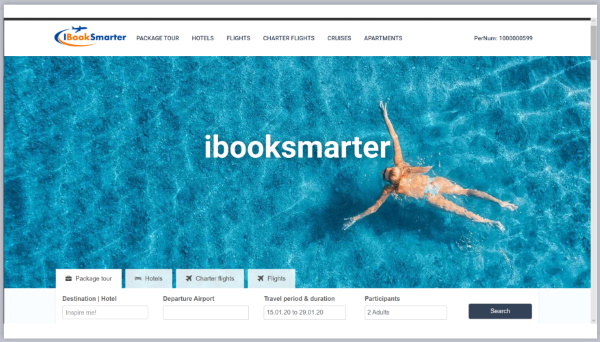 From here you can check out the various travel options. Like the deal of the day…
And many other travel options too!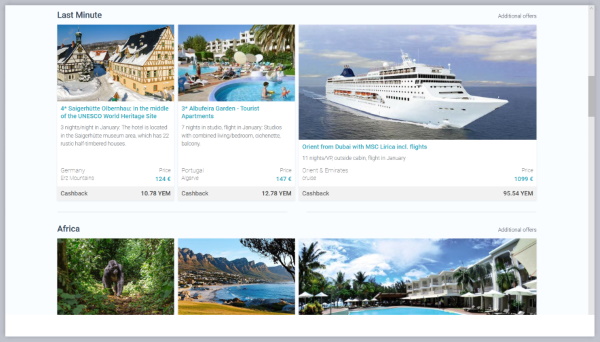 In the screen shots you can see some great examples of holiday destinations and fantastic package deals (with basic costs).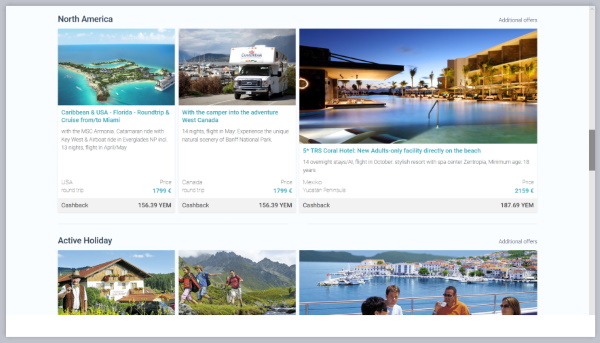 You can also see the very generous cashback rewards (in YEM) for each deal purchased, which can be as high as 12%! We'll get to more about the cashback in a moment.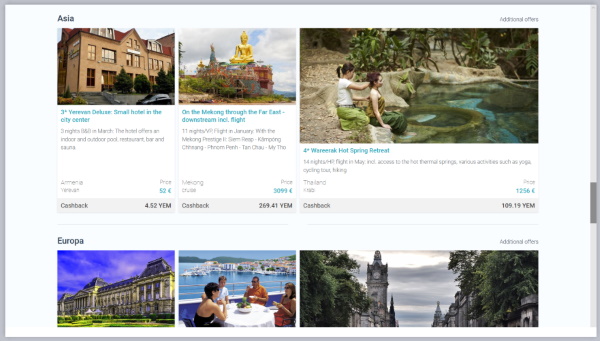 So you can see all that from the FREE LOGIN and it is the same when you log in with your SafeZone account too.
What is most important though to remember is that if you want to book any travel, you should log in first to receive the maximum benefits.
Some of the cool features you'll find on IBS…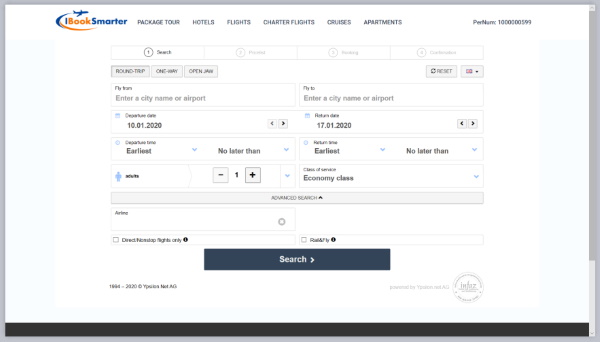 …include a multitude of searching and booking options depending on what you are looking for travel wise.
When you see a location you are interested in, simply click on it to see the different offers available.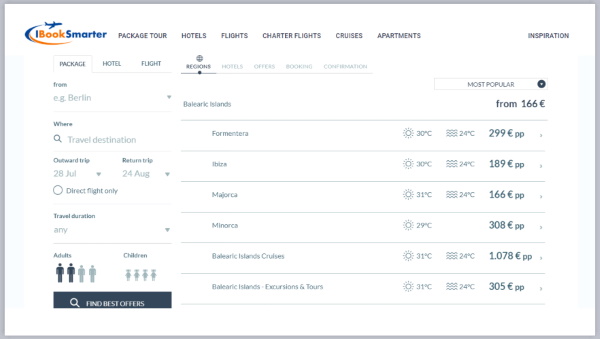 Booking pages have details about the specific package, hotel, or offer.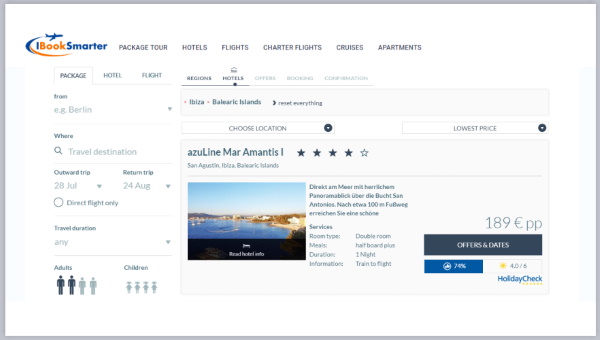 Ratings, details about the property, and more are available on the individual booking pages, so be sure to check those out before booking your travel.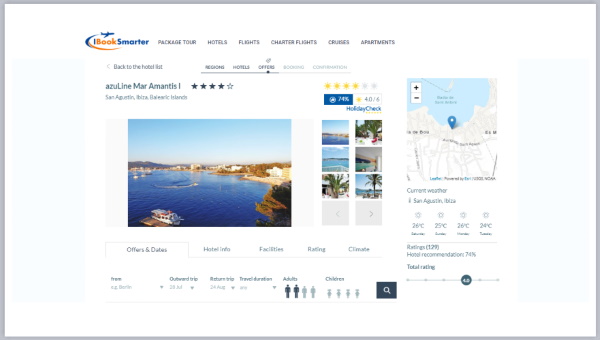 Now let's check out the benefits of receiving YEM Cashback.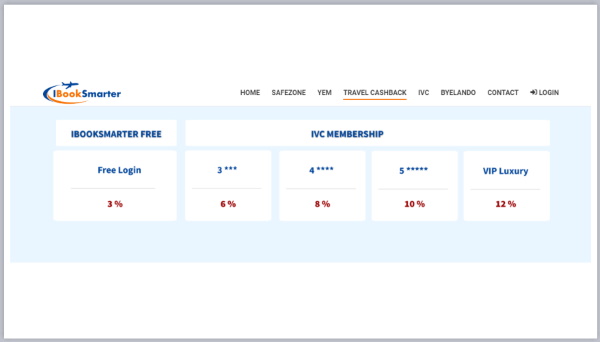 As it is explained on the IBS website about your IBookSmarter Travel CashBack…
For every booking made through Ibooksmarter you will receive a cashback in YEM of up to 12% on the travel/booking price and thus cash money for free! The amount of your CashBack depends on whether you use Ibooksmarter via the "Free Login" or as an IVC member and thus a registered SafeZone partner!
Use IBookSmarter directly via Free Login and receive a valuable CashBack of 3% or activate your exclusive 3-star, 4-star, 5-star, or VIP luxury membership and secure a CashBack of up to 12% besides many other advantages.
Here are 2 examples of IBookSmarter CashBack. Using the 2 examples below you can see the advantages of YEM CashBack.
Example 1:
Booking a package tour (trip/booking price = 2000 Euro)
Date/start of the trip: in 4 months
Example 2:
Booking a package tour (trip/booking price = 2000 Euro)
Date/start of the trip: in 8 months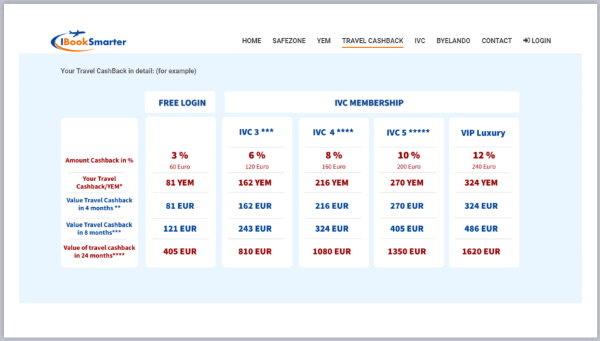 Something else to understand too, the amount of CashBack you receive will be based on the value of your travel at the time of booking, not the date of travel.
As you can see here in the image above, depending on how soon you will be traveling as well as if you have an IVC membership or not, will determine the amount and potential value of cashback you receive. It is quite possible your Travel CashBack could be almost as valuable as the price you paid for your vacation, this is fantastic!
Do be aware of the fine print in this example…
Basis for the determination of your Travel-CashBack/YEM is the travel/booking price in USD/EUR
* Number/cashback in YEM at the time of booking (here 04.2020) = exchange rate: 0.81 USD/0.74EUR (travel price = 2000 EUR / CashBack/YEM 6% = 120 EUR / 120 EUR : 0.74 = 162 YEM)
** assumed value/YEM in 4 months = 1.10USD/1,00 EUR (Calculation: Travel-CashBack =162 YEM / 162 YEM x 1,00 EUR/YEM = 162 EUR)
*** assumed value/YEM in 8 months = 1.65USD/1,50 EUR (Calculation: Travel-CashBack = 162 YEM / 162 YEM x 1,50 EUR/YEM = 243 EUR)
****adopted value/YEM in 24 months = 5.50USD/5,00 EUR (calculation: Travel-CashBack = 162 YEM / 162 YEM x 5,00 EUR/YEM = 810 EUR)
Hint:
** / *** / **** The market values used as examples to illustrate the possible development of the cashback value are assumed and not guaranteed values!
The future price development and the value of the YEM can be lower or higher!
At IBookSmarter… Make your Deal
As the price of the YEM rises, the value of your Travel CashBack/YEM also increases.
And the more you book through IBookSmarter, the more CashBack in YEM you get and the higher your CashBack balance in USD/EUR will be, which you can use for your next trip, shopping and many other things.
Here is another scenario, to show you how valuable your Travel-CashBack can or would have become:
Can you imagine…
Booking a trip via IBookSmarter worth 1,000 EUR in September 2019…The value of the YEM at this time was 0.010 USD/YEM.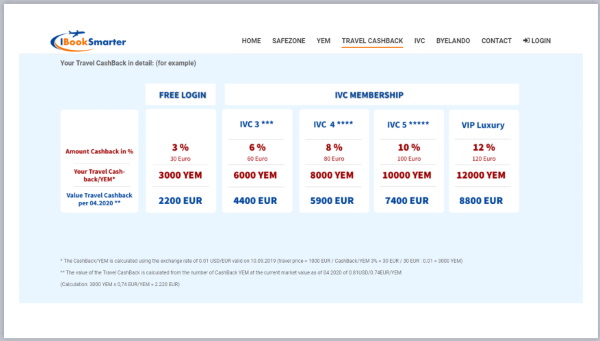 You can see here, if this had been an option in 2019 and you purchased travel at that time, your cashback alone would have been worth more than 12x what you spent on your vacation. Now that is amazing!
Of course, do be aware of the fine print on this example also…
* The CashBack/YEM is calculated using the exchange rate of 0.01 USD/EUR valid on 10.09.2019 (travel price = 1000 EUR / CashBack/YEM 3% = 30 EUR / 30 EUR : 0.01 = 3000 YEM)
** The value of the Travel CashBack is calculated from the number of CashBack YEM at the current market value as of 04.2020 of 0.81USD/0.74EUR/YEM
(Calculation: 3000 YEM x 0,74 EUR/YEM = 2.220 EUR)
So, as you can see there are many options for all your travel needs at IBS and especially as an IVC member, the rewards are superb!
We will have more info about the affiliate program and business opportunity at a later date very soon. In the meantime, as noted previously, if you want to share IBS with others, share it with your invited family and be sure to invite any new people separately to the SafeZone first.
We also have some other very cool updates about where you can spend some of your YEM right now: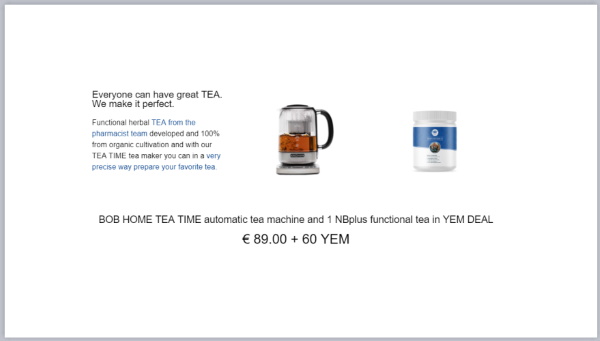 This is a very special Bob Home Tea Time offer; it's an automatic tea machine and 1 NBplus functional tea; this is a special YEM DEAL for Europe (including UK) and Switzerland. So, if you, or a friend or family member lives in Europe, UK, or Switzerland, you can purchase this deal.

If you try to purchase from outside this area, it will not make sense to do so because it is a European power cord. Also, be aware of shipping costs, for example, for some countries such as in Africa, it can cost around 200 EUR, just for shipping!
For those with a European, UK, or Switzerland address, feel free to participate and enjoy this wonderful tea and automatic tea machine.
Cate talked about this on the radio show the last couple of weeks, there was a little technical glitch, however that was solved and the website is live right now. You can go there and check it out. It has been announced in WazzUb already, in the WazzUb chatrooms and Announcements.
For this limited time offer of the BOB HOME Tea Time automatic tea machine with 1 NBplus functional tea, you will need to pay 89 euros and in addition, 60 YEM for the whole offer. It's a US$170+ value for the combined offer of the tea machine plus 1 type of tea.
They have a few different herbal teas to choose from for things like losing weight, feeling more sexy, a lady needing help going through the menopause stage, or you just want to feel good, you want to wake up… there are all many different teas, so you can pick the right one for you.
A fantastic 'tea-time' deal, and because it is not a Smart Contract, as soon as you pay for your offer, it will be shipped to you in a reasonable amount of time. You could get these as gifts for people, especially if you have family living in Europe. This is a limited time offer, only available until August 7 or while supplies last.
(Cate did announce previously on the radio show, that the offer was only available until July 31, but because there was a small delay, they have graciously extended that to give you all plenty of time to check it all out for yourselves.)
So, this offer is available now until August 7, or until supplies last. Definitely, if you are interested, you want to head over there and put your order in as soon as you can. Have fun with that and enjoy your tea. We are so excited for all you guys who will be able to participate in purchasing this fantastic offer.
Check the BOB HOME Tea Machine + 1 NBplus functional Tea offer here:
Cate closes the webinar by thanking everyone for joining in, wishing everyone a great rest of their day or night, and all the best. Until next time… WAAAZZZZUUUUBBBB!
With your success in mind,
Cate Kozikowski and
Your WAZZUB Support Team
***
Additional Info from Support:
Need help? Use the handy SUPPORT hexagon in the SafeZone.
For all Unicorn Network Webinar info:
Log in to read recaps and register for webinars here: https://www.safe.zone (WEBINARS hexagon)
For all Rainbow Currency Webinar info:
Read recaps and register for webinars here:
https://www.rainbowcurrency.com (WEBINAR RECAPS button from menu)
Remember to check out the SafeZone Radio Show too at a NEW TIME!
Airing live every Thursday from 11a.m.-12 p.m. USA Pacific Time. Listen live and check out past show recordings at: https://www.safe.zone (RADIO SHOWS hexagon)
***
Please note effective March 20, 2019 Unicorn Network is updating its social media policy. Member updates will be posted in WazzUb.com under the NEWS area, please check there for member updates. External social media pages and groups will be closing step by step. We will post further updates as available. Thank you.
***
Unicorn Network Third Party Social Media Disclaimer;
The Unicorn Network uses third party websites and applications for marketing, and will often ask members to voluntarily interact with these services in order to increase reach of our postings. However, unless specifically stated, the Unicorn Network does not vouch for the safety or security of these services, and the member is advised that they use these services with the understanding that any issues which may arise from their usage are not the responsibility of the Unicorn Network.
***
** Reminder for all members: ** We have a strict anti-spam policy. Please be professional when sharing links for any of our offers. It has been noticed that some members have been posting their links on other people and group's Facebook pages. ** This is spamming!!! ** You should not post your links on anybody else's pages or in groups unless it is a page or group specifically set up for sharing business opportunities. You should not post your links on the timeline of any other person in any Social site unless they have given you permission to do so. Please be respectful and professional. Thank You.
***
Member Invitation guidelines
***Dear Members,
Our Rainbow Currency is a very exciting opportunity for all members and for the future of commerce and financial transactions.
We know everyone is super excited and very eager and innovative in promoting our Rainbow Currency and this once-in-a-lifetime occurrence.
As always we want to be mindful of the reputation of the company and of course yourself when promoting. A few things to be mindful of:
A. Whenever translating any information, brand names must be in English. Rainbow Currency, Twnkl, Glitter, Rainbow, SafeZone, etc., must be in English.
B. Always give accurate information using company pages as a guideline for information. Don't mislead by making wild claims or by changing the meaning of anything. If you are not sure what something means, please clarify.
C. Be sure to comply with local and International anti-spam regulations regarding emails. If using mailings you should be sure that those you are sending emails to are opted-in to receive emails. If you are emailing friends/family be sure to respect their wishes if they ask you not to send them offers.
D. Never use our Mailaxy for any marketing mailings. It is intended to be used for personal use only. Accounts may be closed if we get blacklisted due to members using Mailaxy for marketing and marked as spam.
E. In Social Media such as Facebook, Twitter, etc., always follow their terms of use.
*Never post your links or promotions on the profile page of any other member. If you post on your own profile those who follow you will see it if they follow your posts.
*Never reply to someone else's post or comment with links or promotions.
*If you belong to groups that allow you to post marketing, and there are many, be sure to follow their rules and don't flood them with constant posts. Watch to see what others do as a group. If there are several hundreds or thousands of active people in that group and there is only one person posting the same thing every 5 minutes or every hour don't do the same thing just because that one person does it. Do what is customary for that group.
F. Don't constantly tag random people on your posts. That function is meant to tag a person who may be in a picture, or tag someone that needs to take attention to that post because it is relevant to them.
G. Don't add people to groups without their permission. This happens to me all the time and it is very annoying. You can send invitations and that gives the person the option to join, ignore, or simply delete your request.
H. Many members have posted marketing material that can be used and shared, graphics and videos that can be shared, and ideas on better marketing practices. Always be mindful to personalize things that you use and be sure to keep information accurate. If you see something that you like that has not been given to share or use, always contact the owner of that material and ask their permission before doing anything with it.
I. If you create your own Pages, Groups, Blogs, etc., be sure you comply with the terms of use of the host. Be sure you comply with our Affiliate Guidelines for Social Media and Internet Activity. You can view them here:
https://drive.google.com/open?id=1Vf4BCQNWKuzCCcaGbF4uWxKe2l0aQfbh
End***
***
Because our websites are hosted on the worldwide web, access may be available in other countries. We are happy to make the content, software, products, and/or services available to people in any country where legal to do so. And while we are not currently aware of any country that bans information of this type, nor specifically the information we provide, we make no representation that materials on the websites are appropriate or legal for use in any locations outside the United States. The laws regarding use of content, software, products, and/or services via the Internet may vary in different countries. If you have access to our websites from a location outside the United States of America, you and you alone are responsible for compliance with all applicable laws of your jurisdiction. Accessing the websites is prohibited from any country where the contents are deemed illegal, or where they are contrary to regulations.
***
Earnings Disclaimer: Every effort has been made to accurately represent our project. Any examples of results are not to be interpreted as a promise or guarantee of earnings. Your level of success in attaining the results claimed on our website depends on the time you devote to the project, on your knowledge and on various marketing skills. Since these factors differ according to individuals, we cannot guarantee any success or specific result. Nor are we responsible for any of your actions. Materials found on our website may contain information that includes or is based upon forward-looking statements. Forward-looking statements give our expectations or forecasts of future events. You can identify these statements by the fact that they do not relate strictly to historical or current facts. They use words such as "anticipate," "estimate," "expect," "project," "intend," "plan," "believe," and other words and terms of similar meaning in connection with a description of potential results or earnings.
Copyright © 2011-2020 United American Capital Corporation, Unicorn Network, Inc., SafeZone, Inc.
All rights reserved.