This webinar is property of United American Capital Corporation, Unicorn Network, Inc., SafeZone, Inc., and may not be recorded, and then distributed to the public. Any transcriptions/translations provided live by the "Power of WE" are not official. Please wait for the official English recap and translations for the complete details presented during any webinar.
Disclaimer: You are always personally responsible for your own actions; nothing contained in this or any webinar is to be constituted as advice for any reason. Do your own due diligence and speak with your own experts before making any decisions, such as those relating to health, finances, taxes, and business, to name a few. Decisions to buy digital Fractional Owner Rights (F.O.R.) need always to be based on the information found on the website only and none of the information shared in any webinar is legally binding to the Company, only content directly on the TwnklEstate website is legally binding.
Topics to be discussed:
1. SafeZone on the Internet
2. Updated/upgraded Verification system
3. SafeZone for Health
4. Star From Home (coming soon)
5. SafeZone for Wealth
6. Brief updates on other topics (YEM Deals, Fresh Coffee, YEM Coins, etc.)
Dear Unicorn Family Members,
Welcome everyone! I am so happy to be here with you today. Exciting things are happening and we have a lot of updates today. But, first I just want to say that I hope everyone is doing well and staying safe. The Founders send their greetings and well wishes to everyone also and urge everyone to stay safe now and always.
We are going to start off talking about our SafeZone. This is our main brand to communicate what we offer to the public. Because no matter what you do, it is always good to be in the safe zone. Just like now, hopefully you are all in your homes, and that is your safe zone.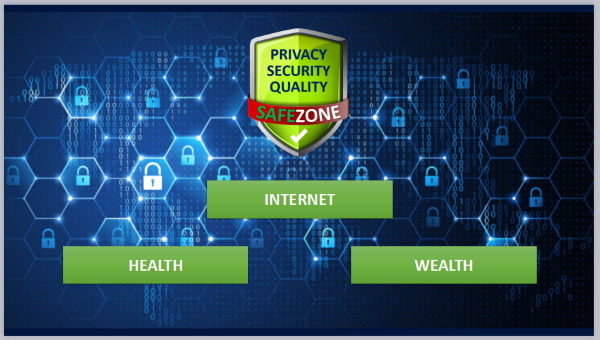 As you know on the internet, we have our SafeZone. We started with the SafeZone on the internet because this is our framework that allows other third-party businesses who also follow our high privacy, security, and quality standards to join our network. But we have been learning, especially over the last couple of weeks and months that it would be really great to also have a safe zone for our Health.
Staying healthy, with a healthy lifestyle and keeping our immune systems to optimum levels are important. This real-life situation that is going on right now with the coronavirus is really educating us, and enlightening us. While these things have happened before in history and can happen again, our worlds are dramatically changing all of a sudden. And based on your feedback and discussions in our community, this was what prompted us to really take more action and decide that we really needed a safe zone for our health as well.
So while coronavirus may be contained in a matter of weeks, depending on the location where you are, or some months from now, especially with all of the good news that is coming out with some of these new treatments that are being used these days, it is just one more reason that we know it is important to take care of our health now and always.
The most important things you can do right now to keep yourself healthy during this time is to stay home as much as you can, wash your hands often, avoid touching your face, especially when you are around others, and do not be in closed rooms with others; maintain social distancing.
And while this is a health crisis, it is possibly going to turn into a financial crisis as well.
This is what prompted us wanting to have a safe zone for our Wealth as well. There are going to be billions of dollars in assets destroyed. We see the craziness going on, on the stock market; at least it happened here in the U.S.A., but I am sure it has been happening in other places as well.
With the cryptocurrency market, Bitcoin went down to below US$5000 at one point, and prior to that it had been hovering around US$8000 to US$9000. (Yet another reason to be proud of our YEM, YEM has been steadily rising without the volatility you see in the other cryptocurrencies these days thanks to the minimum price; the YEM Foundation (formerly known as the Rainbow Currency Foundation), and all currency holders continuing to use YEM as their everyday money; so great job everyone!)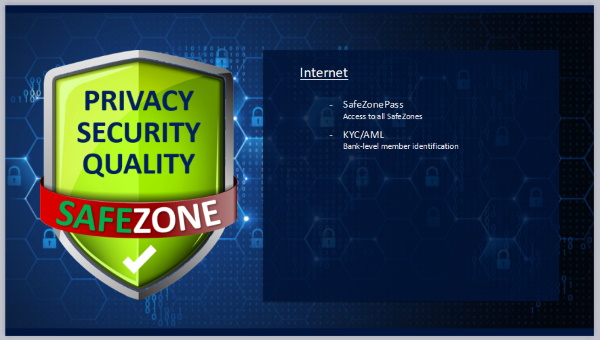 Now, let's look at things a little bit more in detail. Talking about the Internet, the question is what does our SafeZone on the Internet include?
Well, it starts off with a SafeZone Pass (your login credentials), and this gives you access to all the SafeZones. This is the key to be able to access all of our websites.
On top of that, it is super important to have the proper procedures in place for the KYC/AML (Know Your Customer/Anti Money Laundering). And it is important that we have a Bank-level member identification. This brings me to one of the newest things that we will have very soon, which is an updated identification system.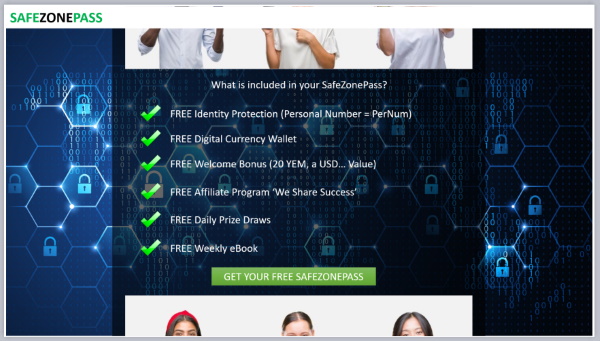 This new identification system will have 2 levels:
We have the Free level, which is the level you automatically get when you join. The free SafeZone Pass includes:
Free identity protection (Personal Number = PerNum), that masks our private information like our name, email and other stuff you want to hide/mask from other people.

Free digital currency wallet, which is your PerNum Wallet.

Free welcome bonus, which has been 50 free YEM; however, as the value of YEM keeps rising, it is important that we adjust this welcome bonus from time to time. So starting today, April 1, we are adjusting this welcome bonus to 20 YEM. Right now YEM is at US$0.78 value, so 20 YEM is roughly a little more than a US$15 value, as a free welcome bonus.

Free affiliate program "We Share Success", where you can earn commissions. You can visit

https://wesharesuccess.com

and you will see that there are all kinds of campaigns and we are always adding more and more. Talking about the new verification system, you do not need to verify your account in order to participate in the affiliate program. However, when you earn commissions, to be able to cash out those commissions, you will need to verify your account.

Free daily prize draws. If you have not seen this already, let me tell you that we have a new daily prize draw with a guaranteed winner every day at Prize Mania

https://www.prizemania.net/

. All you have to do is log in, scroll down to the bottom and you will see this new area which was announced in Wazzub earlier this week. So you just Click To Enter, and then check back the next day to see if you are the winner. The odds of winning that prize draw will depend on the number of people who are participating. In this daily prize draw, only the people who click to enter, are included in the draw (unlike our other prize draws where all our members are included as potential winners). So you should click to enter every day for the daily prize draw, and while you are there, you should check to see if maybe you are the winner of some other prize draws as well. Remember the key to winning at Prize Mania is persistence and consistency, the people who win are those who make a good habit of checking Prize Mania once an hour as often as they can. You can read Sasa Krstic's story on the landing page to learn more.

Free weekly eBook. I know that for a period of time the prices on EEBOOX

https://eeboox.com/

were a little bit high and were not adjusted for the fluctuation of YEM, but that is now solved, so go and check it out. You can also vote for the next free weekly eBook.

Also important to note that shopping on sites like EEBOOX, TwnklShop, and other offers like Balanso Bath Salts for YEM, are all included in this Free level, if you have the coins to do some shopping.

Additionally you can still chat with your friends and family in WazzUb, as well and collect free activity rewards.
So this is what is included for FREE, right away with your SafeZone Pass.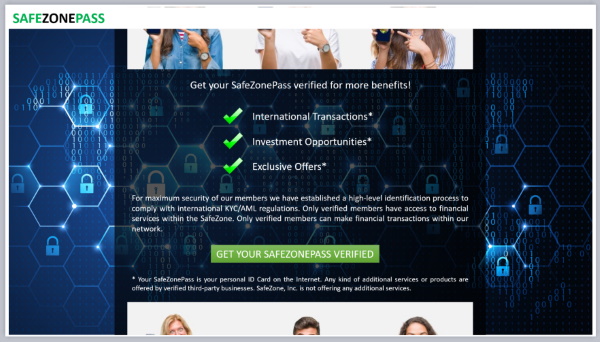 The second level is the Verified SafeZone Pass. Do be aware this is an optional upgrade depending on what you want to do within our network. It is totally fine to have a free SafeZone Pass, you only need to upgrade if you want to use those included services. Here you get:
International transactions. Here you will be able to use things like MoneyPon, TwnklBuy, transferring YEM to CCH etc.
You can see at the bottom, by the little *, it says:
"Your SafeZone Pass is your personal ID card on the internet. Any kind of additional services or products are offered by verified third-party businesses. SafeZone, Inc. is not offering any additional services."
Now, I do want to point out, as we are always telling you: Always do your own due diligence concerning any kind of offer or opportunity you want to participate in, even in the SafeZone. Understand, in the SafeZone, when we verify a business, we are verifying whether the business is registered, licensed, and in good standing. So, we are not specifically verifying each product or service that they offer, so you definitely need to do your own due diligence when it comes to anything.
Just to clarify with these international transactions (MoneyPon, TwnklBuy, etc.): the full wallet and functions are included for those international transactions.
Investment opportunities. These are going to be provided by officially-licensed verified third-party businesses. This part is actually our "SafeZone for Wealth" which we will talk more about, later in the webinar.

Exclusive offers. These offers could be for the Health SafeZone, or for something else; they are not limited to just health.
Now I want to explain a little bit about this process. As I mentioned this is a bank-level verification process, so it is a little bit different than what we have been doing already.
For maximum security for our members, we have established a high-level identification process to comply with international KYC/AML regulations. Only verified members have access to financial services within the SafeZone. Only verified members can make financial transactions within our network.
Some good news, thanks to the great work the YEM Foundation (formerly known as the Rainbow Currency Foundation) and Unicorn Network have been doing talking to governments, banks, and other high-level companies, this updated verification process is important to continue the forward progress for accepting YEM around the world. Because this is a bank-level verification process (and rest assured to protect our members' data and privacy, we are using the same company many big banks use for their online customer verification), there are some different rules associated with it. This is an upgrade that has been in the works for over 1 year and is required due to the new laws being passed worldwide. For example, in Germany, they recently passed a law that requires all wallet providers to have this high-level KYC/AML process; and as we are a global network providing a digital wallet with your PerNum Wallet, we need to be compliant for all countries around the world who have various standards. So we have implemented the highest standards to make sure we are covered around the world. It is very important to understand that if a government does not think a company is in compliance, they simply shut the company down, and customers might lose the funds they have in their wallet. So this is why we implement this high-level system to ensure that does NOT happen in our network. And as far as the timing goes, as mentioned, this has been in the works for a long time, and we are lucky that our business started online, it means we do not have to close during this time, and we can continue working on our projects as we are able.
Specifically about the new verification process, number one, there is a cost of US$10 as part of this verification process, and this needs to be sent from a bank account. This is to cover the cost of this verification process. Understand this is strictly the cost of the verification; Unicorn Network makes no money on this process.
Your own bank account is the easiest and fastest way to do this, but if you do not have your own bank account, you can send the money from another bank account; however, you must provide a reason why you are doing it, and you must identify the account holder and details where the money is coming from.
Of course, if there are any other options besides bank account, we will keep you posted as those are available. For starters, it will be through a bank transfer. So if this payment method does not work for you in whatever way, just wait a few weeks and see what other options become available; the team is working on it and we will keep everyone posted as soon as we have further updates.
Also understand that no one is forcing you to verify your account. If for whatever reason you are not ready or willing to do it, you can do all kinds of things with your Free SafeZone Pass. The only time you will have to verify your account is if/when you wish to do financial transactions: when you are sending funds, or if you want to cash out. So anything related to moving money (fiat or crypto) is connected to verifying your account prior to that.
So, if you do decide to pay the US$10, after you do this payment, there will be a video verification. You will be talking via video with a real person in real time, and this person will ask you some questions, ask you to see your ID and perhaps move it in different ways so they can see what they need to see. You can use your smartphone for this, or laptop/pc/tablet with a web-camera. If you personally do not have any video device, you can use a video device of a family member, a friend or anyone who is willing to help you out for this process.
After a successful verification, you will unlock all the features and services that we talked about and you will get a Bonus of 20 Free YEM (which is a value of about US$15 right now).
And another great thing is that with this updated SafeZone verification, we are working on the possibility for you to receive verification much more easily on other third-party services/websites that are associated with our SafeZone. This is our goal, and we will keep you posted as it applies.
Now, we do know that the video verification might not be available in some countries, so there will be some other kind of verification in place for those specific areas.
The company we are using is the same company that many banks use to verify their own online customers, so we have done our best to make sure it has the high privacy and security standards you would expect in the SafeZone. It took some time for us to get all this organized and now here we are in these final stages and we are very happy for it.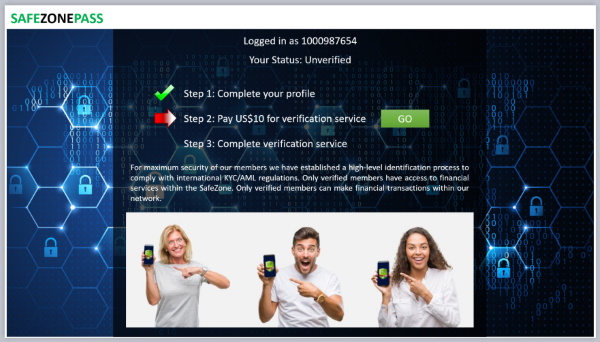 So we are making this verification process as easy as we can make it. First you need to complete your profile. Then you need to pay the US$10 for the verification service, and then you need to complete that verification service. Once everything is done, you will unlock those features and receive your bonus of 20 Free YEM.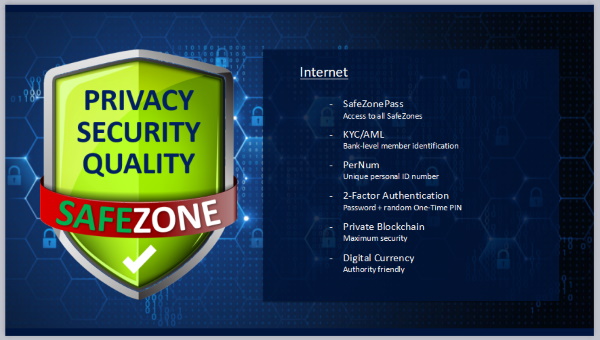 Now, let us talk more about what else is included in our SafeZone for the Internet. As we mentioned we have our PerNum, which is your unique personal ID number. It really puts in control of who you share your information with, back in your hands.
We also have our 2-Factor Authentication, which is your password and the random one-time PIN from your Master PIN.
We are the first network of websites on the internet that has a 2-Factor Authentication as standard, for all our members, to protect their privacy and security. There are many other companies out there, who have a 2-Factor Authentication, but they have it as optional.
Also many companies have this 2-Factor Authentication connected to a device. For example you are using online banking from your mobile phone. If you use online banking, and then restart your mobile phone, and try to access the online banking again, you will need to enter your password but then the application tells you that because it recognizes the device, that you do not need to enter your 2-Factor Authentication. Isn't that like junk security? This is the main problem when they rely on secondary devices, because someone could steal your mobile phone and then have access to your accounts, because these systems recognize the device but don't realize that it is not you using it anymore.
So with our system, you are so much more safer in the SafeZone. And remember to NEVER EVER share your Master PIN with anyone. Not with friends, family, nor with colleagues, members nor our support team (the support team will never ask for your Master PIN). ONLY YOU know your Master PIN because it is protecting some of your greatest assets.
The next thing that is included in our SafeZone is our Private Blockchain, and this is private for our maximum security.
I have seen comments over the years that we need our blockchain open and stuff like that, but you know what? When you do that, then you are really just inviting hackers to break into your system. They will find the flaws, and it is usually not the blockchain that's flawed, it's the system holding the blockchain that may have some flaw or some kind of way that can be manipulated by the bad guys. So having our blockchain private means we do not give out any information that someone could use it against us. Over the last 8 years there have been several hacking attempts into our network. But, not once has any of them succeeded in all these years. That's because we employ this maximum-security policy.
You can see for example on Facebook, that they are hacked almost every single day, and they have billions of dollars in profits. Obviously, they don't care about your security. Because if they just took a few million of those profits and actually put it into real security on their websites, you would see a much different story. But, the fact is that they don't care. I talk about this on the SafeZone Radio Show quite frequently. These other companies, while they say that they care about the members' privacy and security, if they get hacked, they don't care.
So, as the SafeZone, we employ maximum security for all of our benefits.
Next we have our Digital Currencies. One great thing about our currencies is that they are authority friendly. We have the taxable value referenced on each transaction in USD (because it is the company's reference), and also in the sender's and receiver's preferred currencies. So you know the value of the transactions you do at all times, as a sender or a receiver.
And authorities want to know who is doing what. So with our new verification system, that makes it even better for those authorities. So we do our best to be friendly to everyone, the consumers, the authorities, and of course ourselves as the business (win-win-win).
So if you are planning any bad stuff, don't do it in the SafeZone. We will catch you, we do it all the time, and then there are consequences, which you won't like. So, don't try it, stick to the rules, and be honest when you are in the SafeZone.
Now let's talk about our SafeZone of Health.
We will have our HappyHealth Clinics. This is with Dr. Forsythe and his protocols for cancer care and of course, we want to help you boost your immune system. As we are learning today, those people with strong immune system have the best success when it comes to any kind of health crisis that might come up. Keeping your immune system healthy is most important. For example one of the things that will keep you healthy is getting enough sleep.
In our HappyHealth Centers we will have many health professionals, like for acupuncture, massage, fitness, etc., so these will be the places where you can learn information on how to be healthy. Also they will be point of sales (PoS) for other Health-related products.
One thing to note regarding the first HappyHealth Center scheduled to open in Germany, as you may have heard, Germany is having a hard time right now and literally just about everything is closed, so we will not be having the grand opening as planned; instead we will be focusing on bringing more things online first.
And of course, we will have the HappyHealth Formula which is specifically HappyHealth branded products. One of these partnerships is the one with PyraLife Sciences™, they are not HappyHealth branded, but they have awesome products for our health.
And we will have the HappyHealth Edition, which will include not only Dr. Forsythe's books, but other literature, online courses and webinars. It is all about learning how to be healthy.
And we will have a HappyHealth Directory. This is where you will find recommended businesses having to do with health and a healthy lifestyle.
And what else do you need to stay healthy? The HappyHealth Fitness will include gyms, classes and even home-training solutions. One of the different products that has to do with fitness is SpinX, a type of fitness system that we've talked about in previous webinars.
And now, we are happy to share some news about a new project that will help all of us crush boredom while we are staying at home!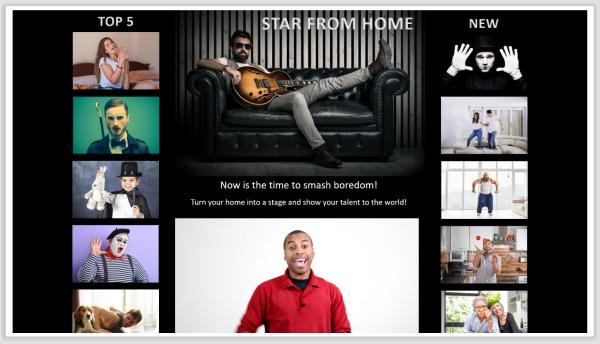 Introducing Star From Home!
Now is the time to smash boredom!
Turn your home into a stage and show your talent to the world!
This will be a video uploading platform, so if you want to share your talent with the world, you can now do that through Star From Home. There will be some prizes, although it is not a contest; it does not take away from Biggest Talent (more on that in a moment), it is more about having fun! There will be a thumbs up or thumbs down style of voting; so if you like the video, give it a THUMBS UP, and if you don't like the video give it a THUMBS DOWN. There will be more specifics about the prizes announced later for those who are participating.
This is in the final stages of development now (to be released in the coming days) and when done it will be announced in WazzUb, and of course a hexagon will be added in https://Safe.Zone/on the dashboard when it is available.
Also remember this is a family friendly network, so any video uploaded should be for everyone of age 14 and up.
So definitely have fun! This is about sharing some laughs, maybe you want to teach someone some dance moves, sing a song, or you simply want to share your talent with the world in a great positive fun way. So get your creative caps on and start thinking of ideas and putting your videos together, or start inviting others to our network, people who you know like to make entertaining videos. We will be announcing this soon.
A quick update about Biggest Talent: with the current situation around the world it is just not the right time to be announcing a contest where the Grand Prize winner is performing on stage in Las Vegas, Nevada, USA. If you are not aware, Las Vegas is closed right now, the shows have stopped, casinos are closed, and the whole area is hunkered down, staying home, staying safe, and social distancing; so booking anything is just not an option at the moment, therefore Biggest Talent is delayed until everything is in the clear. Rest assured when everything is better again, and it will be as soon as possible, Biggest Talent will be back, better than ever for everyone to enjoy!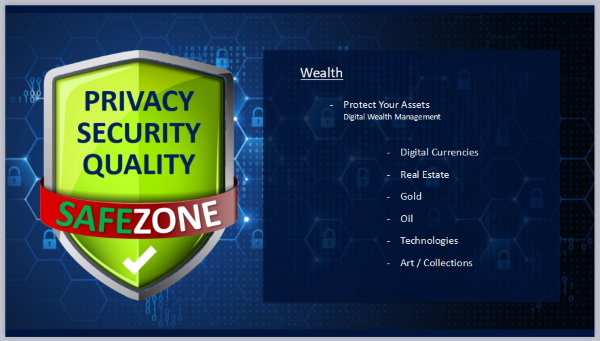 What about SafeZone for Wealth?
Here you can learn how to protect your assets, which includes Digital Wealth Management.
I have to talk about this a little bit more in depth, because all of these wealth-related things will be through third-party accredited businesses combining with Unicorn Network technologies.
So you have the Digital Wealth Management which will include Digital Currencies. These are our currencies: YEM, TEC, TSHC, Solario tokens (SOLR) and all the others.
The next important asset is Real Estate. This will be combined with TwnklEstate where you can purchase Fractional Ownership Rights (F.O.R.) with Twnkl Estate Coin (TEC).
On top of that, we have mentioned previously, we are going to be creating a Twnkl Gold Coin (TGC), and that project is currently getting finalized. As we have more details, of course we will share them with you.
We are also looking at oil, and by oil we are talking about petrol. You may have seen the oil price crash by 60%. I know I just spent US10$ for 4-5 gallons, which up until recently I was only getting 2-3 gallons for the same price. So for a professional investor, when the oil price is low, that is the perfect time to buy, because you have the most ability to see a return on that investment.
Then we will also have Technologies. Some of them will be using our Solario technology.
And of course, there are other assets like Art and Collections. Art could be anything, like paintings, or sculptures, and Collections can be things like stamps or coins. These are all assets.
Talking about coins, as we all know with this coronavirus going around, many businesses, including the businesses that make coins are closed right now. Therefore, it will be some time before the YEM coins are released. So just be aware of that.
The same applies for the products at TwnklShop, the real estate deals at TwnklEstate, as well as the YEM Deals and any of the other special offers, everything is facing delays related to the coronavirus.
Some good news though, we received confirmation that the first German customers are starting to receive their Fresh Coffee orders, so if you are one of those who are still waiting on your order, do have patience, it is being worked on. I am sure you will receive your order as soon as possible.
When it comes to YEM Deals some more great news, we have received an update that the first YEM Deals orders are now being shipped, so if you ordered, keep your eye out for that arriving in the coming weeks. Additionally the YEM Deals team is hard at work to bring even more great offers, so keep your eyes out in WazzUb for announcement when that is ready. So please continue to have patience, some postal systems also might be experiencing delays as well; rest assured that all of that stuff will be delivered and we will give updates as we are able.
One last thing before we go, we want to share a big THANK YOU!! to all our brave people of the world who are helping us during this challenging time, from first responders to our military, to doctors and nurses, grocery store workers to truck drivers, and everyone in between—THANK YOU! Please also keep everyone in your positive thoughts and prayers during this time as well.
Thank you all for being here. Be well, stay safe and Happy Health to everyone! All the best. Bye-bye.
With your success in mind,
Cate Kozikowski and
Your WAZZUB Support Team
***
Additional Info from Support:
Support Reminders:
- In the TwnklShop Wishlist - remember only 1 vote per item per member ("yem" does NOT count as a vote); no promos with votes (you can do in your signature only), and only 3 suggested items at once (doesn't include items already listed). If you made mistakes in past, clean up your old mess before Admin finds it and other consequences happen (i.e. ban).
- Also note, making one word "yes" posts anywhere outside the Wishlist is not allowed and may cause other consequences (i.e. ban and possibly other legal consequences if done for fraud).
Need help? Use the handy SUPPORT hexagon in the SafeZone.
For all Unicorn Network Webinar info:
Log in to read recaps and register for webinars here: https://www.safe.zone (WEBINARS hexagon)
For all Rainbow Currency Webinar info:
Read recaps and register for webinars here:
https://www.rainbowcurrency.com (WEBINAR RECAPS button from menu)
Remember to check out the SafeZone Radio Show too at a NEW TIME!
Airing live every Thursday from 11a.m.-12 p.m. USA Pacific Time. Listen live and check out past show recordings at: https://www.safe.zone (RADIO SHOWS hexagon)
***
Please note effective March 20, 2019 Unicorn Network is updating its social media policy. Member updates will be posted in WazzUb.com under the NEWS area, please check there for member updates. External social media pages and groups will be closing step by step. We will post further updates as available. Thank you.
Unicorn Network Third Party Social Media Disclaimer;
The Unicorn Network uses third party websites and applications for marketing, and will often ask members to voluntarily interact with these services in order to increase reach of our postings. However, unless specifically stated, the Unicorn Network does not vouch for the safety or security of these services, and the member is advised that they use these services with the understanding that any issues which may arise from their usage are not the responsibility of the Unicorn Network.
***
** Reminder for all members: ** We have a strict anti-spam policy. Please be professional when sharing links for any of our offers. It has been noticed that some members have been posting their links on other people and group's Facebook pages. ** This is spamming!!! ** You should not post your links on anybody else's pages or in groups unless it is a page or group specifically set up for sharing business opportunities. You should not post your links on the timeline of any other person in any Social site unless they have given you permission to do so. Please be respectful and professional. Thank You.
***
Member Invitation guidelines
***Dear Members,
Our Rainbow Currency is a very exciting opportunity for all members and for the future of commerce and financial transactions.
We know everyone is super excited and very eager and innovative in promoting our Rainbow Currency and this once-in-a-lifetime occurrence.
As always we want to be mindful of the reputation of the company and of course yourself when promoting. A few things to be mindful of:
A. Whenever translating any information, brand names must be in English. Rainbow Currency, Twnkl, Glitter, Rainbow, SafeZone, etc., must be in English.
B. Always give accurate information using company pages as a guideline for information. Don't mislead by making wild claims or by changing the meaning of anything. If you are not sure what something means, please clarify.
C. Be sure to comply with local and International anti-spam regulations regarding emails. If using mailings you should be sure that those you are sending emails to are opted-in to receive emails. If you are emailing friends/family be sure to respect their wishes if they ask you not to send them offers.
D. Never use our Mailaxy for any marketing mailings. It is intended to be used for personal use only. Accounts may be closed if we get blacklisted due to members using Mailaxy for marketing and marked as spam.
E. In Social Media such as Facebook, Twitter, etc., always follow their terms of use.
*Never post your links or promotions on the profile page of any other member. If you post on your own profile those who follow you will see it if they follow your posts.
*Never reply to someone else's post or comment with links or promotions.
*If you belong to groups that allow you to post marketing, and there are many, be sure to follow their rules and don't flood them with constant posts. Watch to see what others do as a group. If there are several hundreds or thousands of active people in that group and there is only one person posting the same thing every 5 minutes or every hour don't do the same thing just because that one person does it. Do what is customary for that group.
F. Don't constantly tag random people on your posts. That function is meant to tag a person who may be in a picture, or tag someone that needs to take attention to that post because it is relevant to them.
G. Don't add people to groups without their permission. This happens to me all the time and it is very annoying. You can send invitations and that gives the person the option to join, ignore, or simply delete your request.
H. Many members have posted marketing material that can be used and shared, graphics and videos that can be shared, and ideas on better marketing practices. Always be mindful to personalize things that you use and be sure to keep information accurate. If you see something that you like that has not been given to share or use, always contact the owner of that material and ask their permission before doing anything with it.
I. If you create your own Pages, Groups, Blogs, etc., be sure you comply with the terms of use of the host. Be sure you comply with our Affiliate Guidelines for Social Media and Internet Activity. You can view them here:
https://drive.google.com/open?id=1Vf4BCQNWKuzCCcaGbF4uWxKe2l0aQfbh
End***
***
Because our websites are hosted on the worldwide web, access may be available in other countries. We are happy to make the content, software, products, and/or services available to people in any country where legal to do so. And while we are not currently aware of any country that bans information of this type, nor specifically the information we provide, we make no representation that materials on the websites are appropriate or legal for use in any locations outside the United States. The laws regarding use of content, software, products, and/or services via the Internet may vary in different countries. If you have access to our websites from a location outside the United States of America, you and you alone are responsible for compliance with all applicable laws of your jurisdiction. Accessing the websites is prohibited from any country where the contents are deemed illegal, or where they are contrary to regulations.
***
Earnings Disclaimer: Every effort has been made to accurately represent our project. Any examples of results are not to be interpreted as a promise or guarantee of earnings. Your level of success in attaining the results claimed on our website depends on the time you devote to the project, on your knowledge and on various marketing skills. Since these factors differ according to individuals, we cannot guarantee any success or specific result. Nor are we responsible for any of your actions. Materials found on our website may contain information that includes or is based upon forward-looking statements. Forward-looking statements give our expectations or forecasts of future events. You can identify these statements by the fact that they do not relate strictly to historical or current facts. They use words such as "anticipate," "estimate," "expect," "project," "intend," "plan," "believe," and other words and terms of similar meaning in connection with a description of potential results or earnings.
Copyright © 2011-2020 United American Capital Corporation, Unicorn Network, Inc., SafeZone, Inc.
All rights reserved.