This webinar is property of United American Capital Corporation, Unicorn Network, Inc., SafeZone, Inc., and may not be recorded, and then distributed to the public. Any transcriptions/translations provided live by the "Power of WE" are not official. Please wait for the official English recap and translations for the complete details presented during any webinar.
Disclaimer: You are always personally responsible for your own actions; nothing contained in this or any webinar is to be constituted as advice for any reason. Do your own due diligence and speak with your own experts before making any decisions, such as those relating to health, finances, taxes, and business, to name a few. Decisions to buy digital Fractional Owner Rights (F.O.R.) need always to be based on the information found on the website only and none of the information shared in any webinar is legally binding to the Company, only content directly on the TwnklEstate website is legally binding.
Topics to be discussed:
1. International Vacation Club (IVC)
2. IBookSmarter (IBS)
Cate welcomes everyone with a hearty Wazzubbbb and thanks everyone for their attendance at the webinar today.
Today we are talking about the International Vacation Club (IVC), which is a travel-related membership site; it is managed through our Unicorn Network and SafeZone group of companies; it is a service, not an actual travel provider.
As a service, the purpose of the IVC is to connect us, their valuable members and customers, to travel experts (travel agents and other official travel-related providers) so that we can book our dream vacations or any type of travel from wherever we are in the world to wherever we want to go, no matter what our budget is.
Cate raises an important question:
Do members need to have a paid membership account to book vacations?
No – the reason being, the IVC will be launching a partnership through IBookSmarter (IBS), which is tentatively scheduled to soft launch on December 1, 2019.
At IBS, you will be able to:
B

ook all kinds of vacations without needing to be an IVC member to make booking

s

Pay t

ravel bookings in fiat currency (

i.e.

USD

/EUR

)

Receive up to 3% CashBack (in Free YEM) on paid/completed travel booked through IBSto be used towards future travel booked at IBS (IVC members can receive even more CashBack)
If you are NOT an IVC member, you can receive up to 3% CashBack when booking your travel through the IBS website. Do understand, CashBack is paid out AFTER your travel is complete upon your request (there will be a function to Claim CashBack); it will be paid out in Free YEM, which will go towards your next travel booking.
The IVC has several options to suit your needs.
IVC Membership Categories:
4 Categories depending on number of people travelling together – Single or solo traveller (1); Couple (2); Family (3-6); Group (7+).
The good thing is with the IVC Membership Categories, (Single, Couple, Family or Group), none of them are determined on your relationship to other members, whether related by blood, marriage or other binding factors.
For example, with your membership in the Couple category, it does not matter whether you're married, brothers or sisters, mother and daughter, father and son, or just 2 friends – any 2 people can travel together with yourIVC Couple Membership when you book travel through the IVC.
At the IVC, you can choose from 4 different types of travel styles:
3-star membership = 3-star accommodation with economy class flights and economy car rental.

4-star membership = 4-star accommodation with premier economy class flights and

midsize

car rental.

5-star membership = 5-star accommodation with business class flights and

full size

car rental.

VIP

L

uxury membership = luxury suite accommodation with private jet flights and chauffeur.
For the IBS and IVC CashBack rewards, it will depend on your IVC membership;depending on your membership, you could receive up to 12% CashBack.
3-star membership= up to 6% cashback

4-star membership= up to 8% cashback

5-star membership= up to 10% cashback

VIP

L

uxury membership= up to 12% cashback
CashBack applies (depending on membership) when you book travel through the IBS or the IVC paying with fiat currency. Remember, the CashBack will always be rewarded when you request it AFTER your travel is complete, and it is rewarded as Free YEM to be used on your next travel booking through the IVC/IBS.
The IBS page will be available for general travel flights and accommodation; the IVC isavailable for those who want to save even more money and receive more benefits.
At the IVC, as IVC members, you will be offered exclusive vacation packages to choose from if you wish (Cate highlights, with images, one of these very exclusive packages later in this webinar).
Also, as IVC members, you will be offered extra benefits depending on your membership.
The IVC has all your travel needs and preferences absolutely covered!
Now, here is where the fun starts!
Based on the length ofyour IVC membership at any given category and travel level, you will receive extras starting in your 2nd year of membership. This means, when you sign up and select your desired membership type, in your 2nd year, you would be eligible to receive extras based on this levelwhen you book your travel.
3-star membership = 3-star

level extras

4-star membership = 4-star

level extras

5-star membership = 5-star

level extras

VIP

L

uxury membership =VIP

L

uxury

level extras
Now, if you wish to upgrade your membership at a later time, say you want to travel with a bigger group or 5-star accommodation instead of 4-star, the timer on those extras, will start over when you upgrade to the new IVC membership level. The same would apply, if you wish to drop your membership level to a lower one.So, all of the extras start in the 2nd year from when you start your current paid membership.
These extras are awarded when you book travel through the IVC with our travel experts.The IVC travel experts will be multilingual, so that is great as most of our valued members can book travel anywhere in the world using their local languages wherever possible.
So, the longer you are an IVC member at the same level, the more extras you will receive at that level– these extras will include things like, free accommodation nights, special vacation package deals, and other different types of extras at the time of booking based on your membership and length of time as a member.
Cate poses another important question:
What if you have a 3-star membership with the IVC, but you want to book a 4-star travel experience (hotel, flight or rental car)?
It can be booked through the IBS website, which does not have IVC membership requirements like the IVC does. Do understand though, any CashBack to be received is based on your IVC Membership level (or up to 3% if not an IVC Member) and not the level of travel you book on IBS.
At the IVC, yourIVC membership level, will depend on what type of packages and accommodation etc. that you can choose from when you book your travel through the IVC.
For example, if you have a 3-star IVC membership and you want to book 4-star level travel through the IVC travel experts, then you would need to upgrade your IVC membership to book at that higher level of travel.
Another couple important questions:
What if you want to cancel or downgrade or upgrade your IVC membership? Are monthly memberships on auto-renew?
Do understand that IVC memberships are generally non-refundable - please make your selections with care. If you no longer wish to continue your membership, simply do not renew it the next month. If you wish to change your membership level up or down, the best way to do that is when you renew your monthly membership, simply renew at the new level you wish to be at. If you have a challenge, contact Support (https://safe.zone/).
Any possible monthly membership auto-renew functions are not yet set up, that will come at a later update.
And do remember, if you reserve or book any travel or packages through IVC, you must maintain your IVC membership level for the duration or the reservation will be canceled and any TVC in escrow will be refunded.
So what about the Smart Deals, what are they and how do they work?
Smart Deals are for vacationsthat you will be able to book through the IVC, where you have amazing experiences at amazing rates – some will be for special deals that will be offered such as the ones Cate's already alluded to such as the 18-day luxury trip around the world and the WazzUb Anniversary trip that will be done through a Smart Contract, and others, to be set up in a future update, will be similar to how it is done with TwnklCar, where you have more of a personalized choice. Remember at TwnklCar, we choose the type of car we want, enter the net price (excluding taxes, etc.), choose the YEM target value, the length of time, and then we set up our Smart Contract.
Similarly, at the IVC, you'll be able to choose your destination, your level of travel (based on your IVC membership), along with other details such as special requests or requirements, set the budget, and then you will set up a Smart Deal with the IVC, and just as with TwnklCar, when the Smart Deal is activated, a travel expert will connect with you to discuss all your travel details within the budget you set on your Smart Deal, and whatever can be done within that budget (even if conditions have changed as can sometimes happen over time), is what you will receive.
Do understand, that the IVC and IBS, will be launched over a soft launch process period. We have learned over the years especially with TwnklCars and other sites we have watched, that some members type faster than they think and errors occur which takes a lot of time to sort those things out, so that is why with the IVC launch, it will be a step-by-step process so that everyone can learn about it gradually and accurately as we go. As always, any questions, you can post them on WazzUb to get help with answers.
Cate poses another question:
So how can WeShareSuccess Affiliates make money out of all this good stuff?
The good news is, no matter what membership level you have chosen with the IVC (even if you do not have a paid membership), there will be a fully functional affiliate site for IBS. This means that you will be able to promote your affiliate IBS link and then people can book their travel simply through that site; they won't need to become IVC members, and you can earn commissions when they book travel through the IBS website.
A couple of points about commissions when it comes to travel-related things:
There are no fixed percentages for commissions in the travel industry, which means that generally you will not be able to know the exact commission percentages on travel packages ahead of time, but whenever possible, the Company will try to communicate the commissions that are available if they are able to be communicated ahead of time. There will be occasions when people are booking packages through the IBS or the IVC websites, and you won't know until later what commission you have received through that booking; nobody is trying to hide anything, it's just this commission information is not made available through a standardized format ahead of time.
Do understand that the IVC and IBS are not travel providers, rather, as mentioned earlier, they are travel servers connecting travelers to the travel experts and providers who will fulfill those bookings. Therefore, generally speaking commissions will not be known ahead of time because there are many 3rd parties involved. Also understand that commissions are not booked until after travel is paid and completed. Simply, when you have travel booked using your affiliate link, you will see commissions as they come in, whatever it is, based on what was booked.
But, wherever possible the IVC will communicate the commissions ahead of time, for example, with the 18-day around-the-world trip, there is a commission provided which is a 10% total commission that is divided according to the WeShareSuccess rules. Essentially, that means, that out of that 10% total, 2.5% for passive referrals, 2.5% for active referrals, and the family bonuses and all the other components (all of which are based on the We Share Success Affiliate rules), is shared out of that 10% commission total, so your percentage amount of that 10% will be how you fit into that total commission picture.
Be aware, as with CashBack, commissions are not paid up front, they are distributed AFTER the travel has happened.
What we can also tell you, is that generally for the Smart Deals, it will be also be a total 10% commission split according to the We Share Success rules.
But even more good commission news: There will be commissions paid on the IVC monthly membership fees, and what's even better, is that it is not 10%, but a 20% total split also based on the We Share Success rules. Now, that is a commission that will happen on a regular basis because the membership fees are paid on a monthly basis, but again, as with everything else here, the commissions will not be paid until AFTER the monthly fees have been paid. (Be aware for YEM payments, this will show on your WSS account in a later update, it will not show immediately on the first day of the IVC soft launch.)
Again, as a reminder, the IBS website is tentatively scheduled to soft launch on December 1, and the IVC website is scheduled to soft launch when this webinar recap is posted (it is live now).
Now, it's time to talk more about one of these exclusive IVC special vacation packages:
18-Day Round the World Tour 2021!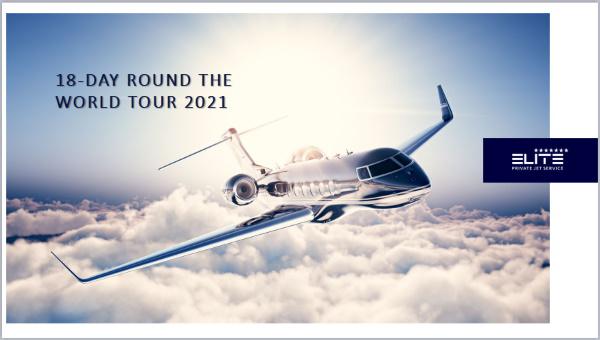 The value of the package is US$100,000 (pp), with a limit of 40 tickets in total available and is provided through our travel partner Elite Private Jet Services.
(Note from Support: At the time of this recap posting, this first vacation package is already closed and fully booked, it closed within the first hours of the site being online before the recap could be posted, take this information below, for those who did not book a reservation, as an example of more future trips to come at the IVC. Full details of the trip are on the IVC website.)
Cate explains here that she misspoke on the SafeZoneRadio Show previously when she said that the tickets available were limited to 4 tickets per account, that is not exactly what is happening; the 40 tickets are actually limited based on your IVC membership level, for example, if you have a Single Membership, the most you can book is 1 ticket, if you have a Couple Membership, then the most is 2 tickets; with a Family Membership, the most you can book is 6 tickets; a Group Membership, the most is 10 tickets for this vacation as a group. This is because it will be an exclusive VIP Luxury trip with limited tickets of only 40 in total.
Since this is a VIP Luxury trip, and if you are interested in booking it, you must first have a VIP Luxury level membership, whether or not you have a Single, Couple, Family or Group membership, you must have the VIP Luxury membership level in order to book this vacation package. Additionally, your VIP Luxury IVC Membership must be maintained through the travel dates, or if it lapses, your reservation will be canceled and the TVC refunded.
Cate now shares, with images, a sample of what this whole luxury trip entails: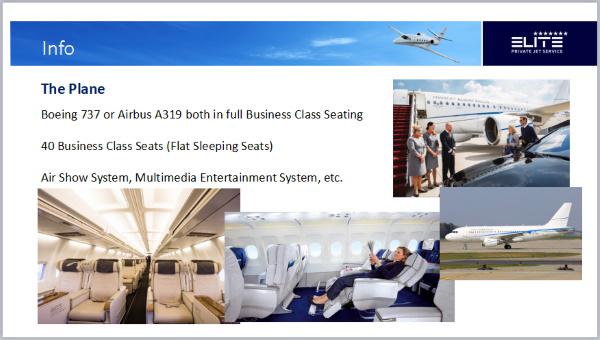 To begin with for those who book, you'll be flying around the world in either a Boeing 737 or Airbus A319 in full Business Class Seating with adjustable flat beds for sleeping as some of the flights will be long, so you will be able to travel in style, be very comfortable, and be able to get some good rest during however long it takes to reach each destination.
There will also be in-show and multimedia entertainment systems aboard the plane.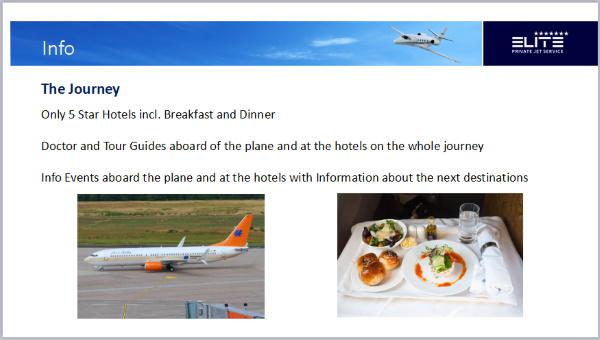 During the whole journey, you will be staying in only quality 5-star hotels, which will include breakfast and dinner.
There will be a doctor and tour guides throughout the whole journey who will travel with you on the plane and stay in the same hotels, so you will be well looked after and given first-hand top information about all the amazing destinations you are visiting.
You will have info events aboard the plane and at the hotels to learn about the destinations before you actually see them, as well the different sights you will visit.
So, where will you be going?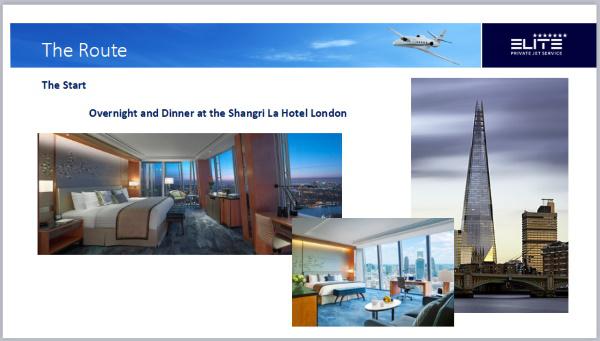 You will start off your trip staying at the Shangri La Hotel London, UK, overnight with dinner and breakfast.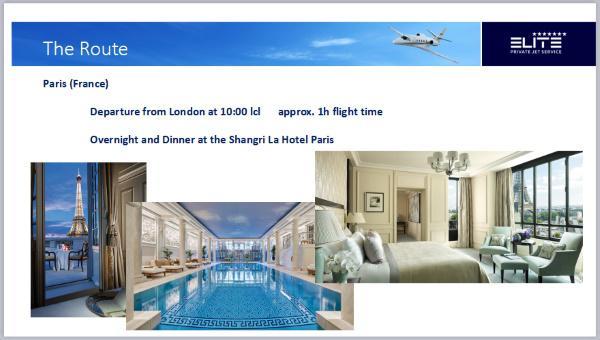 To Paris, France (approx. 1hr flight time) staying at the Shangri La Hotel Paris, overnight with dinner and breakfast.
To Istanbul, Turkey (approx. 3hr flight time) staying at the Shangri La Hotel Istanbul, overnight with dinner and breakfast.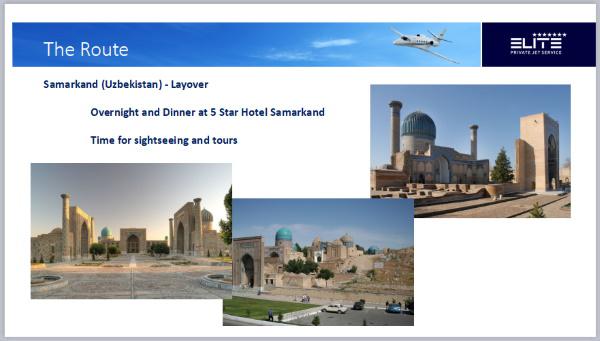 To Samarkand (an old Trading Post on the Silk Road), Uzbekistan (approx. 4.5hr flight time) staying at a 5-star hotel in Samarkand, layover with dinners, breakfasts, sightseeing and tours.
To Mumbai, India (approx. 3hr flight time) staying at a 5-star hotel in Mumbai, overnight with dinner and breakfast.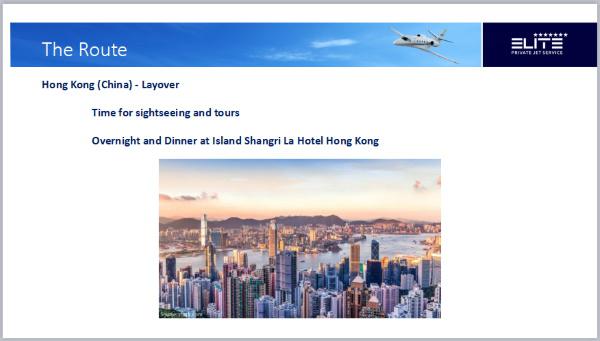 To Hong Kong, China (approx. 8hr flight time) staying at the Shangri La Hotel Hong Kong, layover with dinners, breakfasts, sightseeing and tours.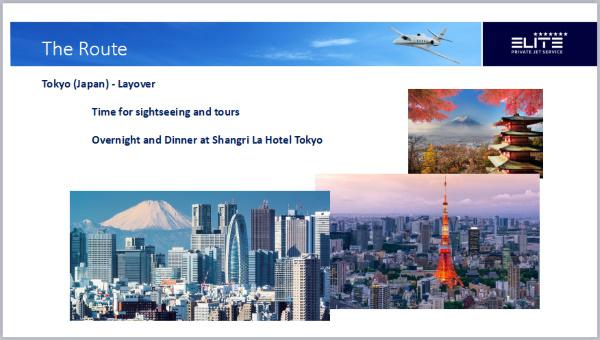 To Tokyo, Japan (approx. 4hr flight time) staying at the Shangri La Hotel Tokyo, layover with dinners, breakfasts, sightseeing and tours.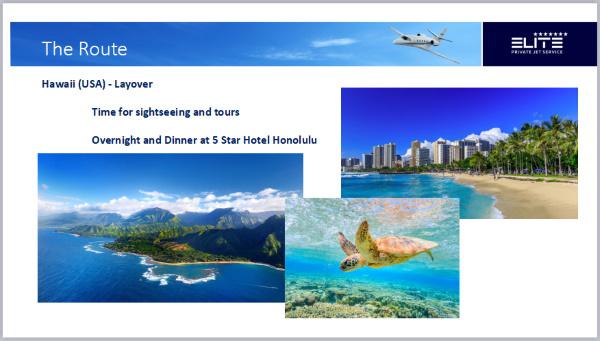 To Honolulu, Hawaii USA (approx. 8hr flight time) staying at a 5-Star Hotel in Honolulu, layover with dinners, breakfasts, sightseeing and tours.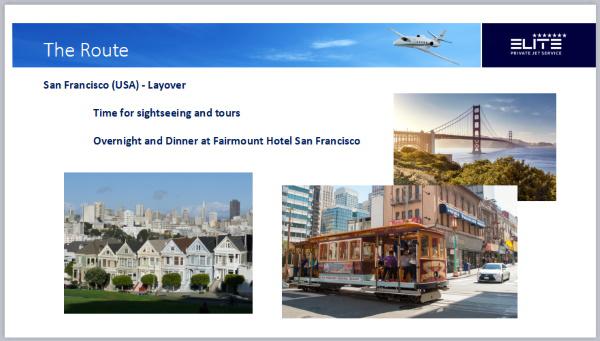 To San Francisco, USA (approx. 6hr flight time) staying at the Fairmont Hotel San Francisco, layover with dinners, breakfasts, sightseeing and tours.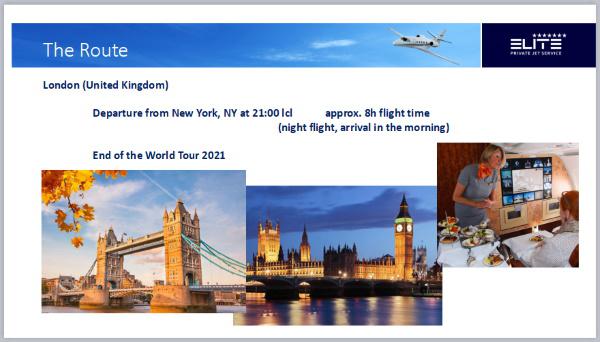 To New York City, USA (approx. 8hr flight time), staying at the Ritz Carlton New York, layover with dinners, breakfasts, sightseeing and tours.Then an evening flying back overnight to London(approx. 8hr flight time) where your journey will conclude.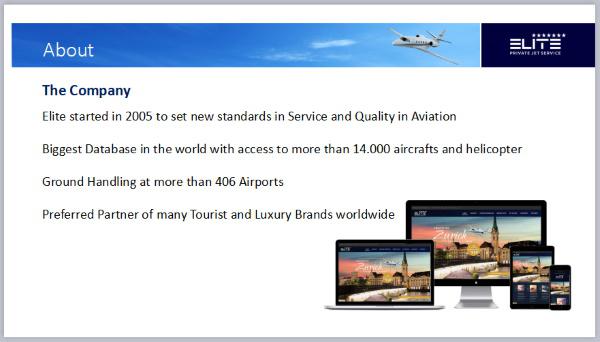 Further information about Elite Private Jet Services who is co-ordinating this luxury trip and providing all of the flight travel:
They began operating in 2005 setting new high standards and servicing quality in aviation. They have the biggest data base in the world with access to more than 14,000 aircraft and helicopters; and they have ground handling at more than 406 airports all over the world; they are the preferred tour partner of many well known and luxury brands worldwide.
We are very proud and thankful to have Elite Private Jet Services as one of our partners with the IVC and IBS.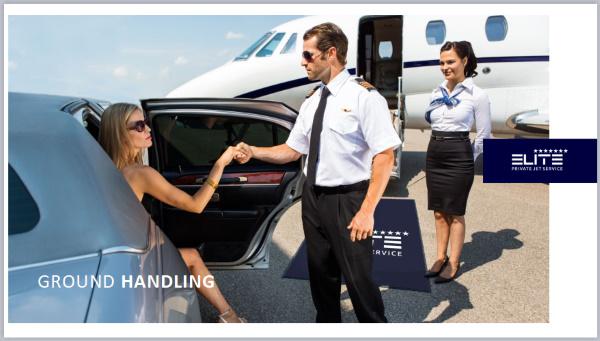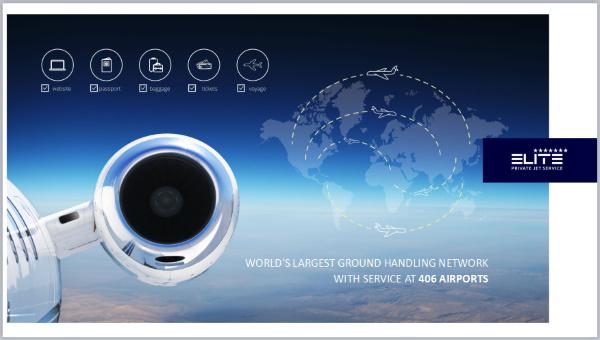 Ground handling includes door side service getting you to and from the airport, and as you can see in the images, when you are flying on Elite Private Jet Services, you arrive in chauffeured vehicles and are greeted by the Captain – the best in high quality and luxury service!
A few other details about Elite Private Jet Services: They will also help you have easy and smooth travel, from passport checks to baggage and more, streamlining the whole travel experience. You can see in the graphic images how they fly to many different countries all over the world.
Cate names some of the other partners of Elite Private Jet Services that can be seen on the image list, such as, United, Bentley, Bugatti, China Tours and many more.
They are highly respected, know what they are doing, so you will be able to arrive at your destinations in the highest luxury, comfort and safety. And, as they say, "It's not just any flight - it's your flight." And of course, their services are available worldwide!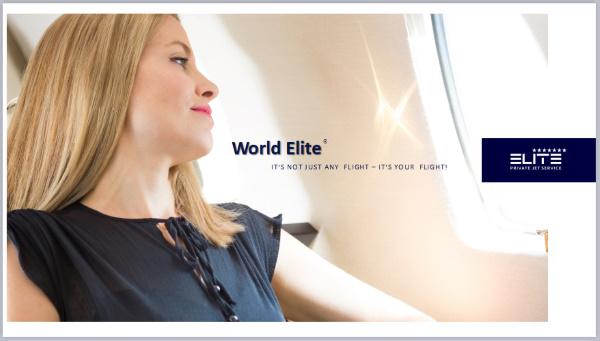 Cate finishes with a fewkey pointsfrom today's webinar:
She reminds us that the IVC is scheduled to soft launch with the posting of this recap, and IBS to soft launch

tentatively on

December 1.
For the IVC, the extras

,

C

ash

B

ack

,

availability of Smart Deals

,

and your type of travel

are

all based on your

IVC

membership level, as well, the

extras

start in the 2nd year of your membership, so take note; if you are considering

to

plan travel for next year, it would be wise to consider starting your IVC membership this year, so that way, you can receive those extras when you travel next year.
And importantly, membership can be paid with fiat currency or YEM; understand, if you pay with YEM, you will receive a 10% discount on your monthly membership fees;

C

ash

B

ack

(based on IVC membership level)

is paid on your booked travel, AFTER you have returned home

, you will need to request it, and it can be used towards future travel

.
Anyone will be able to book travel through

the

IBS website, and

there will be

an

IBS

affiliate link for you to be able to

collect

commissions on those bookings. And of course, you will also receive commissions on monthly membership fees and on

v

acation

packages

through IBS and the IVC.
As mentioned, since there is no fixed commission rates for travel-related things, the commissions

generally

will not be known ahead of time, but when the

C

ompany is able to communicate known commission percentages,

you

will be informed.

Commissions on the 18-Day Round-the-World vacation package and Smart Deals in general are 10% total split via WSS rules

Commissions on IVC Monthly Membership fees are 20% total split via WSS rules
Cate closes the webinar and wishes everyone a good day or night, thanking everyone for joining her, WAAAAZZZUUBBB, and all the best to everyone! Bye-bye.
With your success in mind,
Cate Kozikowski, and
Your WAZZUB Support Team
***
Additional Info from Support:
Need help? Use the handy SUPPORT hexagon in the SafeZone.
For all Unicorn Network Webinar info:
Log in to read recaps and register for webinars here: https://www.safe.zone (WEBINARS hexagon)
For all Rainbow Currency Webinar info:
Read recaps and register for webinars here:
https://www.rainbowcurrency.com (WEBINAR RECAPS button from menu)
Remember to check out the SafeZone Radio Show too at a NEW TIME!
Airing live every Thursday from 11a.m.-12 p.m. USA Pacific Time. Listen live and check out past show recordings at: https://www.safe.zone (RADIO SHOWS hexagon)
***
Please note effective March 20, 2019 Unicorn Network is updating its social media policy. Member updates will be posted in WazzUb.com under the NEWS area, please check there for member updates. External social media pages and groups will be closing step by step. We will post further updates as available. Thank you.
Unicorn Network Third Party Social Media Disclaimer;
The Unicorn Network uses third party websites and applications for marketing, and will often ask members to voluntarily interact with these services in order to increase reach of our postings. However, unless specifically stated, the Unicorn Network does not vouch for the safety or security of these services, and the member is advised that they use these services with the understanding that any issues which may arise from their usage are not the responsibility of the Unicorn Network.
***
** Reminder for all members: ** We have a strict anti-spam policy. Please be professional when sharing links for any of our offers. It has been noticed that some members have been posting their links on other people and group's Facebook pages. ** This is spamming!!! ** You should not post your links on anybody else's pages or in groups unless it is a page or group specifically set up for sharing business opportunities. You should not post your links on the timeline of any other person in any Social site unless they have given you permission to do so. Please be respectful and professional. Thank You.
***
Member Invitation guidelines
***Dear Members,
Our Rainbow Currency is a very exciting opportunity for all members and for the future of commerce and financial transactions.
We know everyone is super excited and very eager and innovative in promoting our Rainbow Currency and this once-in-a-lifetime occurrence.
As always we want to be mindful of the reputation of the company and of course yourself when promoting. A few things to be mindful of:
A. Whenever translating any information, brand names must be in English. Rainbow Currency, Twnkl, Glitter, Rainbow, SafeZone, etc., must be in English.
B. Always give accurate information using company pages as a guideline for information. Don't mislead by making wild claims or by changing the meaning of anything. If you are not sure what something means, please clarify.
C. Be sure to comply with local and International anti-spam regulations regarding emails. If using mailings you should be sure that those you are sending emails to are opted-in to receive emails. If you are emailing friends/family be sure to respect their wishes if they ask you not to send them offers.
D. Never use our Mailaxy for any marketing mailings. It is intended to be used for personal use only. Accounts may be closed if we get blacklisted due to members using Mailaxy for marketing and marked as spam.
E. In Social Media such as Facebook, Twitter, etc., always follow their terms of use.
*Never post your links or promotions on the profile page of any other member. If you post on your own profile those who follow you will see it if they follow your posts.
*Never reply to someone else's post or comment with links or promotions.
*If you belong to groups that allow you to post marketing, and there are many, be sure to follow their rules and don't flood them with constant posts. Watch to see what others do as a group. If there are several hundreds or thousands of active people in that group and there is only one person posting the same thing every 5 minutes or every hour don't do the same thing just because that one person does it. Do what is customary for that group.
F. Don't constantly tag random people on your posts. That function is meant to tag a person who may be in a picture, or tag someone that needs to take attention to that post because it is relevant to them.
G. Don't add people to groups without their permission. This happens to me all the time and it is very annoying. You can send invitations and that gives the person the option to join, ignore, or simply delete your request.
H. Many members have posted marketing material that can be used and shared, graphics and videos that can be shared, and ideas on better marketing practices. Always be mindful to personalize things that you use and be sure to keep information accurate. If you see something that you like that has not been given to share or use, always contact the owner of that material and ask their permission before doing anything with it.
I. If you create your own Pages, Groups, Blogs, etc., be sure you comply with the terms of use of the host. Be sure you comply with our Affiliate Guidelines for Social Media and Internet Activity. You can view them here:
https://drive.google.com/open?id=1Vf4BCQNWKuzCCcaGbF4uWxKe2l0aQfbh
End***
***
Because our websites are hosted on the worldwide web, access may be available in other countries. We are happy to make the content, software, products, and/or services available to people in any country where legal to do so. And while we are not currently aware of any country that bans information of this type, nor specifically the information we provide, we make no representation that materials on the websites are appropriate or legal for use in any locations outside the United States. The laws regarding use of content, software, products, and/or services via the Internet may vary in different countries. If you have access to our websites from a location outside the United States of America, you and you alone are responsible for compliance with all applicable laws of your jurisdiction. Accessing the websites is prohibited from any country where the contents are deemed illegal, or where they are contrary to regulations.
***
Earnings Disclaimer: Every effort has been made to accurately represent our project. Any examples of results are not to be interpreted as a promise or guarantee of earnings. Your level of success in attaining the results claimed on our website depends on the time you devote to the project, on your knowledge and on various marketing skills. Since these factors differ according to individuals, we cannot guarantee any success or specific result. Nor are we responsible for any of your actions. Materials found on our website may contain information that includes or is based upon forward-looking statements. Forward-looking statements give our expectations or forecasts of future events. You can identify these statements by the fact that they do not relate strictly to historical or current facts. They use words such as "anticipate," "estimate," "expect," "project," "intend," "plan," "believe," and other words and terms of similar meaning in connection with a description of potential results or earnings.
Copyright © 2011-2019 United American Capital Corporation, Unicorn Network, Inc., SafeZone, Inc.
All rights reserved.