This webinar is property of Rainbow Currency Foundation, Unicorn Network, Inc. and SafeZone, Inc. and may not be recorded, and then distributed to the public. Any transcriptions/translations provided live by the "Power of WE" are not official. Please wait for the official English recap and translations for the complete details presented during any webinar.
Disclaimer: You are always personally responsible for your own actions; nothing contained in this or any webinar is to be constituted as advice for any reason. Do your own due diligence and speak with your own experts before making any decisions, such as those relating to health, finances, taxes, and business, to name a few.
Topics in this recap:
1. TWNKLCHAIN
2. Coins and tokens to be on TWNKLCHAIN
3. PerNum Wallet Updates
Dear Unicorn Members and dear Rainbow Currency Holders,
Before we begin, I just want to tell you that, unfortunately, Dan was not able to be with us here today. He is not feeling well, and he sends his greetings to everyone. That is part of why we had a little delay, and we thank you all for your patience and understanding.
Hopefully, everything will be fine, and Dan will be able to join us tomorrow.
Yesterday, we celebrated the launch of TWNKLCHAIN. There were some technical details shared there, but today we will be even more technical.
We will talk today about coins, tokens, fees, wallets, procedures, terms, laws, and taxes.
Sounds boring? No, no, no. Rest assured that it will be very exciting today.
Let us start with TWNKLCHAIN itself. The new website has been launched at www.twnklchain.com. Please check it out after the webinar. The purpose of the website is to inform Internet users about the TWNKLCHAIN. There is no members' area, no login button, no Reflink; it is really just for information.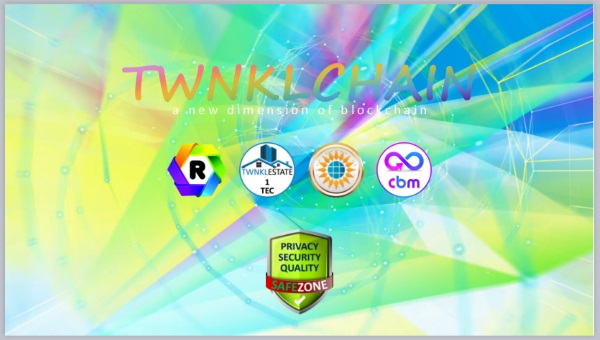 If you see the image on the screen right now, you can see 4 logos there: RC, TEC, SOLR, CBM.
That is because there will be 5 coins and tokens listed on the TWNKLCHAIN to start. Now of course, this will happen in a step-by-step process. The first one to be done is Rainbow Currency. Actually, all of them are going on the TWNKLCHAIN, but the step-by-step process is the ability to trade them on CryptoCoinStreet. We will talk about that a little bit later in the webinar.
Rainbow Currency, traded under the symbol TWNKL, is your "everyday" money; a virtual currency designed to be exactly that—a virtual currency, functioning as an approved substitute currency for fiat money.
Through common sense, practical, and innovative applications of security, privacy, convenience, ease of use, fast, low cost, and legally compliant high-quality standards, Rainbow Currency stands among the best virtual currencies of the world.
It can be used to purchase all types of products and services, including marketing and business services, solar energy, real estate and more.
That is our Rainbow Currency.
The next coin that will be on the TWNKLCHAIN is the TwnklEstate Coin (TEC). This will be launched tomorrow, so we are going to hear about it a lot on the webinar tomorrow. So, if you are interested in purchasing real estate with TWNKL, you need to check this out.
TwnklEstate is a revolutionary joint-venture bringing real estate together with blockchain technology to create the perfect combination of transparency, privacy, security, and legal compliance; with industry-friendly features and functions that buyers, sellers, renters, developers, retailers, architects, and even Do-It-Yourselfers can appreciate. Real estate is rented or purchased using the virtual currency TwnklEstate Coin (TEC).
And you can only purchase TEC with TWNKL. So, if you're interested in purchasing real estate with TWNKL, you should check out TwnklEstate https://twnkl.estate/.
And, do understand the difference—we are being very specific with these coins and tokens, because it is very crucial to be clear in how they are used and what the intention is.
Rainbow Currency (TWNKL) and TwnklEstate Coin (TEC) are virtual currencies. Those are the 2 coins that will be on the TWNKLCHAIN.
For the tokens that will be on TWNKLCHAIN, we have Solario.
Solario is the Solar Energy Revolution. Their patented and independently tested and proven solar technology is 3.8 times more efficient than traditional photovoltaic panels. Each Solario Token (SOLR) is a voucher for 100kwh of clean solar energy, to be delivered after Jan 1, 2022. From 2022 forward, SOLR will be used as a global currency for the payment of electricity bills.
So that is super excited stuff and for more information you can always go to https://www.solario.online/.
So that is the first token. Each Solario Token (SOLR) is a voucher for 100kwh of clean solar energy. And that is different from Rainbow Currency and TEC.
And the last tokens that we will have on the TWNKLCHAIN are from Cashback Marketing (CBM). There are 2 tokens. For those that are just learning about CBM, Cashback Marketing (CBM) is truly putting the CASH back into marketing, through up to 50% cashback on not-yet-used marketing budget. CBM offers an unheard of Budget-Back Guarantee on marketing campaigns for no risk marketing. There are 2 types of Marketing Unit tokens: CBMD are U.S. dollar based Units with a base value of US$30 in marketing budget, and CBMT are based on TWNKL with a base value of 3,000 TWNKL in marketing budget.
All of these 5 tokens and coins will be exclusively traded on CryptoCoinStreet; which is the official exchange for all the coins and tokens on TWNKLCHAIN. You, as a coin or token holder, will be able to trade them in privacy on a secure and registered exchange. Of course, the first coin that will be available to be traded on CryptoCoinStreet, from the TWNKLCHAIN blockchain, is our Rainbow Currency. The next one will be TEC. And next week, we will have updates for the SOLR and CBMD and CBMT tokens.
So all of that stuff is coming, so definitely stay tuned to our webinar tomorrow, and any other ones we may have very soon. We also may have a fourth webinar. We'll have more information about that when it gets closer—maybe on Saturday or Monday. We will have to see. There is a LOT of information we want to get out to everyone; and we want to make sure that everyone understands this clearly and has a point of reference in the webinar recaps that they can refer to, if they have any questions later. So, bear with us during this time. We are doing our best to get this information out to everyone, as quickly and as efficiently as possible.
Now, if you are ever looking to check the value of any of these coins and tokens from the TWNKLCHAIN, you can go to CRYPTORANK, which is the official valuation page for all coins and tokens on the TWNKLCHAIN. You can easily check the current value of these and other cryptocurrencies. https://www.cryptorank.online/
As far as what the results were from this move to the TWNKLCHAIN from the Ethereum blockchain, I'm happy to say that 99.5% of all the official TWNKL are in the SafeZone. There are no more public wallets needed. There will be no more phishing, because it's impossible with the One-Time PIN; and there'll be no more theft, fraud, and scams because of our verification systems and various security checks that happen throughout this process.
In the Radio Show this morning, I talked about a number of things (you can check out the recording posted on https://www.safe.zone). You know, with our Master PIN and One-Time PIN system for 2-factor authentication, it's amazing. Just about every day in the news you hear about various companies being hacked, taken advantage of, or their customers are being taken advantage of. Yesterday, I read this article about a gentleman who's suing AT&T because he was robbed of 24,000,000 dollars in cryptocurrency, and it was due to some hackers being able to take over his phone; and then they had access to his accounts through his phone.
Then in Florida there is a man who was arrested for taking part in a SIM card scam, where the SIM card is a little chip (like a little memory card in your phone that can also be removed). These occasionally need to be replaced; but unfortunately some of these phone companies aren't doing their verifications well, or something else is going on. And people are able to falsely request a new SIM card, and then put that SIM card into a totally different phone. Basically, they are hijacking other people's accounts.
All of a sudden, this gentleman that's suing AT&T, he was robbed of US$24,000,000 in cryptocurrency, because of something like this. But with our 2-factor authentication, this is revolutionary—but not revolutionary in the sense of high technology, but just common sense, practical innovation. And that simply is that your Master PIN is a 6-digit number.
Pretty much all of us can memorize a 6-digit number. How many phone numbers do you know in your head? Maybe those younger people that are always on their cellphones don't memorize phone numbers like those of us older folks have done over our lifetime (haha). But, the fact of the matter is that it is still just a 6-digit number, so it's very easy to remember, even if it takes some time. It took me a little time to have it all memorized, but it's totally possible. The more that you're logging in and entering your One-Time PIN, you're going to remember those numbers—it's just the way it goes!
And the only person that has your Master PIN is YOU! NOBODY has that number; not even anyone in the Unicorn Network, or Support Team, or Administration! Nobody can even access it. Nobody can see it. All we see is random gibberish (things that make no sense), because it's stored encrypted in our system. So, the only person who sees your Master PIN is you. So, definitely write it down on a piece of paper. We still can't hack paper. So, that's a good thing!
So, every day, this is proof and validation that Unicorn Network and the SafeZone are definitely on the right track, doing exactly the perfect things, at the perfect time, for the perfect reasons.
Now, I want to speak for a moment about the move to the TWNKLCHAIN. And something else, I mentioned this in the Radio Show today, a report that came out about cybercrimes that were committed in the 2nd quarter of 2018. So, this is really just in the last few months, and it was actually 2.3 million U.S. dollars in cryptocurrency stolen—in just the 2nd quarter of 2018 alone!
And what has been coming out about this is that more and more hackers and fraudsters and bad guys are using the Ethereum blockchain. This has been growing in popularity with them; and, this is one of the main reasons why the Rainbow Currency moved to it's own private blockchain—so that way before things got really terrible, Rainbow Currency would be protected in a safe, private space; where the privacy, security, and quality standards that you all expect from the Unicorn Network and the SafeZone can be implemented, and be updated as needed for regulations and further compliance—however it is needed.
Rainbow Currency is designed to be a safe, virtual currency.
Of course, you all have your own due diligence to do. As we always have it in all of our recaps—nothing that we say in these webinars is ever any kind of advice, or anything like that. Always do your own due diligence. There are many things that you, personally, are responsible for; so, it's always good that you know what you're doing, before you do it.
This whole change that's happening right now to the TWNKLCHAIN is great. Again, as I've said, Unicorn Network and the SafeZone are doing exactly the right things, at the right time, for the right reasons. We are all members, just like you. We all care about what is going on, and when I say "we" I mean all of us in the Team—whether it's the Support Team, or Social Media Team, or the Awesome Recap Team, or the programmers, administration, or whatever it is. Me, I'm the CEO of Unicorn Network and I am a member, just like the rest of you; so, we all think as members, as well as team members. That's very crucial to understand. This is all the Power of We. It is completely a member-driven project.
So, that sums up a bit about why this whole change has happened, and the results of that.
Now, I want to stress something very important here, very important. Understand that Rainbow Currency has officially moved into the TWNKLCHAIN. So, talking about any of those exchanges or places on the public blockchain that still have what they call "TWNKL", it doesn't have anything to do with Rainbow Currency now. The token on the Ethereum blockchain has been officially renamed to MOVED; and the trading symbol is MOVED, literally—M-O-V-E-D. That is the trading symbol for what was previously called TWNKL, on the Ethereum blockchain.
Now, of course, Rainbow Currency Foundation, Unicorn Network and SafeZone Administration have informed all these pages, where the MOVED token is listed currently, or was previously traded or listed. We have informed everyone about this name change, and that Rainbow Currency has moved to the TWNKLCHAIN. All of these places are duly informed.
So, YOU, as a member, as the public, as a Rainbow Currency holder, BE AWARE: DO NOT BUY any coin or token that is named "TWNKL" on those exchanges, because that is not Rainbow Currency (it is MOVED).
And unfortunately, to add some to this confusion, there is a company from Asia (I think China or Japan) called Twinkle Entertainment. And they named their coin Twinkle, but they use the trading symbol TKT.
I am just bringing this up so you know what is going on. So there are other companies out there, and that is totally fine, but you should know that the only place to buy TWNKL is on CryptoCoinStreet. This is the only place where you will know that you will have 100% bought a real TWNKL.
What was TWNKL on the Ethereum blockchain is now called MOVED (that's the official name). Of course, every Rainbow Currency holder has received one TWNKL for every MOVED coin that they brought back to the SafeZone prior to the deadline. And that is really great! But after the deadline, and after the launch of TWNKLCHAIN, MOVED is no longer accepted in the SafeZone, it has no value. So be aware of what is going on.
Now regarding these other exchanges, as I've said, they have all been informed. And we are investigating what is happening, especially at SouthXchange. So there is no need for anyone to report what is going on, rest assured, there are people monitoring things, investigating and doing the needed steps to protect Rainbow Currency. If there is no other choice, Rainbow Currency Foundation will take legal action. However, that is not a fast solution to anything; it will take time.
Also, do understand that if any other exchange out there wants to trade the MOVED token, that is totally up to them. That is NOT Rainbow Currency. It is on the Ethereum blockchain so they can do whatever they want with it, but it makes no sense. Because, number one: the token's name is MOVED, and number two: it is not accepted in the SafeZone. Number three: what are you going to do with it?
So just be aware folks; be smart, be safe, and know what you are doing before you do it. And of course, we have a fantastic support team, so if you ever have any questions, do contact us. Also we have a fantastic community. There are plenty of members who are offering to help, just because they know the answer to a question. So I want to say a big THANK YOU to all of them because we appreciate everyone's proactivity and participation. It really is the Power of WE!
Let us talk now about the PerNum Wallet.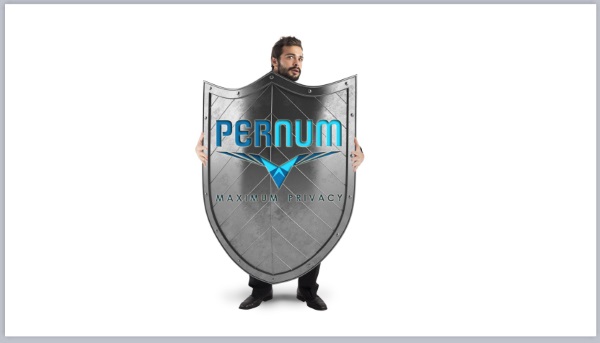 Your PerNum Wallet is getting an upgrade. There is a number of verification and tax features that have been added, for additional legal compliance, and we are going to go through that.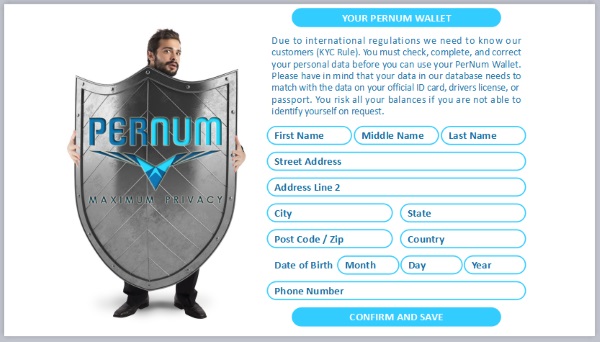 This is going to be live later this afternoon, in a couple of hours. So you need to go to www.pernum.com then click on "Wallet" and you are going to see this page about your PerNum Wallet (it's live now).
This is what it says on the page:
Due to international regulations we need to know our customers (KYC Rule). You must check, complete, and correct your personal data before you can use your PerNum Wallet. Please have in mind that your data in our database needs to match with the data on your official ID card, drivers license, or passport. You risk all your balances if you are not able to identify yourself on request.
So be aware, as we have always said, we are not the place for bad guys. We have zero tolerance for spam, cheating and fraud. So just be honest and everything will be great.
So you will see what you need to fill out: your name, country, your address, your date of birth and your phone number for verification. Once you have all of that information filled out, you click on the CONFIRM AND SAVE button, and you will see this next screen: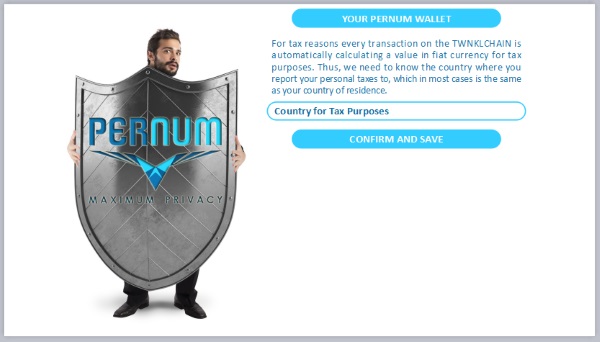 Now this is to confirm your country for tax purposes; for tax reasons, every transaction on TWNKLCHAIN is automatically calculated, calculating a value in fiat currency for tax purposes. Thus, we need to know the country where you report your personal taxes to, which in most cases is your country of residence.
However, we do understand that there are some members who travel around the world, some members who are perhaps ex-pats (ex-patriots), like US or Philippino citizens living in Dubai, or wherever, there are many different possibilities. So, very, very, super important again; I cannot stress this enough – be very SURE what you set up! If you have any questions, definitely contact your tax preparer; ask to which country you should set (taxes up), otherwise, of course, it is the country where you pay your taxes. But, it is very important that you do this correctly, because as it's stated, with every transaction you will see the value in fiat currency. And, so it is important for your tax purposes to note down the proper country where you pay your taxes, so that way, you have the right information for when you go to your tax professional later to pay your taxes. So very, very, super, super important to put the correct country where you pay your taxes.
And, when you're done, click CONFIRM AND SAVE and then you will see your balances.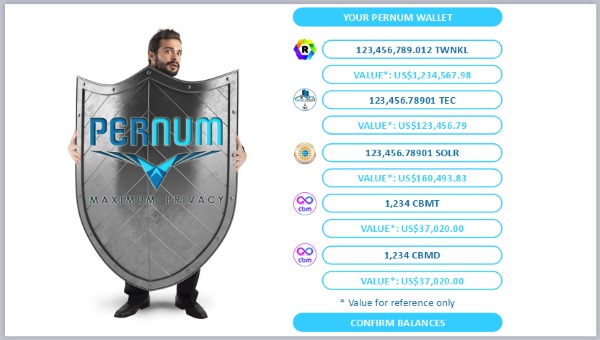 You will see the balance of each token or coin, and these are the same balances as, for example, that for Rainbow Currency, you would see at www.rainbowcurrency.com; for the TEC it's the same balance you would see under the TwnklEstate icon in www.pernum.com; for Solario, it's the same balance you would see at www.solario.online after you log in; and for Cashback Marketing, it's the same balance you will see in www.cashbackmarketing.online (in your Personal Marketing Pool, Marketing Instruments, which includes the SMP will be confirmed in a second step later). So very easy for you to go and check and confirm that everything looks good. Be sure to click on CONFIRM BALANCES; you see the button at the bottom, there you need to confirm your balances (The button will be added in a second step, for now simply verify your balance is correct).
If you have any challenges, do NOT confirm your balance; contact Support please and we will help you. So very important: double check, make sure everything is correct and do not confirm until you are sure everything is correct. Then when you're sure, click the CONFIRM BALANCES button. So, if you have any challenges, as always, go to the link to the Live Support chat room which is in the notes at the bottom of every webinar recap. So, very easy: go to the webinar recaps, scroll down to the additional notes from Support and you'll see it right there. That is the best way to contact Support; just use that one link. You don't have to post the same question in all of our community rooms, which causes extra time and workload for the Support Team. If you want to get the fastest assistance, go to the Live Chat Support room, it is there to help you, and there is a team in that room, dedicated to help the people who have challenges; that is the best place to get assistance.
Now, finishing up on the PerNum Wallet. Do understand, that literally, for no other currency that is traded out there, that we are aware of, no other currency is doing what we are doing—being legally and tax compliant for everyone worldwide. Most are doing just what they can to get by doing until something happens, you know, some of them are just outright scams, they just take your money. But, Rainbow Currency is absolutely different, this is your everyday money; this is already, officially, accepted as a legal substitute for Euro in Europe (and it's not even a year old), so, definitely, a lot of great things are happening, and it's all coming together folks!
Now, do understand, what has been going on out there: the lack of regulation, lack of information, all the complications that are there on the public blockchains, that is really the wild, wild West. It's exactly what we do not want for Rainbow Currency, SafeZone and Unicorn Network; and that's why these steps have been taken to protect Rainbow Currency, to protect you, the currency holders, the currency users and just (to protect) our members in general, whether you're a currency holder or not, is totally fine. So, it's very important that these steps are done.
As far as the identification is concerned, it's super important to put the correct information there; I don't want to see your nick name, I don't want to see your second cousin's name because you love them and all that; no problem, you can do that in other places, but in your account, your information must be accurate.
Now, of course, with our PerNum system, that information is not shared with anybody; your name is not shared unless you want it to be shared. So your PerNum acts as the mask that protects your privacy, and as always, we do not share this information with anyone, unless there is an absolute valid reason for this information to be shared, and it really is shared to help you with whatever problem you came to us with, and that's it. We don't share with any advertisers, we don't share with other companies and such; it is all used internally for verification purposes, which is really fantastic.
As you know, this is all very important, because we are talking about values and finances. Now, if someone wants to cash out to fiat currencies they have to identify themselves and it must MATCH— meaning, their identification with what is in the system; if it doesn't match, they will not receive a payment, at all. So, it is very crucial that you do it right, and if you have any challenges, if you make a mistake, contact Support, they're there for you.
We have to understand, whenever there is money involved, there are taxes that need to be paid, and other regulations (depending on the country) that have to be followed. One thing that is the same in all countries, is that they're not interested in the value of virtual currency, they want to know what is the value in fiat currency, in their local currency. So, as I've said, we are the first and only virtual currency, that we know of, that is saving the value in fiat currency for both the sender and the receiver.
So, for example, let's say you're a Japanese tourist visiting Las Vegas, Nevada, USA; so your home country of course, would be Japan, so that's what you'd put for paying your taxes. However, maybe you went to a restaurant in Las Vegas, and then the business owner, obviously, in Las Vegas, has USA as their country for tax purposes. So this Japanese tourist orders a beautiful steak dinner, has a great time, and he pays with Twinkles. So, through the PerNum Pay App, of course he would complete his payment, and when he was done, he would see the value of what he spent in TWNKL, he would see that value in Japanese yen. And, the restaurant owner in Las Vegas, for the TWNKL they received, they would see the value in USD. So, this way, everyone has the information that they individually need for taxes, for whatever legal purposes they might need it for.
So, that is why I stress very strongly that you need to set up your tax country correctly; so that is the country where you pay your taxes. As I mentioned, it might be different from your residence; as I said, there's ex-pats, people who travel all over the place, and it's totally fine for those two to be different if that is your specific situation, but otherwise, make sure you enter it correctly. Very super important because this can't be corrected; I mean, you can change your country later if it changes, or if you did something wrong, however, if you've already done a transaction, that specific transaction cannot be corrected.
With the blockchain, there is no manipulation whether that's good or bad, it is what it is; you can't change any transactions after they happen. So, be aware, set this up right the first time, because it will cost you lots of challenges later if you did it wrong.
So: be smart, take your time, do it right, and ask questions if you need assistance, no problem!
And so, that is basically it in a nutshell that I wanted to share with everyone today.
Very important: in a few hours, we will post information in our community once it's available; you'll be able to do that first step where you can confirm your balance and add to your personal data. Now, do understand, nothing else can happen to your account until that's done.
So, do your due diligence, do your checks, and of course, as always, if you have any questions…ASK! I'm a firm believer in that there's no stupid questions; the only stupid question is the one you did not ask. But, of course, if you're being obnoxious, this is totally different, you're being obnoxious (haha), but if you're just honestly asking a question, then ask, it's no problem.
So, now let's talk about fees. What will be the fees when you do transactions through the TWNKLCHAIN and PerNum Pay? No matter what coin or token is transferred, the fee is always calculated in TWNKL.
There is a minimum fee of 0.001 TWNKL, and that's 1/1000 of a TWNKL; the regular fee is 0.1% of the value in TWNKL; and the maximum fee is 1,000 TWNKL.
So, what this means, is for every 1,000 TWNKL that you're spending or transacting in whatever way, the fee is 1 TWNKL! So, if you're sending 1,000,000 TWNKL or more, it is the maximum fee. So, just understand, that those are the fees, and that's a standard thing across the board, so it's not going to change.
As far as specific questions about, "Do I have to pay taxes on this that or the other?" Generally speaking, you should just assume, YES, to be on the safe side; but always go and talk with your local tax representatives, because everything is different in each location. And I am of course, not a tax professional, so I can't give you any advice; all I can simply say, is of course, "you have to obey the laws, and most laws include taxes".
And guys, you do have some time to confirm you data and stuff like that. Obviously the quicker that you do, is the better, and of course, we know that people are logging in at various times. So it is not like you have to do it in the next 24 hours, no. Just next time you log in, you need to verify things before you do anything else; definitely your first step should be going to www.pernum.com, clicking on your wallet, and doing what's needed.
Ok, and I did mention trading; we're looking at possibly Saturday to start with, and then next week, for the other tokens; more information will be coming out as quickly as possible; please have some patience, this is a little bit of a process, everybody is working as quickly as they possibly can. There's a lot teams involved, it's not just one person doing things. Everybody is working hard together to get everything done as quickly as possible; rest assured it's all happening.
Thank you all for joining us today, thank you for your patience in the beginning and your understanding always. WAZZZUUBB! Be proud to be a Unicorn, and always, HAPPY HEALTH! See you all again next time. Bye, bye.
With your success in mind,
Cate Kozikowski and
Your WAZZUB Support Team
***
Additional Info from Support:
Live Chat Support is available via the following link.
https://join.skype.com/c0Wv3Vdf8njE
For all Unicorn Network Webinar info:
Log in to read recaps and register for webinars here: https://www.safe.zone (WEBINARS hexagon)
For all Rainbow Currency Webinar info:
Read recaps and register for webinars here:
https://www.rainbowcurrency.com (WEBINAR RECAPS button from menu)
Remember to check out the SafeZone Radio Show too!
Airing live every Thursday from 9-10 a.m. USA Pacific Time. Listen live and check out past show recordings at: https://www.safe.zone (RADIO SHOWS hexagon)
***
5 Step Daily Plan to boost your personal commissions and bonuses.
(And as always, NO SPAM and BE HONEST ALWAYS)
1) Log into WSS and grab your campaign link. Right now, Solario and Invitation Marketing are great to use.
2) Post some informative posts in all of your social media. Reminder if interested, join MINDS through our link (see below). You do not always have to put in your invitation link, simply ask interested people to message you.
3) Talk to people you meet about UN, RC, Solario.
4) Put in ads in FREE sources in your area. In USA, for example, there is Craigslist.
5) Put your links in free traffic sources like mailers and traffic exchanges. And commit a little time each day to those to promote.
If you were responsible for 100 SOLR Tokens sold each month, and 5 new active affiliate members for your TWNKL 5x5 game, you would be filling up your Personal Success Pools steadily month after month after month. Think of how fast you would be able to achieve all your Personal Success Goals!
HELP EACH OTHER
Post your great ideas in our community!
WE ALL WIN TOGETHER!
***
BE SOCIAL WITH US!
You can also connect with us across the internet. WE value your support, likes, shares, and comments. Thank you!
Beginning July 7, 2018, we will be adding Minds.com to our regular social media posting. Minds is a social network that shares many of the values that we do in the Unicorn Network. If you wish to support us on Minds, please join through our link so that we may collect tokens to use for more views to our posts, and then grow faster.
https://www.minds.com/register?referrer=UnicornNetwork
Connect with Unicorn Network and SafeZone on Facebook
https://www.facebook.com/UnicornFoundationOfficial
https://www.facebook.com/UnicornNetworkOfficial/
https://www.facebook.com/SafeZoneOfficial/
https://www.facebook.com/RainbowCurrency
Connect with Unicorn Network and SafeZone on Twitter
https://twitter.com/UnicornFndtion
https://twitter.com/UnicornNetwork
https://twitter.com/SafeZoneInc
You can be social with the Rainbow Currency Foundation, too!
Twitter: https://twitter.com/RainbowCurrency
Reddit: https://www.reddit.com/r/RainbowCurrency/
BitcoinTalk: https://bitcointalk.org/index.php?topic=2735483
Facebook: https://www.facebook.com/groups/531871263858847
Telegram: https://t.me/joinchat/IGdYD0UEDO7YmEWg3VZWww
Join the Solario social media links!
Facebook page: https://www.facebook.com/SolarioOfficial
Facebook Group: https://www.facebook.com/groups/684744401696132
Twitter: https://twitter.com/SolarioOfficial
Reddit: https://www.reddit.com/r/Solario
Bitcointalk: https://bitcointalk.org/index.php?topic=3453824
Telegram: https://t.me/solarioofficial
***
Unicorn Network Third Party Social Media Disclaimer;
The Unicorn Network uses third party websites and applications for marketing, and will often ask members to voluntarily interact with these services in order to increase reach of our postings. However, unless specifically stated, the Unicorn Network does not vouch for the safety or security of these services, and the member is advised that they use these services with the understanding that any issues which may arise from their usage are not the responsibility of the Unicorn Network.
***
** Reminder for all members: ** We have a strict anti-spam policy. Please be professional when sharing links for any of our offers. It has been noticed that some members have been posting their links on other people and group's Facebook pages. ** This is spamming!!! ** You should not post your links on anybody else's pages or in groups unless it is a page or group specifically set up for sharing business opportunities. You should not post your links on the timeline of any other person in any Social site unless they have given you permission to do so. Please be respectful and professional. Thank You.
***
Member Invitation guidelines
***Dear Members,
Our Rainbow Currency is a very exciting opportunity for all members and for the future of commerce and financial transactions.
We know everyone is super excited and very eager and innovative in promoting our Rainbow Currency and this once-in-a-lifetime occurrence.
As always we want to be mindful of the reputation of the company and of course yourself when promoting. A few things to be mindful of:
A. Whenever translating any information, brand names must be in English. Rainbow Currency, Twinkle, Glitter, Rainbow, SafeZone, etc., must be in English.
B. Always give accurate information using company pages as a guideline for information. Don't mislead by making wild claims or by changing the meaning of anything. If you are not sure what something means, please clarify.
C. Be sure to comply with local and International anti-spam regulations regarding emails. If using mailings you should be sure that those you are sending emails to are opted-in to receive emails. If you are emailing friends/family be sure to respect their wishes if they ask you not to send them offers.
D. Never use our Mailaxy for any marketing mailings. It is intended to be used for personal use only. Accounts may be closed if we get blacklisted due to members using Mailaxy for marketing and marked as spam.
E. In Social Media such as Facebook, Twitter, etc., always follow their terms of use.
*Never post your links or promotions on the profile page of any other member. If you post on your own profile those who follow you will see it if they follow your posts.
*Never reply to someone else's post or comment with links or promotions.
*If you belong to groups that allow you to post marketing, and there are many, be sure to follow their rules and don't flood them with constant posts. Watch to see what others do as a group. If there are several hundreds or thousands of active people in that group and there is only one person posting the same thing every 5 minutes or every hour don't do the same thing just because that one person does it. Do what is customary for that group.
F. Don't constantly tag random people on your posts. That function is meant to tag a person who may be in a picture, or tag someone that needs to take attention to that post because it is relevant to them.
G. Don't add people to groups without their permission. This happens to me all the time and it is very annoying. You can send invitations and that gives the person the option to join, ignore, or simply delete your request.
H. Many members have posted marketing material that can be used and shared, graphics and videos that can be shared, and ideas on better marketing practices. Always be mindful to personalize things that you use and be sure to keep information accurate. If you see something that you like that has not been given to share or use, always contact the owner of that material and ask their permission before doing anything with it.
I. If you create your own Pages, Groups, Blogs, etc., be sure you comply with the terms of use of the host. Be sure you comply with our Affiliate Guidelines for Social Media and Internet Activity. You can view them here:
https://drive.google.com/open?id=1Vf4BCQNWKuzCCcaGbF4uWxKe2l0aQfbh
End***
***
Because our websites are hosted on the worldwide web, access may be available in other countries. We are happy to make the content, software, products, and/or services available to people in any country where legal to do so. And while we are not currently aware of any country that bans information of this type, nor specifically the information we provide, we make no representation that materials on the websites are appropriate or legal for use in any locations outside the United States. The laws regarding use of content, software, products, and/or services via the Internet may vary in different countries. If you have access to our websites from a location outside the United States of America, you and you alone are responsible for compliance with all applicable laws of your jurisdiction. Accessing the websites is prohibited from any country where the contents are deemed illegal, or where they are contrary to regulations.
***
Earnings Disclaimer: Every effort has been made to accurately represent our project. Any examples of results are not to be interpreted as a promise or guarantee of earnings. Your level of success in attaining the results claimed on our website depends on the time you devote to the project, on your knowledge and on various marketing skills. Since these factors differ according to individuals, we cannot guarantee any success or specific result. Nor are we responsible for any of your actions. Materials found on our website may contain information that includes or is based upon forward-looking statements. Forward-looking statements give our expectations or forecasts of future events. You can identify these statements by the fact that they do not relate strictly to historical or current facts. They use words such as "anticipate," "estimate," "expect," "project," "intend," "plan," "believe," and other words and terms of similar meaning in connection with a description of potential results or earnings.
Copyright © 2018 Rainbow Currency Foundation, Unicorn Network, Inc. and SafeZone, Inc. All rights reserved.