Rainbow Currency Foundation, Unicorn Network, SafeZone, CryptoCoinStreet, and 2Pay4You Joint Announcement Webinar
June 21, 2018
Presented by: Cate Kozikowski and Dan Settgast
This webinar is property of Rainbow Currency Foundation, Unicorn Network, Inc., SafeZone, Inc. and may not be recorded, and then distributed to the public. Any transcriptions/translations provided live by the "Power of WE" are not official. Please wait for the official English recap and translations for the complete details presented during any webinar.
Disclaimer: You are always personally responsible for your own actions; nothing contained in this or any webinar is to be constituted as advice for any reason. Do your own due diligence and speak with your own experts before making any decisions, such as those relating to health, finances, taxes, and business, to name a few.
Topics in this recap:
1. Rainbow Currency Updates
From Cate:
Welcome everyone! Thank you all for joining us today. We have quite a lot of information to share with everyone today; a lot of great news about things that we have been working on for a long time in a combined effort across many teams, and we are very proud and pleased to be sharing this information with everyone here today.
So let's get started. We have a slide show prepared to share with everyone…
From Dan:
Hi all! Some of you might have seen that there is a joint public announcement with very, very important changes regarding Rainbow Currency; not just changes but major improvements. When we announced this webinar we did not know that it will happen today, so that is why we announced a variety of topics; but, now that we have this joint public announcement published, and the teams finished all the changes that were needed, this webinar will be solely about this joint public announcement. We will go through it step-by-step, and we will have another webinar tomorrow (June 22) for all the other topics which are important as well. Of course, this joint public announcement is the hottest topic today, definitely.
So let us start the slide show.
From Cate:
Thank you Dan!
Ok, so now as you can see here we have a Public Joint Announcement, and it is between Rainbow Currency Foundation (RCF), Unicorn Network, 2Pay4You (2P4Y), CryptoCoinStreet (CCS), and the SafeZone (SZ).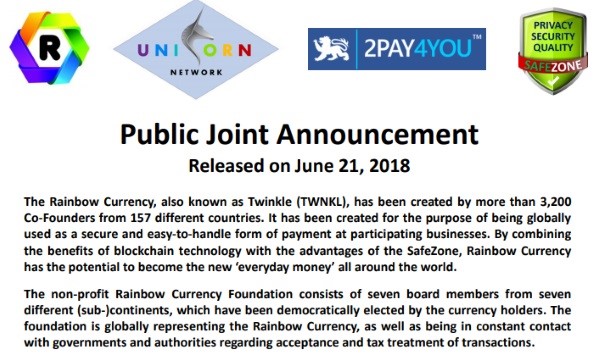 The Rainbow Currency, also known as Twinkle (TWNKL), has been created by more than 3,200 Co-Founders from 157 different countries. It has been created for the purpose of being globally used as a secure and easy-to-handle form of payment at participating businesses. By combining the benefits of blockchain technology with the advantages of the SafeZone, Rainbow Currency has the potential to become the new 'everyday money' all around the world.
The non-profit Rainbow Currency Foundation consists of seven board members from seven different (sub-)continents, which have been democratically elected by the currency holders. The foundation is globally representing the Rainbow Currency, as well as being in constant contact with governments and authorities regarding acceptance and tax treatment of transactions.
And now, to share some more information on behalf of the RCF, I would like to introduce Dan, who will be sharing more details.
From Dan:
So, it is important to understand that this major public announcement, is from the RCF, represented by David Phillips, the President of the RCF. I will read it to you, and after that we will have a statement from Cate as the CEO of the Unicorn Network, and then a statement from me (as CEO of SafeZone), which is all part of the public joint announcement. Next we will have a short statement and description about CCS and 2Pay4You as well.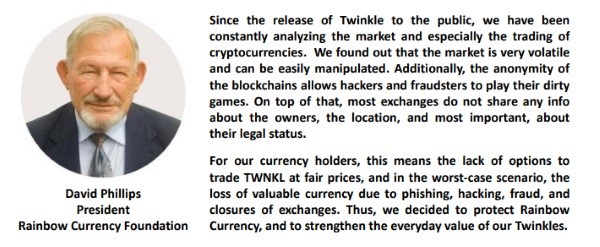 So here is the message from David, the President of RFC:
Since the release of Twinkle to the public, we have been constantly analyzing the market and especially the trading of cryptocurrencies. We found out that the market is very volatile and can be easily manipulated. Additionally, the anonymity of the blockchains allows hackers and fraudsters to play their dirty games. On top of that, most exchanges do not share any info about the owners, the location, and most important, about their legal status.
For our currency holders, this means the lack of options to trade TWNKL at fair prices, and in the worst-case scenario, the loss of valuable currency due to phishing, hacking, fraud, and closures of exchanges. Thus, we decided to protect Rainbow Currency, and to strengthen the everyday value of our Twinkles.
And to make this happen, 3 immediate actions are announced today:

Action #1: TWNKL will be withdrawn from all exchanges except CryptoCoinStreet (CCS). From now on CCS is the only official exchange recommended by the Rainbow Currency Foundation.
Action #2: The minimum trading value of 1 TWNKL is fixed at US$0.01 and (with the current value of BTC that means about 150 Satoshi) BTC0.00000150. The minimum value for TWNKL/BTC might be adjusted from time to time.
Action #3: A direct connection between SafeZone and CCS will be established. Thus, every member can participate in trading activity without putting any TWNKL at a risk on the public blockchain.
We will talk about these actions a little bit more in detail, after we have gone through the whole public announcement. Now here is the next part, which is the statement of Cate: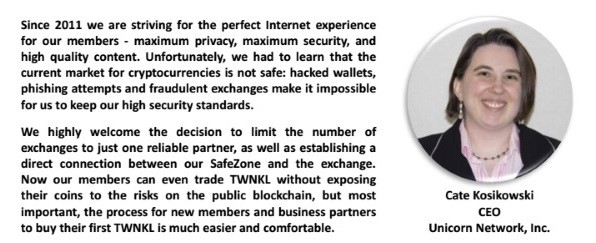 From Cate:
Since 2011 we are striving for the perfect Internet experience for our members - maximum privacy, maximum security, and high quality content. Unfortunately, we had to learn that the current market for cryptocurrencies is not safe: hacked wallets, phishing attempts and fraudulent exchanges make it impossible for us to keep our high security standards.
We highly welcome the decision to limit the number of exchanges to just one reliable partner, as well as establishing a direct connection between our SafeZone and the exchange. Now, our members can even trade TWNKL without exposing their coins to the risks on the public blockchain, and at the same time, the process for new members and business partners to buy their first TWNKL is much easier and comfortable.
From Dan:
Yes, so Cate's statement was for the Unicorn Network, and my statement is the official statement for SafeZone, Inc.
So here we go:

The SafeZone is all about privacy and cyber security. While developing the project, we realized that it is impossible to make payments or transfers with maximum privacy and maximum security. Blockchain technology opened a new path for us, but a global currency would need to be independent. Thus, we suggested to our members creating a stand-alone, non-profit, global currency, and the Rainbow Currency was born.
Today's step is crucial for all existing Twinkle holders as well as for the future development of our SafeZone. Price stability plus a convenient way to trade Rainbow Currency makes joining the SafeZone and accepting Twinkles a no-brainer for small and medium businesses all around the world.
And the last part of the the joint public announcement, is about CCS and 2Pay4You.
From Cate:

CryptoCoinStreet is an exchange where all traders have to go through an identification process. On top of that, unique security features make CCS very unattractive for hackers and fraudsters. All fiat currency transactions to and from CCS are processed by 2Pay4You, a leading provider for global payment solutions, authorized by Czech National Bank for provision of payment services under the Payment Services Regulations 2009.
So this is really fantastic. We are so happy and proud to be at this stage of development of the whole thing: the Rainbow Currency, the Unicorn Network, the SafeZone, and of course our partnerships with 2Pay4You and CryptoCoinStreet (CCS).
From Dan:
Talking about 2Pay4You and CryptoCoinStreet… CCS is the only exchange where:
1. We know the people behind it, where we know where they are located, and where we know that everything is in the hands of reliable people.
2. They agreed on using our PerNums as let's say the internal account number for the transfers between the SafeZone and the exchange. This means you will be able to add your PerNum at CCS, and after you have done that, you will be able to send Twinkles that you might want to trade, directly through PernumPay from the SafeZone to CCS. So there is no need to transfer Twinkles into the blockchain, and then from there to CCS.
And of course, the same applies vice versa. From CCS you can transfer Twinkles directly to your private PERNUM wallet within the SafeZone (without the need to go through the public blockchain).
And here is one more thing, which is very crucial. Thanks to the partnership of CCS and 2Pay4You, when you are selling Twinkles for let's say USD, you will be able to exchange USD to several other currencies with the licensed partner 2P4Y, and you are able to cash out these funds directly to your bank account; and 2Pay4You told us that there will be some cashout options added, which is in the making. So, right now you have the option to get the money sent to your bank account.
When you just think about what happened in the last 6-8 weeks… we know that as Unicorn Network and SafeZone we told you to keep all your Twinkles in the SafeZone, but of course we had to offer you a way to transfer and trade your Twinkles on the blockchain. So we explained to you how to create MEW (My Ether Wallet) and of course, we and the RCF introduced SouthXchange and Octaex to you, besides CryptoCoinStreet. Just in the last 8 weeks (and I think Cate can give you some more details about that), all three (MEW, SouthXchange and Octaex) had massive incidents. Cate please tell us more about it.
From Cate:
Absolutely. Let us start out first with the understanding that when Rainbow Currency launched on the public trading platforms, the first one was CryptoCoinStreet. And it was the demand of the currency holders which encouraged the RCF to look for additional exchanges. Because at the time, the thought was that the more exchanges the Rainbow Currency was available on, the easier it would be to create demand for the Twinkle. However, as we've seen over the last 6 months, that is not what happened.
We will start with SouthXchange because that was the first one that was listed in addition to CryptoCoinStreet. While there is a good amount of volume compared to the other coins on SouthXchange, the fact of the matter is that there are a number of challenges that have occurred and the most prominent one that caused the RCF to make a recommendation was because some wallets from SouthXchange were hacked. The official story was that those people who were hacked did not have 2-factor authentication activated, meaning that they did not have their accounts secured enough. However, when this news broke, in the SouthXchange chat, there were several people who were saying that they were affected by this hack, and they had 2-factor authentication. So, who do you believe; how do you know what the real story is? So, in order to protect the currency holders, because the RCF could not determine the real facts behind the matter, they made the recommendation that if people wanted to trade, that they could use Octaex.
Now, part of this was of course thinking about the people who were selling the Twinkle, because at that time Octaex looked like a very promising exchange. The Twinkle had been recently listed on it, and the price per Twinkle compared to USD or BTC was much higher than anywhere else. So as a person selling Twinkle, you would be better off selling it on a platform where you could get a higher value. So that was part of the RCF's reasoning behind their decision to recommend Octaex for trading.
Of course, on SouthXchange it was more of a buyer's market. However, the RCF is primarily concerned with the actual Twinkle holders; so as a currency holder, if you want to trade your Twinkles, you want to get the most value for those Twinkles. That was the reasons why that decision was made at that time.
Unfortunately, Octaex in recent weeks seems to have gone away. The overall situation is unclear at the moment. The RCF has been looking into the situation and doing their best to contact the exchange and get more information, but unfortunately it seems that the management of Octaex has disappeared. We don't know whether they are having some technical challenges, or maybe some other challenges…at the moment the situation is unclear.
Unfortunately, these are the risks when you are trading on the public blockchain and on these exchanges. And it is not just these smaller exchanges; even just the other day I read some news about a big exchange that was also hacked, and 31 million dollars' worth of tokens have been stolen. So these challenges are not just happening on small exchanges; they happen all over the place, and it is very difficult to protect yourself or even prevent it; it is really just a matter of luck in some cases if you are affected or not.
This is part of why, I am so glad, as the CEO of the Unicorn Network, that we are here today sharing this information with you, about this partnership between Rainbow Currency Foundation, Unicorn Network, 2Pay4You, CryptoCoinStreet, and the SafeZone, to provide solutions to these challenges we have seen. The Rainbow Currency, in and of itself, was created to provide solutions to challenges; and Unicorn Network and all the projects that we do are all designed to provide solutions to challenges that we find out in the world and in business, and as a consumer, generally speaking.
So, it is very unfortunate as far as everything that has happened with these 3 exchanges. What happened with MEW was a different issue. MEW uses an Amazon cloud, and someone hacked into the Amazon cloud, which then affected MEW. So this was actually nothing that MEW could have prevented (besides maybe not using Amazon) but, this was something that actually affected a big company like Amazon. So you see, no matter what, there could be challenges anywhere. The good thing with MEW was that it was a temporary situation, and there were some people affected, however Amazon was able to get this breach taken care of within several hours, so that mediated the damage that was done at that time.
From Dan:
Nevertheless, they still lost a 6 or 7 figure amount in Ether, and the attack at MEW was a classic phishing attempt. At SouthXchange it was a classic hacking, and now at Octaex obviously we don't know, but it seems that it might be a fraud.
Like Cate said, the RCF tries to get a hold of someone from Octaex, and the only good news that we have is that the Twinkles are still in the Octaex wallet. And of course those Twinkles there belong to some of our members who deposited them on Octaex. And now here is the interesting thing: so now with the steps that we taking right now by having only one exchange and having the entrance to the exchange through the SafeZone, we would immediately be aware when someone would try to transfer Twinkles to CryptoCoinStreet, and we would know who that is. Because at CCS, traders need to identify themselves. So this is exactly the level of security that we want and need in the interest of all members.
Of course, some might say that they want to trade on different exchanges, but believe me that might be exactly the guys that we don't want to have within our network and our system.
And one more thing: The RCF asked the initiators of SouthXchange and Octaex, who they are, if they are regulated and licensed, and these guys refused to give that information. For CCS I can tell you that we personally met the initiators (they were in Las Vegas), so we know who they are, we know they are reliable and the combination of CCS and the partnership with 2Pay4You is very strong. That makes it easy for people to buy Twinkles, and that is what we should be focused on, as that is creating a demand. And we have a stable value now, with a fixed minimum value of US$0.01. Of course, the value can go up to the sky as we are all very interested in. But at least, we have a minimum value now, and that gives businesses the safety and security that they need, the piece of mind to say that they will accept Twinkles, because at the value of 1 cent at least they have no risk of losing value, like it is with all other cryptocurrencies.
You know what happened. Bitcoin lost more than 65% value since December 2017. And the same for most of the other cryptocurrencies. I know some cryptocurrencies that can point you to some online shop where you can buy some goods and services with their crypto, but when you check these websites it is always the same: the exchange rate they offer is much, much lower than how these coins are traded at exchanges.
And we have nothing against SouthXchange management guys, they might be the nicest and most honest people in the world, but we don't know if tomorrow the same thing won't happen with them as it did with Octaex. We don't know if this hacking that happened once, won't happen again. We don't know whether another phishing attempt, next time will be even more successful. And that is why we are so happy about these decisions that have been made and are announced today.
So let's go back to those 3 actions that we mentioned earlier, and talk about them a bit more, so you know what is happening.
Action #1: TWNKL will be withdrawn from all exchanges except CryptoCoinStreet (CCS). From now on CCS is the only official exchange recommended by the Rainbow Currency Foundation.
So what does that mean for SouthXchange? They will receive an official letter from the RCF (it is already sent) that the RCF is withdrawing Rainbow Currency from SouthXchange. Normally it takes like 3-4 weeks; so they will announce it and then around maybe July 15/22 (we will see, that is not something that an exact date can be given for right now so the dates used here are as an example)… they will announce that Twinkle will be withdrawn from SouthXchange, asking the members to transfer Twinkles from there. Right now if you go to the exchange, you will see an announcement that CRU will be delisted on July 8th, asking the members to withdraw their coins by then.
So a message like that will be displayed for a certain time there for Twinkle as well, and then Twinkle will be delisted from SouthXchange. Of course, until then, at SouthXchange there might be lower prices for Twinkles than on CCS. But it does not matter, because CCS is the only official exchange for Rainbow Currency.
And just in case you are wondering if they are allowed to do this, let me tell you "Yes, they are". It is the job of the RCF to protect Rainbow Currency and that is exactly what they are doing. Because the last weeks clearly showed us that blockchains, public wallets, exchanges… guys that is all the wild, wild west. And we don't want that, we never wanted that, so that is why we all together do what we can to protect you.
And, for ForkDelta, if I understand it right, this is some kind of automatic system or a marketplace, not a real exchange, so we will find out if it is possible to delist there also. You simply can compare it with official currency exchange offices, for example in tourist areas. In many countries, you have the official currency exchange offices, and you always might find someone on the street telling you that they might give you a better rate. So it is your risk if you use that service, and from time to time it even might be illegal. You never know! Because the market of exchanges, online and offline will be highly regulated. And we already know that we are on the safe side with CCS.
So that is what will happen. You might see Twinkle traded on other exchanges for a few more weeks. And looking into the future, it might be that in 3, or 6, or 12 months from now, 2 years, or whenever, we will offer other safe providers for exchange services. So this is not a step back, this is a step forward towards the SafeZone for all our current currency holders, and for all future members and business partners.
We don't want to force them anymore to go open a My Ether Wallet, to go to an external exchange to buy some Twinkles, and that is why we are doing all of this. In the future, of course the RCF is open to other exchanges as well, but for now we definitely learned the lesson…it's really hot out there, so let's stay in the SafeZone.
Action #2: The minimum trading value of 1 TWNKL is fixed at US$0.01 and BTC0.00000150. The minimum value for TWNKL/BTC might be adjusted from time to time.
So, why is this important? I know there have been many discussions if that is manipulating the market, or whatever.
Establishing a minimum value for a currency, and establishing it by the official representative of that currency, which is in our case the RCF, is not a manipulation. It is just a step to protect the currency and to protect the currency holders.
In our case, within the SafeZone, in order to have more and more businesses to accept Twinkles as an official way of payment, it is absolutely crucial that we have a fixed minimum value. That is the needed safety for businesses to be able to say that they accept Twinkle as a form of payment. Especially if we are to tell them to look at it as a part of their marketing budget, and we guarantee them that they will be able to buy Marketing Instruments within the SafeZone at least at the same Twinkle rate. And that makes it a no-brainer for the business. Believe me, I have talked with many businesses, and that was the most requested thing. So now we have it! So that is absolutely fantastic.
What happens above 1 cent? There is no automatic increase of value when a trade is closed, like we had it in the beginning. Above 1 cent, we now have a free market. Officially, in USD trading we have 3 digits, so the next step above 1 cent, will be 1.1 cent, then 1.2, then 1.3 cent etc.
So, those of you who want to sell Twinkle, once more, it is 100% up to you. If you want to offer Twinkles at 1 cent, do it. If you want to offer Twinkles at a higher price, do it. Of course, Twinkles offered at a lower price, would sell first.
So now here is the thing. And it is really easy like that. If nobody would sell at 1 cent, but at a higher price (whatever it is), then somebody who would like to buy Twinkles would need to pay that price. And there is one more thing that we've learned from the last 5-6 months. And that is that trading itself and being listed on exchanges itself, does not create any demand and it does not create any trading volume. How do we know this? Yes, we have seen some trading volume on the exchanges so far, especially in the last 6 weeks we have seen up to US$100,000 of trading volume, but you know what? Far more than 90% of this trading volume has been from our fight-the-dumpsters campaign, where we systematically bought cheap Twinkles. We bought 10, 30, 40, 50 million Twinkles, and then we waited for the dumpsters to fill up the order books for Twinkles again, and then we bought the next batch. So in total we brought more than 300 million Twinkles back into the SafeZone, and out of the hands of people who were willing to sell them at those low prices. Other than these transactions, there has literally been no trading volume, on a so-called free market. And if you just read at SouthXchange in the little chat box, you will find out that this is really not the place where you want to have your serious and valuable currency traded. Because this place is full of people who are pumping and dumping coins just for fun (and spreading wrong info). Every day they recommend a coin or 2, 3, or 5 and then they do their pump and dump scheme.
Guys, this is not our place to be. We have a mission. We want to make Rainbow Currency and the Twinkle the new global everyday money. And we have achieved so much and so far.
I am pretty sure that you heard about it; we have an official letter confirming that within the European Union, if both parties agree on a sale, when the seller and the buyer agree on accepting Twinkle, Twinkle is officially to be treated exactly like the Euro is treated, as a currency. Guys, this is huge!
Rainbow Currency is the first currency within Europe, and talking about the whole world, it is the first currency besides Bitcoin, where full real-estate deals from A to Z have been processed in cryptocurrency, in Rainbow Currency. Guys, we have been the first! This happened in Germany, it was not any kind of inside transaction with members - NO, we officially bought the apartment from a professional real estate company. We explained to them the potential power of the Rainbow Currency, and they said "OK we will give it a try". Well, that was a nice try with an apartment that has a value of about 50,000 dollars. So now they received 21 million Twinkles. Now at 1 cent per Twinkle, that is 210,000 USD, which is about 180,000 Euros value. So, great deal for them! And they won't sell their Twinkles, they want to keep their Twinkles.
What you need to see is that we already started what is needed to make Rainbow Currency globally the new everyday money. It just needs time and it needs a fixed minimum value to give some kind of a safety net for participating businesses.
So now of course, the next step was automatically, that we offered the person who rented this apartment, we offered for them to pay their rent in Twinkles (and they accepted). Of course that is just one person, however now, if you talk with a real estate agent, you can tell them, "Hey, you are not the first, there is already someone else doing it." So for this guy, in Germany, living in this apartment, Twinkle is already some kind of his everyday money, because once per month he is paying his rent in Twinkle.
And that brings us to our next important topic. If we want to create demand, it works not through being listed on exchanges, it works through creating more, and more, and more situations where it is favorable for people to pay with Twinkle instead of USD, or Euros, or any other fiat currency.
And we have started this process and we will get there. So now we have 1 person paying their rent in Twinkles. Instead of 1 person, think 1 million and think of an average rent of US$500. Well 1 million x 500 = 500,000,000; that means automatically every month we would have a demand of US$500,000,000 value in Twinkles!
As the number of available Twinkles is limited and right now 100 billion coins at 1 cent is US$1,000,000,000 in volume that can be paid for with Twinkles and then people would need to buy them, or buy them back, or trade them in order to be able to pay again. Just 1 billion. So that means as we establish Twinkle step-by-step in more and more situations, that means that there is only 1 way to get all these transactions processed, and that is by the value of the Twinkle going up. If the value of a Twinkle was US$1 instead of 1 cent, we already would have 100 billion dollars of volume that can be traded.
But after all these transactions, sales, services, paying for rent, paying for utilities, whatever… after this 1 billion or 100 billion dollars in volume is spent, you would need to buy more Twinkle on the market. You might see, oh wow, the price went up. So what do you do? You buy as many Twinkles as you can and keep them to pay for things later when the value is higher. That is the power for all the people who own Twinkle now and since the ICO—that is the power. So you see nothing has changed compared to what we shared with you in the beginning—the vision is the same.
What happened on the so-called free market, well that was not fun and for sure we learned from it. And when talking with real experts, everyone confirmed that this was the best step that RCF could do, what has been announced today. I am so glad that RCF understood the importance and they have been very, very fast in deciding and making the needed adjustments. So THANK YOU to the Rainbow Currency Foundation for this.
Cate:
Thank you Dan, well said! And for sure, from the Unicorn Network, I want to echo that thanks to the RCF as well. Because really, they are doing a fantastic job. They have a big job on their plate, however they are tackling it step-by-step, piece by piece; because they are currency holders too! WE ALL as currency holders, WE elected them! We got to choose who would be on the RCF Board of Directors. So that, in and of itself is really powerful. So you know that the people who are on the RCF Board of Directors, they are currency holders themselves, they want the best for RC because they are currency holders too!
So, talking about Action #3.
Action #3: A direct connection between SafeZone and CCS will be established. Thus, every member can participate in trading activity without putting any TWNKL at a risk on the public blockchain.
Now this in and of itself is really powerful. Because as Dan mentioned, cryptocurrencies, exchanges, dealing with the blockchain, and all of these technical details are new to most people. Yes, there are those who are familiar with these things, but even still some of them have just become interested either right around the time Twinkle was released or shortly before that, so our experience as a collective whole in the membership is limited to some degree. So with this solution, the direct connection between the SafeZone and CCS, this helps to make it easier and more comfortable for members of all experiences to be able to trade when they want to, or purchase more Twinkle when they want to. They don't have to worry about buying ETH or how do I get it right, and all of these other complications that can happen. So this is really an amazing step and it has been requested by the other currency holders for quite some time. So it is really fantastic that this connection is established so that way we can fulfill those requests because as we always share (especially through the Unicorn Network Core Values video which is played at the beginning of webinars), INFLUENCE and RESPECT are high on the Core Values list of the Unicorn Network, and that translates into every project that we take part in, whether it is our own creation or a partnership, whatever the case, we always keep our core values in mind. So it is really fantastic that this connection is established.
Now I want to talk a little bit about this connection and the technical details; how does it really work?
So as Dan mentioned, the great news is that CCS has agreed to use the PerNum as a type of account identifier for each member, so this way, you will simply add your PerNum in your account at CCS and this will link the 2 accounts together. This way when you transfer Twinkles to CCS, it will go to your account in CCS from Pernum, and vice versa when transferring to the SafeZone from CCS.
Now what are the fees?
Well CCS also set up a flat rate for transfers. So transferring from Pernum to CCS or vice versa from CCS to Pernum, is a flat rate of 50 Twinkles to do that transfer, and the transfers are completed through PernumPay. So that is really fantastic and definitely affordable. And as the value of Twinkle rises, the fees will adjust as well. So that is great and this really just makes it very comfortable and easy for everyone.
Now one of the other benefits of CCS, because CCS is partnered with 2P4Y, and 2P4Y is licensed for fiat currency exchange, when you sell Twinkles on CCS, say for USD, perhaps you live in a different part of the world where you prefer Euros, or some other fiat currency that they support. Well what you can do is exchange those USD that you received from the trade to your preferred currency in fiat and cash out those funds directly to your bank account.
So absolutely the partnership with CCS and 2P4Y, with the SafeZone and RCF, and of course Unicorn Network, is so powerful because it really does provide the functionality and features that the RC holders have already requested. Really these are the things that we in the Companies, Unicorn Network and the SafeZone, we wanted to have from the start, of course, but everything happens step-by-step. So we are so glad to be at this step today. I know I am and I hope you are as well.
Of course 2P4Y will be adding more cashout features step-by-step. So to start with you will be able to cash out anything from CCS through 2P4Y directly to your bank account. Of course, this also means that when you want to buy anything on CCS, you can fund your CCS account through your bank account as well. And again, that is what people requested and what they like as well; they like the normalcy of it. We are used to transacting from our bank accounts to various services and businesses, so this is something that is very comfortable for people and especially businesses too. So this is something that is very important and will really help Twinkle to grow, to really be your everyday money that we all want Twinkle to be.
I also want to mention something else regarding the trades that are able to happen on CCS. Now as the minimum value has been set, of course RCF and CCS want to keep everything fair, of course they want happy customers, and they want everyone to be able to trade as they choose. So to help make sure that those who want to trade can do so, and are not blocked by just one person wanting to trade a bunch at once, there are certain limits set up as to how much can be traded at once from any account. For individuals you are limited to 250,000 Twinkles that you can trade at one time. For business accounts you are limited to 1 million Twinkles that you can trade at one time. And there is only 1 transaction that can happen at a time. So once you sell the first one, you can put your order for the next one. So this way it provides a nice flow, people can trade, even if there are a number of people who want to trade, everyone can have a chance, everyone can have their opportunity. Again, this solves a challenge, because we did have some challenges in the beginning, where there was too many people selling and not enough people buying, or too many people selling too much in one shot and so things would get stuck because there was not someone to buy all of the one transaction at once. So this is definitely a much appreciated improvement to keep things fair and consistent for everyone.
I, as the CEO of Unicorn Network, am really happy to hear of all of these great improvements, announcements, and steps that we are all taking as individuals and businesses together.
Dan:
OK, thank you Cate. We will have another webinar tomorrow for all the other topics announced for today. I hope you understand that this is really, really the most important thing that we had to share today. Again it was not clear when we announced this webinar that this public joint announcement would be ready to be made. You can imagine connecting the SafeZone with our high security and privacy standards with another totally different system, which is CCS and 2P4Y, in a way that CCS understands the PerNums and direct transfers can be made, and so on, and so on. So this is nothing that can be done in an hour or two, it was weeks of preparation and programming. Of course, when we heard that it was ready to go, we did not want to wait any longer because this is absolutely fantastic news for all of us. Of course we won't suddenly have demand in a day or two. Again you need to understand that when you check the trading volume on CCS and SouthXchange for the last 6-8 weeks, more than 90% of it was from our own activities buying cheap Twinkles to get them back into the SafeZone, and out of the hands of people who just want to play ping-pong with Twinkles to keep the price low. Because these funny little day traders they just live from buying at 0.0002 and selling at 0.0003, because between 0.0002 and 0.0003 is 50% difference for them, so they are not interested in higher prices, they are just interested in pump and dump, in ping and pong. So now finally, we get rid of that. So that doesn't mean that TA-DAH tomorrow we will have demand, that tomorrow we will sell tons of Twinkle to people—NO. Now that we have this established, finally we can talk to businesses, we can explain it to them, how easy it is now to open a business account at 2P4Y and CCS, and they easily can send fiat currency to their accounts at CCS through 2P4Y to buy Twinkles. I don't know if anyone here has ever tried to send fiat currency to SouthXchange, it doesn't really work. So how can people buy Twinkles for fiat currency if there is no way to send the money there. So now we can communicate this and now we can really build it step-by-step. So #1 don't expect wonders and #2 please don't start after a few days complaining there are no sales; nothing is happening because we literally had no sales for the last weeks besides our own sales (on the exchanges). And now with the higher price at CCS, the only official exchange, we will stop buying these cheap Twinkles. We will see what happens in these next days or weeks at SouthXchange, but I don't expect much to happen there. If someone is so crazy and wants to list more Twinkles there for sale, hey, guys do it, we will be delisted there. PERIOD. We will have some kind of a period now for the next 2,3,4 weeks until the delisting happens. Guys believe me, this is fantastic news, this is great news, this is the best news ever, because it is great for all of us who own, if you have tens of thousands, hundreds of thousands, or multi millions in Twinkles, this is a big, big step into the right direction.
Cate:
Absolutely! I agree with that 100%.
Before we close, first I do want to say a big thank you to all of the programmers who worked to make this all possible. They have worked tirelessly for everyone and we really do appreciate everything that they do, they are doing a fantastic job, especially with our security and privacy features that we do with the SafeZone and all of Unicorn Network projects, so that is highly appreciated!
Dan:
Yes, you are absolutely right, and I think they should be named, so thank you Stephen, thank you Hassan, and thank you Rajesh; those are the 3 guys who worked hard, very, very hard to make this happen and yes it is highly appreciated.
Cate:
The webinar recap for the June 22 webinar will be published as quickly as possible, so keep your eyes out for that.
Thank you all for joining us, we appreciate each and every one of you always and we look forward to seeing you in the SafeZone.
With your success in mind,
Cate Kozikowski, Dan Settgast and
Your WAZZUB Support Team
***
Additional Info from Support:
The functions are installed now on Pernum and CCS for transfers of TWNKL ... see more info below:
INSTRUCTIONS - BE SURE TO READ BEFORE DOING ANYTHING!!!!
1. Before doing any transfers from Pernum to CCS, FIRST make sure you have saved your PerNum in your CCS profile so your transfer can be properly completed to your CCS account.
2. To transfer TWNKL to CCS, login at https://pernum.com
3. Click PERNUM WALLET.
4. You will see your TWNKL balance (and current value based on USD for reference).
5. Click the CCS WALLET TRANSFER button to start.
6. Enter the amount of TWNKL you want to transfer... click Next... and follow the steps.
7. Remember start small to do a test first... your TWNKL will show in CCS after the transfer is complete; be aware it may take a little time...
Be aware, if you are transferring TWNKL from PERNUM to CCS (and vice versa), there is a transfer fee of 50 TWNKL. And the transfer fee has changed when transferring to your public wallet; it is now 500 TWNKL.
If there are any challenges or questions let the related Support know.
***
A fellow Rainbow Currency holder made some handy references for TWNKL in CCS, see them below (Thank you Angel!):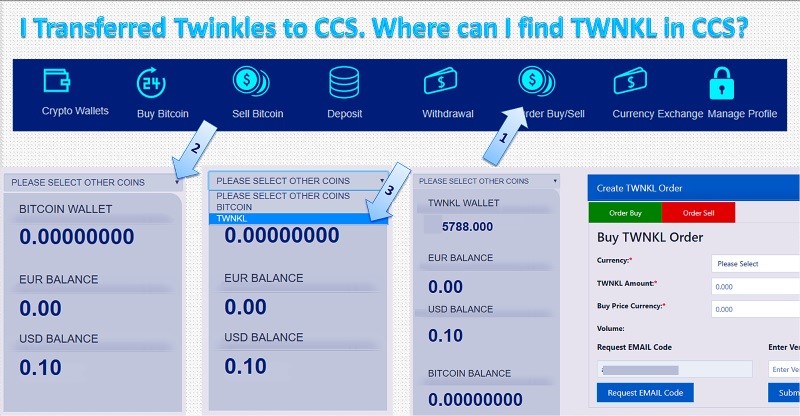 And a quick tutorial on how to transfer TWNKL back to your Pernum Wallet (be sure you set up your Free PerNum in CCS first) can be found here:
https://drive.google.com/file/d/1M1yClC0pIPK0YLvDLjJ9n2qFCylld9mP/view
***
RCF Alert
We see that some people are still Transferring Twinkles to the CCS wallet from their Public Wallet. Please STOP! You may lose your Twinkles by doing so.
Now, the only way to Transfer Twinkles to CCS is from RC directly to CCS, after setting your PerNum at CCS Profile. Transfer can be done from https://pernum.com
***
As part of the planned RC-related updates, the RCF has created a stand alone site for RC related info. Some improvements are still being worked on; you can check it out here:
https://www.rainbowcurrency.org/
***
Live Chat Support is available via the following link.
https://join.skype.com/c0Wv3Vdf8njE
For all Unicorn Network Webinar info:
Log in to read recaps and register for webinars here: https://www.safe.zone (WEBINARS hexagon)
For all Rainbow Currency Webinar info:
Read recaps and register for webinars here:
https://www.rainbowcurrency.com (WEBINAR RECAPS button from menu)
Remember to check out the SafeZone Radio Show too!
Airing live every Thursday from 9-10 a.m. USA Pacific Time. Listen live and check out past show recordings at: https://www.safe.zone (RADIO SHOWS hexagon)
***
BE SOCIAL WITH US!
You can also connect with us across the internet. WE value your support, likes, shares, and comments. Thank you!
Connect with Unicorn Network and SafeZone on Facebook
https://www.facebook.com/UnicornFoundationOfficial
https://www.facebook.com/UnicornNetworkOfficial/
https://www.facebook.com/SafeZoneOfficial/
https://www.facebook.com/RainbowCurrency
Connect with Unicorn Network and SafeZone on Twitter
https://twitter.com/UnicornFndtion
https://twitter.com/UnicornNetwork
https://twitter.com/SafeZoneInc
You can be social with the Rainbow Currency Foundation, too!
Twitter: https://twitter.com/RainbowCurrency
Reddit: https://www.reddit.com/r/RainbowCurrency/
BitcoinTalk: https://bitcointalk.org/index.php?topic=2735483
Facebook: https://www.facebook.com/groups/531871263858847
Telegram: https://t.me/joinchat/IGdYD0UEDO7YmEWg3VZWww
Join the Solario social media links!
Facebook page: https://www.facebook.com/SolarioOfficial
Facebook Group: https://www.facebook.com/groups/684744401696132
Twitter: https://twitter.com/SolarioOfficial
Reddit: https://www.reddit.com/r/Solario
Bitcointalk: https://bitcointalk.org/index.php?topic=3453824
Telegram: https://t.me/solarioofficial
***
Because our websites are hosted on the worldwide web, access may be available in other countries. We are happy to make the content, software, products, and/or services available to people in any country where legal to do so. And while we are not currently aware of any country that bans information of this type, nor specifically the information we provide, we make no representation that materials on the websites are appropriate or legal for use in any locations outside the United States. The laws regarding use of content, software, products, and/or services via the Internet may vary in different countries. If you have access to our websites from a location outside the United States of America, you and you alone are responsible for compliance with all applicable laws of your jurisdiction. Accessing the websites is prohibited from any country where the contents are deemed illegal, or where they are contrary to regulations.
***
Earnings Disclaimer: Every effort has been made to accurately represent our project. Any examples of results are not to be interpreted as a promise or guarantee of earnings. Your level of success in attaining the results claimed on our website depends on the time you devote to the project, on your knowledge and on various marketing skills. Since these factors differ according to individuals, we cannot guarantee any success or specific result. Nor are we responsible for any of your actions. Materials found on our website may contain information that includes or is based upon forward-looking statements. Forward-looking statements give our expectations or forecasts of future events. You can identify these statements by the fact that they do not relate strictly to historical or current facts. They use words such as "anticipate," "estimate," "expect," "project," "intend," "plan," "believe," and other words and terms of similar meaning in connection with a description of potential results or earnings.
Copyright © 2018 Rainbow Currency Foundation, Unicorn Network, Inc., SafeZone, Inc. All rights reserved.