This webinar is property of Unicorn Network, Inc. and SafeZone, Inc., and may not be recorded, and then distributed to the public. Any transcriptions/translations provided live by the "Power of WE" are not official. Please wait for the official English recap and translations for the complete details presented during any webinar.
Disclaimer: You are always personally responsible for your own actions; nothing contained in this or any webinar is to be constituted as advice for any reason. Do your own due diligence and speak with your own experts before making any decisions, such as those relating to health, finances, taxes, and business, to name a few.
Topics in this recap:
1. Final confirmation of the first real estate deal, paid with TWNKL.
2. Our own TWNKL Auction page, coming soon…
3. Two new revolutionary partnerships with Unicorn Network and Rainbow Currency.
4. Updates on the Biggest Talent contest.
Welcome everybody! Very exciting things are going on in our Network. Thank you for joining us, and let's get started!
I'm so proud and so happy to be bringing you this fantastic news today! I know everyone has been very interested to know what would be the next steps with the SafeZone and the Unicorn Network, and especially with the Rainbow Currency. Now, to be clear, Rainbow Currency is completely separate; but, the SafeZone accepts Rainbow Currency, and the Unicorn Network does, as well. So, I'm here with you today to share some news that has to do with all of this.
1. Final confirmation of the first real estate deal, paid with TWNKL.
I'm happy to share that today we have the final confirmation of the First Real Estate Deal In Germany, Paid With Cryptocurrency. I'm going to share details about this, and a lot of other things. You'll be able to read the official Press Release from the Rainbow Currency Foundation. I'll share some highlights with you right now, and you'll be able to read the full Press Release, as well.
https://rainbowcurrency.com/opr/18-04-17_Official_Press_Release_Rainbow_Currency_Foundation.pdf
I'm so excited to share this information with you all!
"On March 16th, a real-estate contract has been notarized in Aue (Saxony), regarding an apartment; and now the responsible Land Registry Office reports that the new owner has been registered."
So, this is a Press Release out of both Las Vegas and Berlin, and…
"A rented condominium in Meerane (Saxony), changes ownership. While this does not seem like a headline at first glance, it turns out to be a sensation in the still-young cryptocurrency market; because for the first time, the complete purchase-price for a property in Germany was paid with digital money."
Now, you might be wondering: was this done in Bitcoin, or Ether, or some other leading digital currency? However, no. It was paid with Rainbow Currency. And this is so exciting! I have some pictures and things to share with you; and here they are...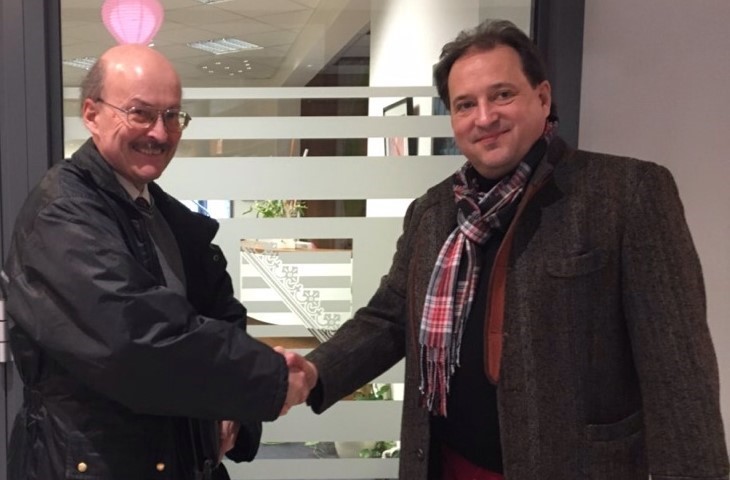 What you see here is Dr. Peter Pitz (left) and Jesko Präckert in front of the Notary Office, after signing the contracts.
"We see a much better price potential than Bitcoin and Co., so we are more than satisfied with the selling price" says Jesko Präckert, an employee of the selling real estate company; and further, "We plan to offer further condominiums against Rainbow Currency shortly."
Dr. Peter Pitz represents the buyer's side, and is also very satisfied; and he quotes, "Thanks to the appreciation of the Rainbow Currency, to date, we have realized a very favorable purchase price. Since we firmly believe in the success of the digital currency, we will now offer the tenant of the apartment to pay his rent in cryptocurrency in the future."
So, this is really fantastic! We are so proud, so pleased and honored to share this great news with everyone.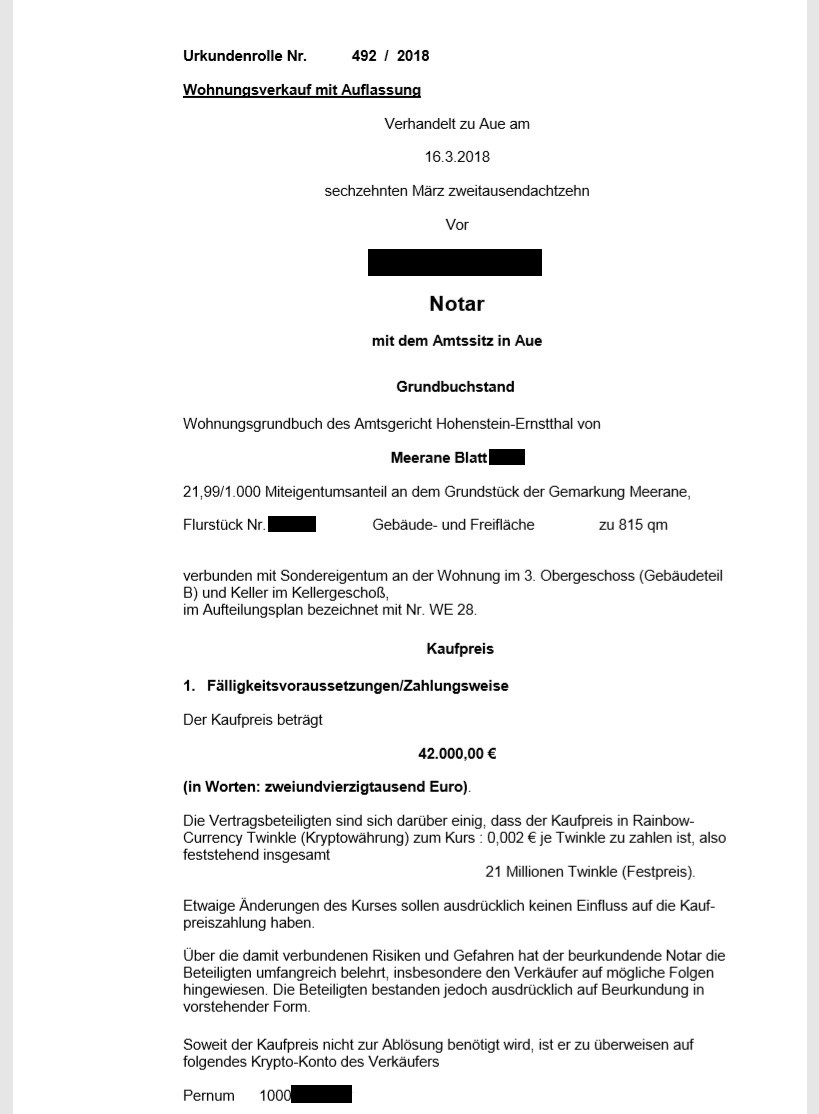 And then, this is an extract from the notarized contract. You'll be able to see this more clearly in the official press release. You'll be able to read it for yourself, and check it out.
And I'm sure you're all wondering "Where is this apartment?" and "What does it look like?"
Well, here you have a picture of the apartment building in Meerane (Saxony). The apartment is inside this building. So, that's really great!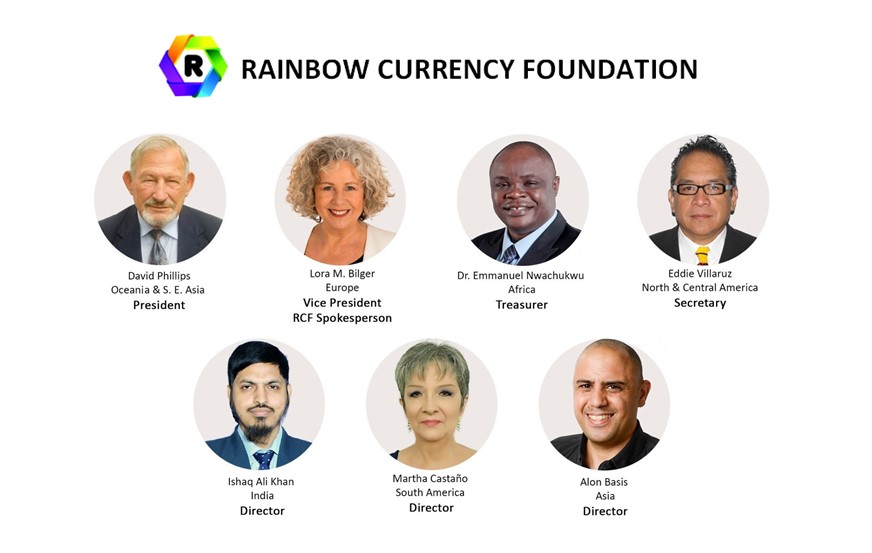 And then, of course, here is the Board of our wonderful Rainbow Currency Foundation. We're so proud. They're doing such a fantastic job! We thank them for everything that they're doing to help Rainbow Currency be the wonderful, very valuable, and recognized-worldwide currency that we know it already is.
And this is really exciting, because as far as we've been able to tell, there's really only been one or a few real estate transactions that have closed in Bitcoin, prior to this. We found no real estate transactions in Ether, or in any of the other popular coins. And when you go to look for websites where you can purchase real estate with cryptocurrency, whether it's Bitcoin or anything else, when you get into the contract with it, you find out that when you close that sale, you have to sell the cryptocurrency, and the person receives Fiat currency in the end.
So, this real estate transaction that happened in Germany for Rainbow Currency is very special because the apartment was completely paid with Rainbow Currency. Now the taxes and the notary were paid in Euros, but the whole rest of it, which is the actual price of the apartment, was all paid with Rainbow Currency. So, this is very special; and we're so proud to be the first ones with this, with the Rainbow Currency.
[Also, check the "Additional info from support" section for an important update.]
2. Our own TWNKL Auction page, coming soon…
Now, if you were paying attention, you heard that they have more apartments that they wish to offer for Rainbow Currency. So, how could they post that out in the world? Well, I'm sure there are a number of different ways; but I'm also very pleased, honored, and proud to share with all of you today, that we have found a solution that not only this real estate company in Germany could be able to offer property for sale for Rainbow Currency, but also other real estate companies around the world, as well as other businesses could offer all kinds of products and services. And, of course, even our members, the SafeZone community, if perhaps they have a product or something that they would like to sell for Rainbow Currency, now they can do that. So, we have found a solution for all of this.
In finding this solution, we had to determine: well, how would it work? What would be the best way to offer this service, where people and businesses, independent agents, realtors, and others, could offer things of real value and receive Rainbow Currency (Twinkles)?
So, when thinking about this, we determined that one of the best ways to offer this service would be through auctions! So, I am pleased to announce that very soon (it's anticipated late this week, or early next week), we will have our very own auction page; where, as I said, real estate agents, other businesses, independent agents, creative artists, and members of the SafeZone, are able to offer real products through our auction site—and even services, as well. We've got everything covered—so it's really great!
Each auction will run as a traditional auction. I'm not going to tell you all the details, but we will have another webinar, where we'll share all these specifics, and how it works exactly with everyone. Right now we wanted to let you all know, so that way if you know others, you could invite them to join, especially if they're interested in the Rainbow Currency. They can join for free, of course. And, we have so many things to offer.
In addition, you know there will be real estate available. Now, let me tell you about this. This is very important. This real estate that will be offered, it will be available to be purchased by anyone around the world. Whether you live in Germany, or maybe you want to live in Germany; or you simply want a property to invest in, now you have that option.
Of course, let me be upfront. As with all things, always do your own due diligence. Always seek your own counsel. I'm not offering advice, or anything like that. Always understand your own responsibility. So, just so we are clear.
But, this is absolutely fantastic!
Now, these are fantastic apartments. As you saw this one building: beautiful area, beautiful building, and the value of these apartments are around anywhere from US$30,000 to US$50,000. So, let's take US$50,000 as an example. If we look at the current TWNKL rate that we see on the markets (US$0.0005), that would be 100,000,000 Twinkles.
So, this is something that many Twinkle holders will be able to take part in. Up until this time, there have been limited ways that you could spend your Twinkles. While that doesn't detract from the value of those ways, it's always fantastic when you can have as many different options as possible, of course. That's how you become the "Every Day Money". That's the whole point for Rainbow Currency, to have as many different ways as possible.
Let me give you an example. Let's say you own a toaster that you don't need any longer, and let us assume the value is US$50. Someone who is willing to sell Twinkles at US$0.0005 should be willing to pay you up to 100,000 Twinkles for your toaster. Because 100,000 TWNKL x US$0.0005 = US$50. That's a real value exchange.
Of course, as you've seen today, (and I have more good news to share with you, too!), this is not the whole extent of it. As we keep increasing the value that we can receive with Rainbow Currency, the value on the exchanges as well, will also rise. And the more that we all spread the word, and share these great developments, this great news, with our friends and family, the more people will know about Rainbow Currency; will know about SafeZone; will know about Unicorn Network.
So, it's natural—of course, the price is going to go up. Especially, once these few Twinkle holders who are selling Twinkles on the market, either can receive more value that they're looking for, or will understand that they are the ones who determine the price. When you are the seller, you set the price. If you don't want the price to go down, don't sell lower. Always be looking up!
Now, let's just say the price jumps to US$0.01. Now you sold that toaster and received 100,000 Twinkles, which means that those Twinkles would be worth US$1,000, when the price of one Twinkle reached US$0.01. So, that's pretty good for a toaster! And that same thing applies for any other purchase. Now, this applies to any purchases made with cryptocurrency; you always have that possibility that the value of the cryptocurrency would go higher than the cost of the products that you're buying. So, it takes less cryptocurrency to buy the same amount of products, as the price continues to rise.
Of course, it can always go the other way—for full disclosure. That's why you always have to do your own due diligence. But, at the same time, with the value that we continue to create as the Unicorn Network from our end, with the SafeZone (where other third-party businesses are free to come and join us and use our services for their business), and through Rainbow Currency Foundation, and their work to continue to spread Rainbow Currency and all the great things that go with that, we all expect and know that the price will continue to rise. We all work together. WE, all the members, and internet users all around the world, WE all are the "Power of We". And that is something very special that really sets us apart. So, absolutely, we all expect and know that the price will continue to rise.
Now, if you are looking for more value that you can use with your Rainbow Currency, through this auction site, we will have, of course, all different types of things—from real estate, to jewelry, to so much more! I'm so glad! You know this is, also, a real show of influence through our network, because this has been requested through our network, by our members, to have a platform like this where they could offer things for sale, as just an individual. So, we're so happy that we can share this news with everyone, and really bring that into reality. So, look for more updates about this happening towards the end of this week, or early next week; and, we will, of course, keep everyone posted.
Now, this is just one step, and we will continue step by step to have everything released as quickly as possible, for everything else that we have going on. You know, this is just one project. We have so many different projects in various stages; as well as many businesses that have already signed up for our services, who are currently in the process of setting up their services for their businesses. You will see a lot of things coming out. These are just a few of the pieces in the puzzle that I'm sharing with you today. So, this is very exciting.
3. Two new revolutionary partnerships with Unicorn Network and Rainbow Currency.
Now, not only can you use your Twinkles for purchasing goods and services through this new auction page; you will also be able to use your Twinkles in some very exciting developments.
Now, let me tell you about a few new ICO's that are coming out. These ICO's, actually, are not from Unicorn Network. These are third parties who have partnered with Unicorn Network to accept Rainbow Currency.
With the first ICO, we are talking about one of the most valued things that many people feel around the world—one of those things that is always said to be stable in this world, as far as "things to invest in". Wouldn't it be really cool if you could use your Twinkles to invest in something like this? Well, very soon, you will be. And what I'm talking about is gold. So the first coin in these upcoming ICO's will be backed by gold—real gold. That means you can literally invest into gold with your Twinkles. That is very exciting!
Now, the second coin (Solario) is something even more special…
(Note: Due to recent updates, the information about Solario has changed. Please see the current information here: https://safe.zone/recaps/recap.php?id=734)
4. Updates on the Biggest Talent contest.
Now, the last thing that I wanted to talk about before we close is updates for our Biggest Talent contest.
First, to answer the most crucial question: Yes! We have extended the time for contestants to join and participate. We wanted to really share with the world how great and exciting this contest is.
As well, one of our whole ways that we do things is that "We care and we share". So, we took a look at the Biggest Talent contest, and we decided that we could share even more; because we believe in this contest, and we believe in the artists that we find through this contest, and we believe in the entertainment value that it brings to all of our members. Because we hear their feedback, we hear the response, and it's fantastic.
So, we thought what we could do to make this even better. And I am happy to announce that we have decided to increase some prizes; and include some additional Rainbow Currency. Previously, we had updated you that the Grand Prize winner would receive up to US$100,000 with Twinkles. Now, what we'll do is the Grand Prize will include 1,000,000 Twinkles (which is a value of US$100,000); and this will be in addition to the prize of the CD or DVD single professionally created, produced and marketed by leaders in the industry; as well as the trip to Las Vegas, for the Most Famous Awards Show, which includes the flight, transportation, and lodging.
So, the Grand Prize winner will receive 1,000,000 Twinkles, or a value of US$100,000 in Twinkles. That's fantastic, but we thought about "How can we share even more?" I'm happy to announce that the inviter of the Grand Prize Winner, will also receive a Bonus Prize, and that will be 100,000 Twinkles, that's a value of US$10,000. Again, because "We care and we share!" there will also be a 5-Generation Bonus Prize that will be 5 x 10,000 Twinkles, which is a value of US$1,000 in Twinkles.
So, that is very exciting!
But, why should the Grand Prize Winner get all the prizes? So, we thought about it even more; and we decided that also the National Winners should receive a bigger prize; so the National Winners will each get 50,000 Twinkles (or a value of US$5,000); and, just as we did with the Grand Prize Winner, the inviter of each National Prize Winner, will receive a Bonus Prize of 5,000 Twinkles (US$500 value); and 5 Generations deep will also receive a Bonus Prize of 500 Twinkles, or a value of US$50 in Twinkles.
So, this is great, and we're so excited and happy to be sharing this with everyone, and to be able to give these exciting prizes.
Now, when we thought about that we wanted to increase the prizes, we also wanted to give you all more time to share this great news, contact artists and invite them to participate if they want to be famous. Cause remember guys, even as a finalist, you'll receive a free trip to Las Vegas—that includes your flight, transportation in Las Vegas to and from the final show, and the lodging while you're there—all of that is covered—as a finalist.
Eight lucky people are going to Las Vegas and perform. From those 8 lucky people one winner will be chosen; and it's us, the audience, we are the judges! But first, before we can get to that one winner, we first need to find out who are the Biggest Talents in our countries.
So, that's the first phase—when everyone chooses who are the Biggest Talents of their own countries; and then, those national winners will compete against each other; and then, we will determine who are the 8 finalists going to Las Vegas; and from there, who is the one Biggest Talent of the world!
So, we thought about giving you guys enough time to share with everyone the exciting news about the prizes; and, as well, the contest itself. So, what we've decided to do, is extend the time for the artists/contestants to register until July 1st at 12:00 noon Pacific Time. So that means that contestants have still, from now until July 1st at 12:00 noon, to register and have their video uploaded.
Now, as far as the video goes: always remember, as a contestant, it needs to have a short, little introduction about yourself. And I'm happy to share that we've extended the time that the video can be. It can be up to 4 minutes, so that should solve some challenges that some people had. And remember, all contestants must have their videos uploaded by 12:00 noon, on July 1st.
So, that means the national voting will start on July 9th; and that will go until approximately August 9th; at 12:00 noon it will end. And then, around August 16th at 12:00 noon, the battle of the countries starts; and from there it will be determined who will be the 8 finalists.
The live Final Show will be announced, but it will approximately be towards the end of September, or the beginning of October. So, just keep that in mind for those contestants. And we will, of course, update the Terms and that will be posted within the next couple of days.
So, that's super exciting, and I'm so happy to share that with everyone.
Now, as I said, this is just the beginning. We have so many things planned, and so many things in the works; and we will keep bringing you all the great news, as soon as we have it.
I want to thank everyone for joining me here today. Remember to check if you've won a prize at Prize Mania; as well as download your free e-book at EEBOOX.com; and vote for the free e-book for next week. And, as well, you can always follow us, and share our social media posts for more information and updates.
So, thank you very much, and we'll talk to you next time. All the best! Bye-bye.
With your success in mind,
Cate Kozikowski, and
Your WAZZUB Support Team
***
Additional Info from Support:
Hot off the press!
The newest coin rank site to list Rainbow Currency!
https://www.cryptorank.online/
Brought to you by the Unicorn Network, now Rainbow Currency has a focused coin rank site where you can quickly see news, Rainbow Currency social links, check current coin rankings, and it even comes complete with a handy converter tool, so you can keep track of exchange values from one cryptocurrency to another, or versus fiat currencies.
Cryptorank even has the latest press release just shared for Rainbow Currency, already listed! Check it out and read all the details of the First Real Estate Deal in Germany Paid with Cryptocurrency on CryptoRank.online.
***
Live Chat Support is available via the following link.
https://join.skype.com/c0Wv3Vdf8njE
For all Unicorn Network Webinar info:
Log in to read recaps and register for webinars here: https://www.safe.zone (WEBINARS hexagon)
For all Rainbow Currency Webinar info:
Read recaps and register for webinars here:
https://www.rainbowcurrency.com (WEBINAR RECAPS button from menu)
Remember to check out the SafeZone Radio Show too!
Airing live every Tuesday & Thursday from 9-10 a.m. USA Pacific Time. Listen live and check out past show recordings at: https://www.safe.zone (RADIO SHOWS hexagon)
***
BE SOCIAL WITH US!
You can also connect with us across the internet. WE value your support, likes, shares, and comments. Thank you!
Connect with Unicorn Network and SafeZone on Facebook
https://www.facebook.com/UnicornFoundationOfficial
https://www.facebook.com/UnicornNetworkOfficial/
https://www.facebook.com/SafeZoneOfficial/
https://www.facebook.com/RainbowCurrency
Connect with Unicorn Network and SafeZone on Twitter
https://twitter.com/UnicornFndtion
https://twitter.com/UnicornNetwork
https://twitter.com/SafeZoneInc
You can be social with the Rainbow Currency Foundation, too!
Twitter: https://twitter.com/RainbowCurrency
Reddit: https://www.reddit.com/r/RainbowCurrency/
BitcoinTalk: https://bitcointalk.org/index.php?topic=2735483
Facebook: https://www.facebook.com/groups/531871263858847
Telegram: https://t.me/joinchat/IGdYD0UEDO7YmEWg3VZWww
***
Earnings Disclaimer: Every effort has been made to accurately represent our project. Any examples of results are not to be interpreted as a promise or guarantee of earnings. Your level of success in attaining the results claimed on our website depends on the time you devote to the project, on your knowledge and on various marketing skills. Since these factors differ according to individuals, we cannot guarantee any success or specific result. Nor are we responsible for any of your actions. Materials found on our website may contain information that includes or is based upon forward-looking statements. Forward-looking statements give our expectations or forecasts of future events. You can identify these statements by the fact that they do not relate strictly to historical or current facts. They use words such as "anticipate," "estimate," "expect," "project," "intend," "plan," "believe," and other words and terms of similar meaning in connection with a description of potential results or earnings.
Copyright © 2018 Unicorn Network, Inc. and SafeZone, Inc. All Rights Reserved.